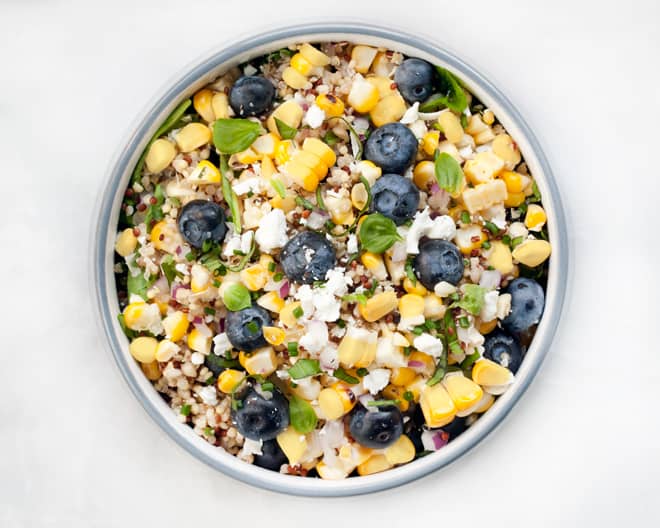 Corn is one of those things that you absolutely have to eat in season. It just isn't right outside of summer, so I've been eating my weight in corn. Most of the time it hasn't been on the actual cob. My routine is to use a knife to slice off all the kernels and mix them with something else. Tomatoes and black beans are two of my favorites.
I decided to try something new and made a blueberry corn salad with basil, quinoa, red onions and baby greens. This sweet and savory bowl was finished off with ricotta salata and chives. I tossed the mixture in lime vinaigrette. The salad was refreshing and had me thinking about how else to consume blueberries other than for breakfast or dessert.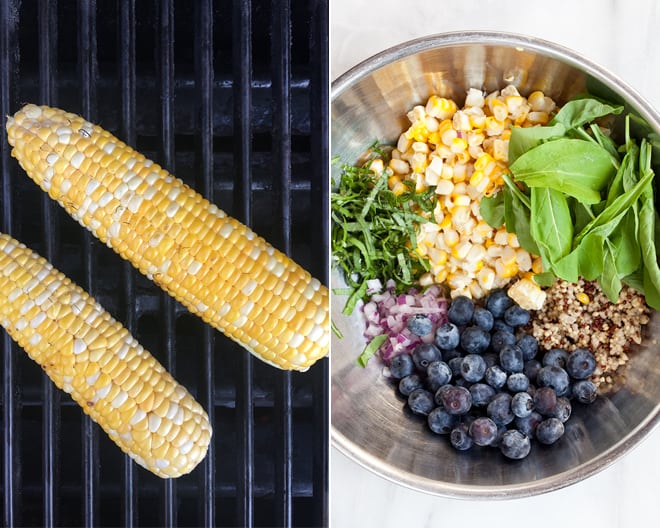 Blueberry Corn Salad
Serves 4
1 cup water
1/2 cup quinoa, rinsed
3 ears corn, shucked
1 tablespoon +1/4 cup olive oil
Juice of 1 lime
1 garlic clove minced
1/4 teaspoon kosher salt plus more for serving
1/4 teaspoon black pepper plus more for serving
1-1/2 cup blueberries
1/3 cup finely chopped red onions
1 handful baby greens
1/4 cup chopped basil
1/4 cup crumbled ricotta salata
2 tablespoons minced chives
In a small saucepan, bring the water to a boil, add the quinoa, cover and simmer until tender and the water has been absorbed, about 12 minutes. Fluff with a fork.
Preheat a gas or charcoal grill on high heat.
Rub corn with 1 tablespoon olive oil and grill, turning occasionally, until lightly charred, about 5-7 minutes. Let the corn cool slightly before slicing the kernels off the cob.
In a small bowl, whisk together the lime juice, garlic, salt, pepper and remaining olive oil.
Combine the quinoa, corn, blueberries, red onions, baby greens, basil, ricotta salata and chives. Toss in the lime vinaigrette. Taste the salad and add more salt & pepper as desired before serving.