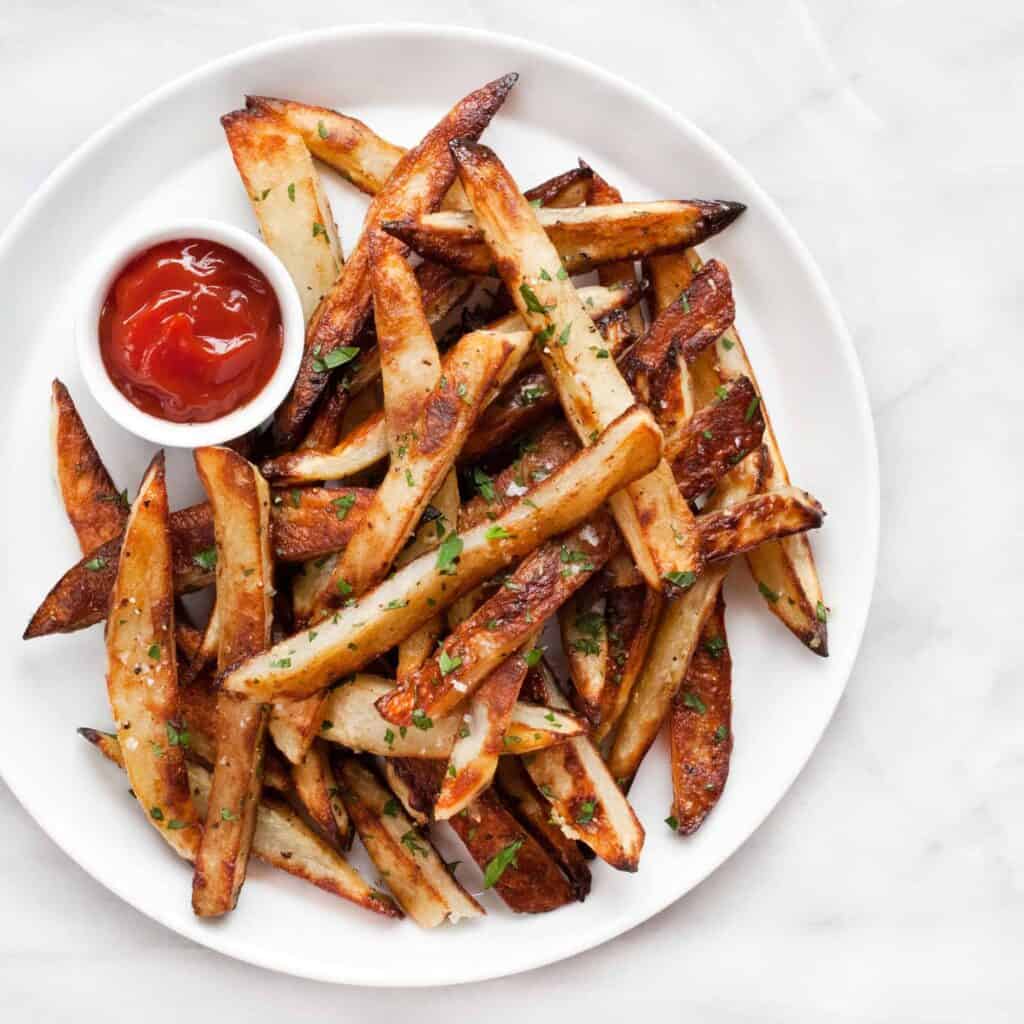 Baseball season is inching ever closer to the halfway point, and I have yet to make it to a game.

I wouldn't call myself a big baseball fan, so I'm not too disappointed about it.
You will never find me watching a game on TV unless it's a Chicago team in the playoffs, but there is something about being at a ballpark.

There's a magic to experiencing the atmosphere and taking it all in.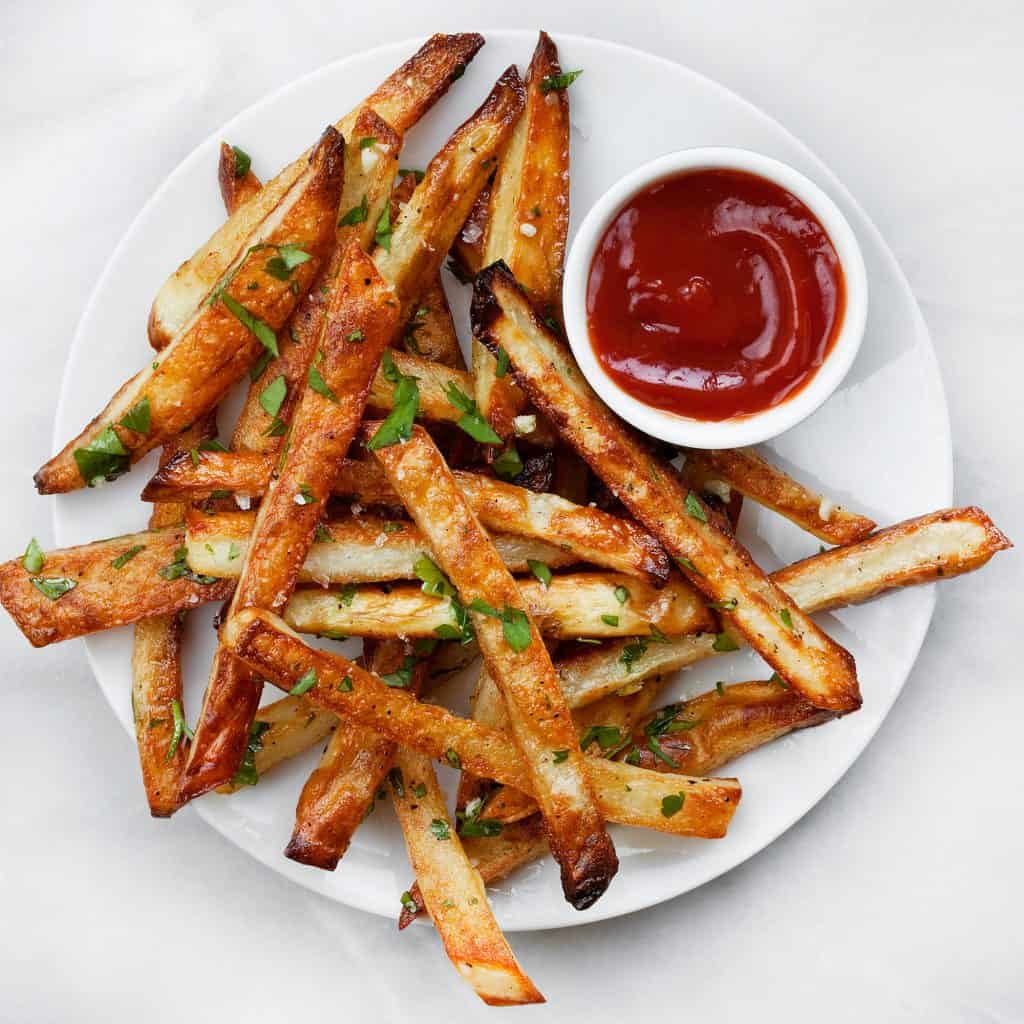 I have no shame admitting I am more interested in going to a stadium, arena or field for food rather than sport.

From pretzels to Cracker Jacks, where else is it socially acceptable to drop peanut shells on the floor?
One stadium visit that sticks out in my mind was during a trip to San Francisco with my husband for his birthday. We ventured to a Giants game.
From our seats, the view of the bay was absolutely spectacular, and the weather was perfect. More sun than fog.
I managed to surprise him with a birthday message posted on the Jumbotron. We had so much fun.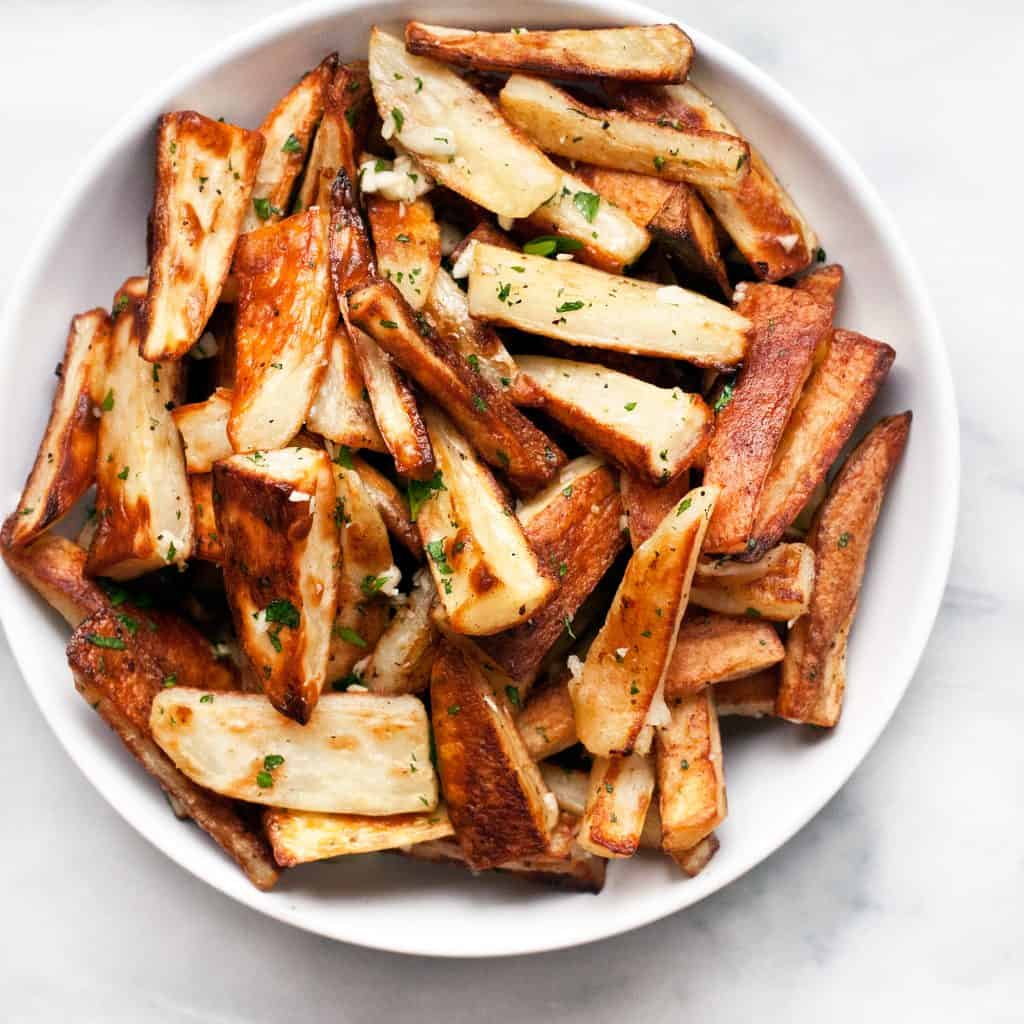 And we ate!

We discovered the amazingness that are Gilroy Garlic Fries. They toss hot fries with minced garlic and parsley.

We like garlic, so we loved these french fries.
When we got home from our vacation, I knew I had to recreate the special fries, but I wasn't about to go out and buy a fryer.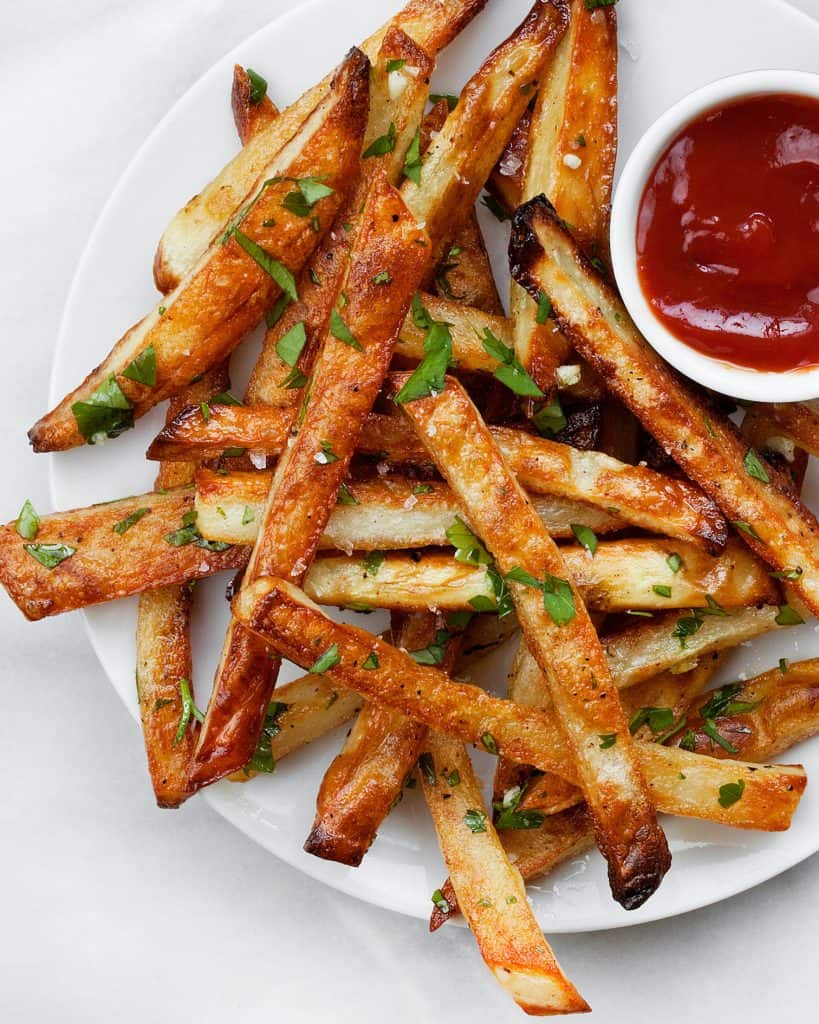 How To Make Oven-Baked Garlic French Fries
I'm a big fan of oven baked fries. No need for a tub of oil or mess, and they are much healthier.
I drizzled the russet potato batons with olive oil and sprinkled them with salt and pepper. Then I roasted the potatoes at 450 degrees F for about 30 minutes.
Once the fries were deep golden brown, I tossed them with lots of minced garlic and parsley.
We got to relive that memory of the Giants game.
Print
Garlic French Fries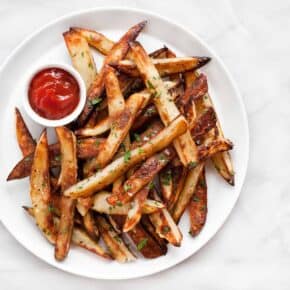 Prep Time:

5 minutes

Cook Time:

30 minutes

Total Time:

35 minutes

Yield:

Serves 4-6
Ingredients
Non-stick cooking spray
2-1/4 pounds russet potatoes, peeled and cut into 3-inch by 1/4-inch by 1/4-inch batons
3 tablespoons vegetable oil
1 teaspoon kosher salt plus more for serving
1 teaspoon black pepper plus more for serving
4 garlic cloves, minced
2 tablespoons flat leaf parsley, chopped
Instructions
Preheat the oven to 450 degrees F. Grease a sheet pan with non-stick cooking spray.
In a large bowl, toss the potatoes with 2-1/2 tablespoons oil, salt and pepper. Spread them in a single layer on the sheet pan.
Bake the potatoes for 30 minutes, tossing once, until the potatoes are brown and cooked through.
Combine the remaining oil, garlic and parsley and toss with the hot French fries. Season with salt and pepper before serving.
SHARE THIS