Hasselback Sweet Potatoes

Tuck fresh herbs such as rosemary, thyme and sage in between the thin slices of these hasselback sweet potatoes for a beautiful and easy side.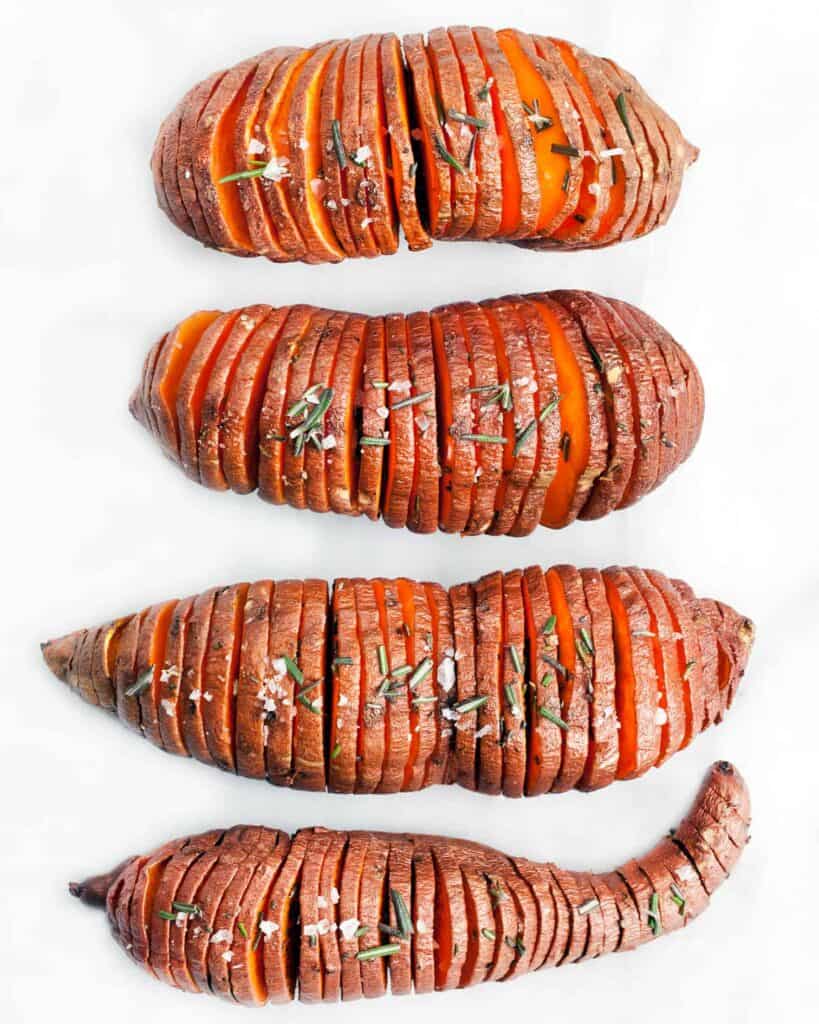 When the clock struck 5:00 p.m. last Monday, I kind of couldn't believe it. In the past week or so I've been noticing how much longer the days are getting.
Despite all the recent snow, spring will be here soon. Of course I am excited, but I can't help but give a little more attention to a few of my favorite winter staples.
I have a special place in my heart for sweet potatoes.
They are such a versatile root vegetable that deserve an extra thank you.

From oven fries to salads, they work in so many different meals. Plus they are so good for you.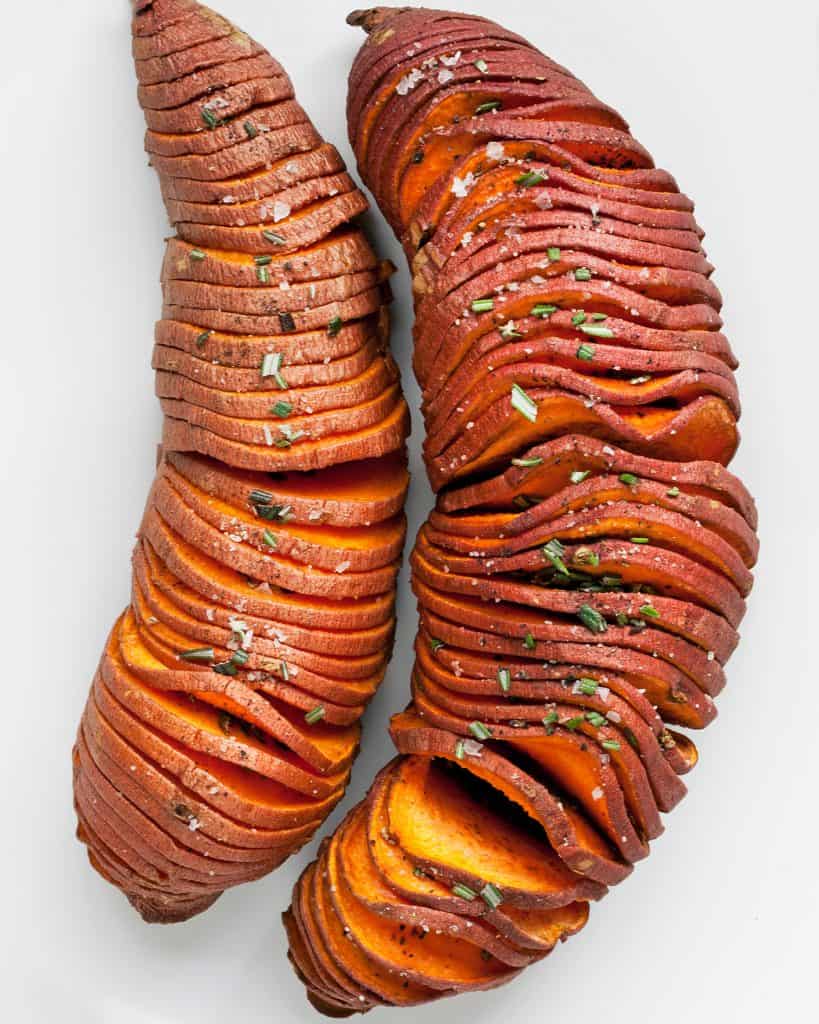 These hasselback sweet potatoes are my fond farewell for now especially since I hadn't made them since Thanksgiving.
Also known as accordion potatoes, hasselbacks were first invented in a restaurant in Sweden.

By making thin slices in a whole potato and roasting it, you end up with a mix of textures including crisp edges and more tender potato-y parts in the middle.
The key to hasselbacks is to thinly slice them without going all the way through. This can be a test of your knife skills, but don't be intimidated.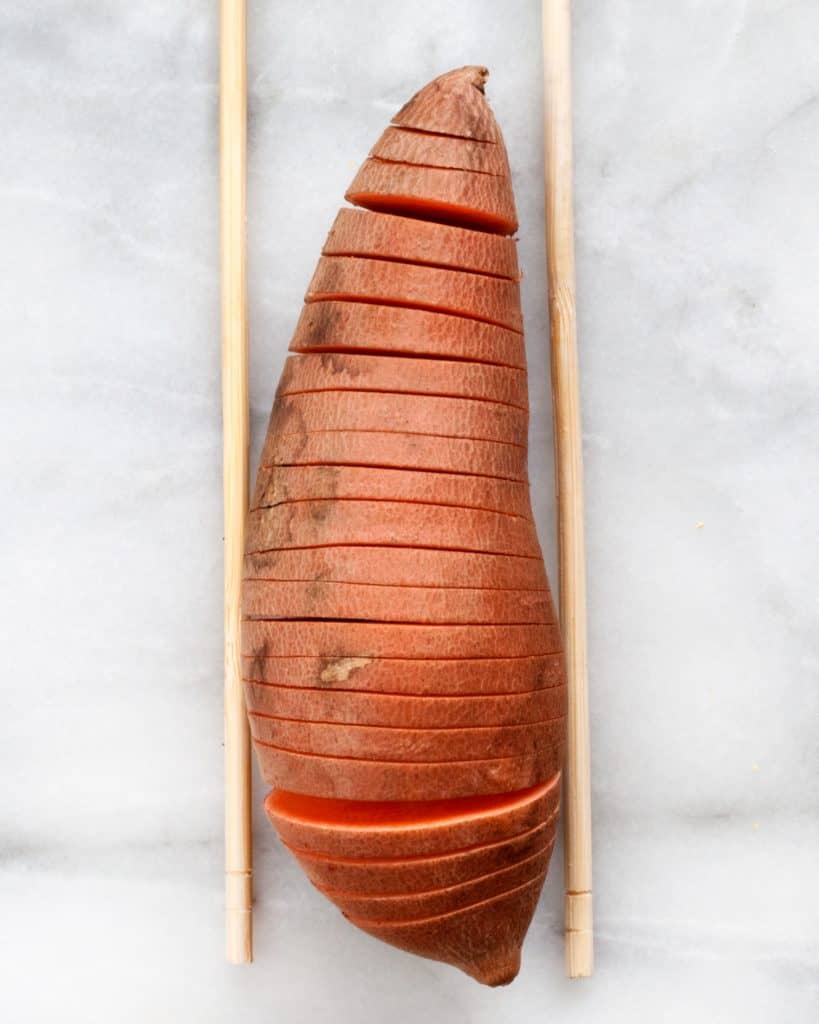 How To Make Hasselback Sweet Potatoes
It helps to put a chopstick on each side of the potato to stop the knife before it goes too far splitting the potato in half.

The skinny slices allow you to work all sorts of herbs and spices on either side of each cut.
I tucked chopped rosemary between the slivers, but you could you use thyme, sage or other fresh herbs. Sliced garlic is tasty, too.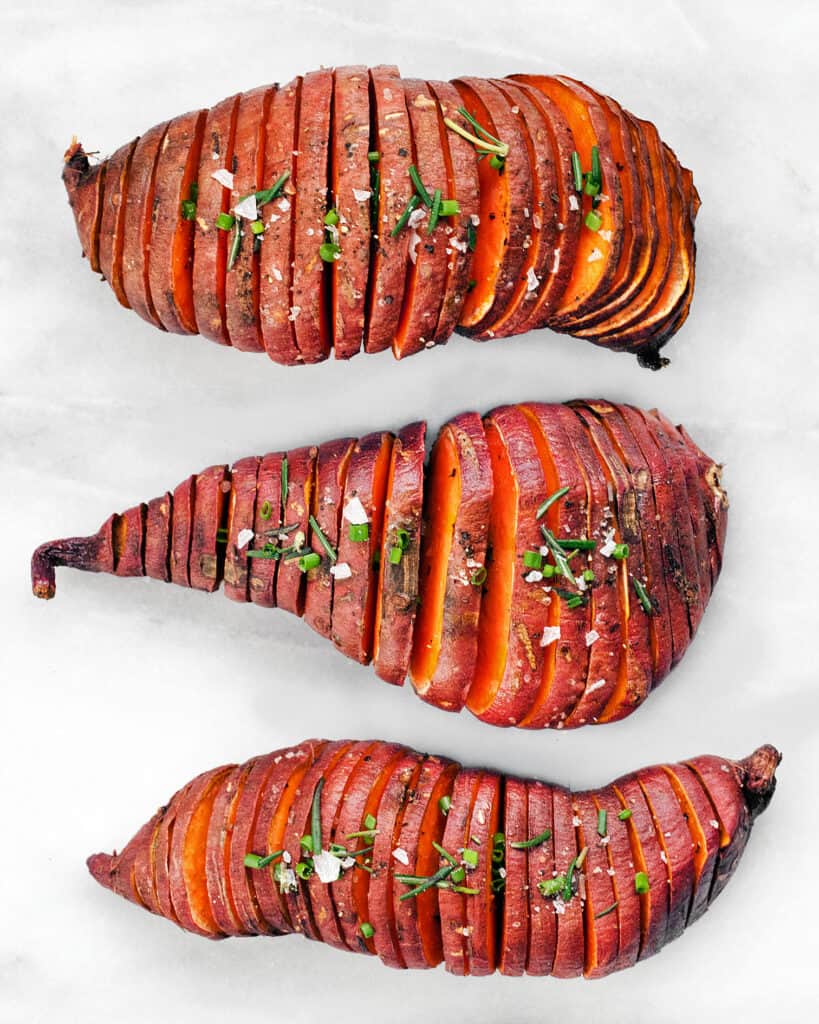 Cumin, chili powder or a dry spice mix could take these hasselback sweet potatoes in another flavor direction.
Once they sweet potatoes were out of the oven, I sprinkled them with more fresh rosemary and flaky sea salt for a little crunch.
Print
Hasselback Sweet Potatoes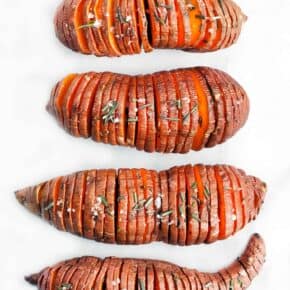 Author:
Prep Time:

10 minutes

Cook Time:

1 hour

Total Time:

1 hour 10 minutes

Yield: Serves

4

–

6

1

x
Scale
Ingredients
4–6 medium sweet potatoes
2 tablespoons olive oil
1 teaspoon kosher salt
1/2 teaspoon black pepper
1 tablespoon chopped fresh rosemary plus more for serving
Flaky sea salt for serving
Instructions
Preheat the oven to 375 degrees F.
Thinly slice each sweet potato without going all the way through. The slices should be about 1/8" thick. Place the potatoes on a foil-lined sheet pan. Generously drizzle with olive oil and sprinkle with salt, pepper and rosemary. Roast for about 1 hour until the potatoes are tender when pierced with a pairing knife.
Top with additional chopped rosemary and flaky sea salt before serving.
SHARE THIS