Grilled Antipasti Flatbreads

We haven't made it to Memorial Day yet, and I've already had to exchange the propane tank on our gas grill. I'm kind of proud of that fact.

Even though not everyday has been grill-worthy weather, I've been cooking outside rain or shine. I just love the grill, and I'm willing to brave the great outdoors to make good food.
To be honest, the food has never tasted better and my kitchen has never looked cleaner. Grilling involves little clean up and any potential mess is contained.

Plus grilled food just tastes better. That smoky, slightly charred flavor is so tasty that you don't have to do much prep to make something pretty incredible.

Grilling pizza dough is the closest I've ever come at home to pizza parlor-like crust. The heat of the grill is the trick. That just can't quite be replicated with a baking stone in the oven.
I was experimenting with my standard pizza recipe when I came up with these grilled antipasti flatbreads. It was in a moment of brainstorming on how I could make pizza even easier for entertaining.

The olive bar is my home away from home at the grocery. I bought an assortment of olives, marinated tomatoes and peppers along with salami & prosciutto to top these individual antipasti flatbreads.

I used homemade pizza dough, but store-bought would work just fine. They turned out to be the perfect light bites to go along with drinks with friends.

It didn't take long to grill the dough rounds. Once they were finished and well grill-marked, I put everyone to work topping their pizzas to their tastes.

You could layout a cheese and charcuterie board, and let your guests use that for the toppings. It makes for a beautiful and approachable presentation.

I highly recommend grilling the dough, but if you don't have access to a grill, you can bake the crusts on a pizza stone in the oven at 450 degrees F. It should only take about 10 minutes for them to be ready.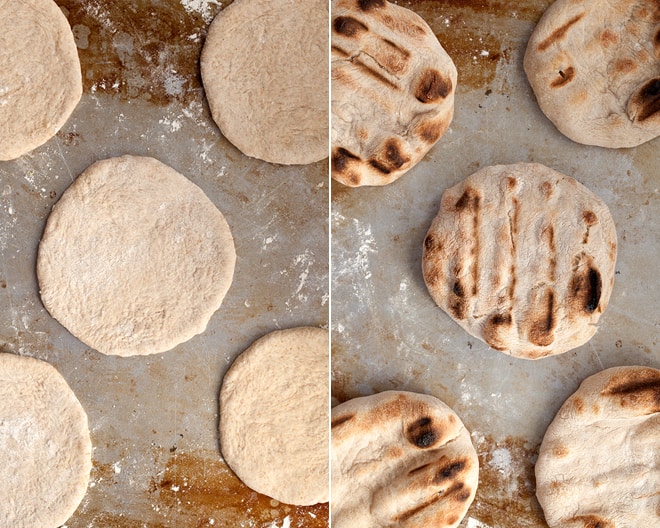 SaveSaveSaveSave
Print
Grilled Antipasti Flatbreads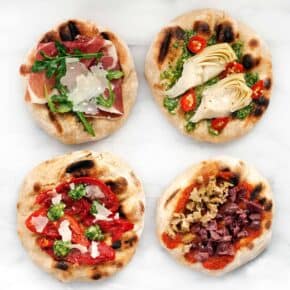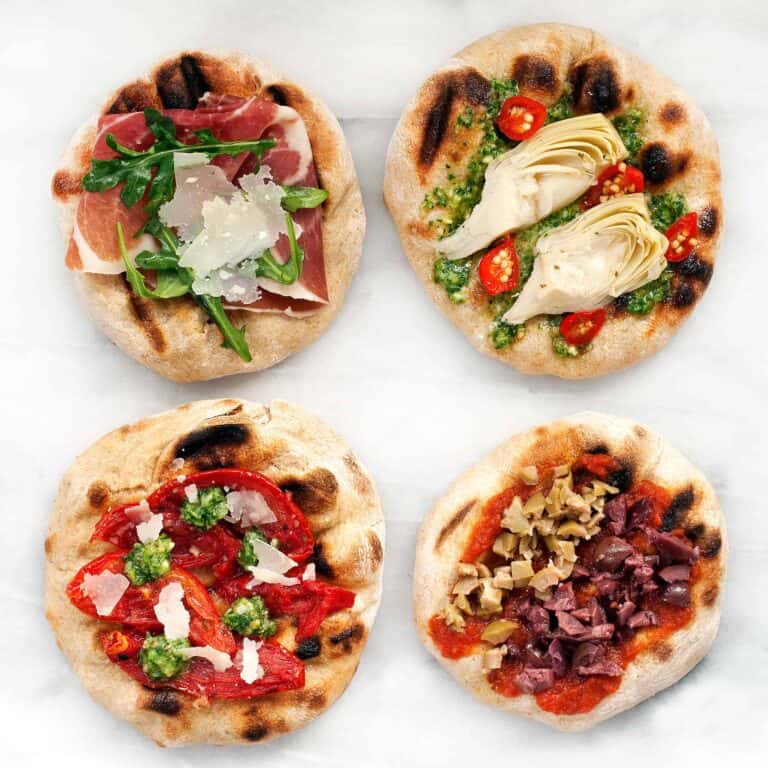 Prep Time:

20 minutes

Cook Time:

6 minutes

Total Time:

26 minutes

Yield:

Serves 8-10
Ingredients
Flour for rolling out dough
1/2 pound pizza dough (homemade or store-bought)
Olive oil
Pesto
Tomato sauce
Assorted antipasti including olives, marinated tomatoes, peppers & artichokes
Charcuterie such as prosciutto, salami & sopresatta
Shaved Parmesan
Arugula
Instructions
Preheat a gas or charcoal grill on high heat.
On a lightly floured work surface, roll out the dough into 8-10 rounds.
Place the rolled-out dough directly on the grates and grill for 3 minutes with the lid closed until the crusts have grill marks, and they have puffed up. Turn them over and grill for an additional 3 minutes.
Drizzle the warm flatbreads with olive oil and top with different combinations of pesto, tomato sauce, antipasti, charcuterie, Parmesan and arugula.
Notes
If you don't have access to a grill, bake the crusts on a pizza stone at 450F for 8-10 minutes.
SHARE THIS