Whenever I feel even the slightest chill in the air, I have an immediate craving for soup.
My desire for soup is more strong when I'm getting impatient about it actually feeling like fall.
My pantry is always stocked with sweet potatoes and canned tomatoes, so I can whip up a root vegetable soup or chili at a moment's notice.
With the right ingredients, soup is basically like eating a bowl of heathy, hearty vegetables.
In my daily quest to eat more than the recommended amount of veggies, soup makes that pretty easy.
It's even better when I end up with leftovers. I will keep them in the fridge if I know I will polish off the batch in that week. Or I divvy up servings to keep in the freezer to save.
I think soup tastes better the longer it sits because it allows more time for the flavors to develop.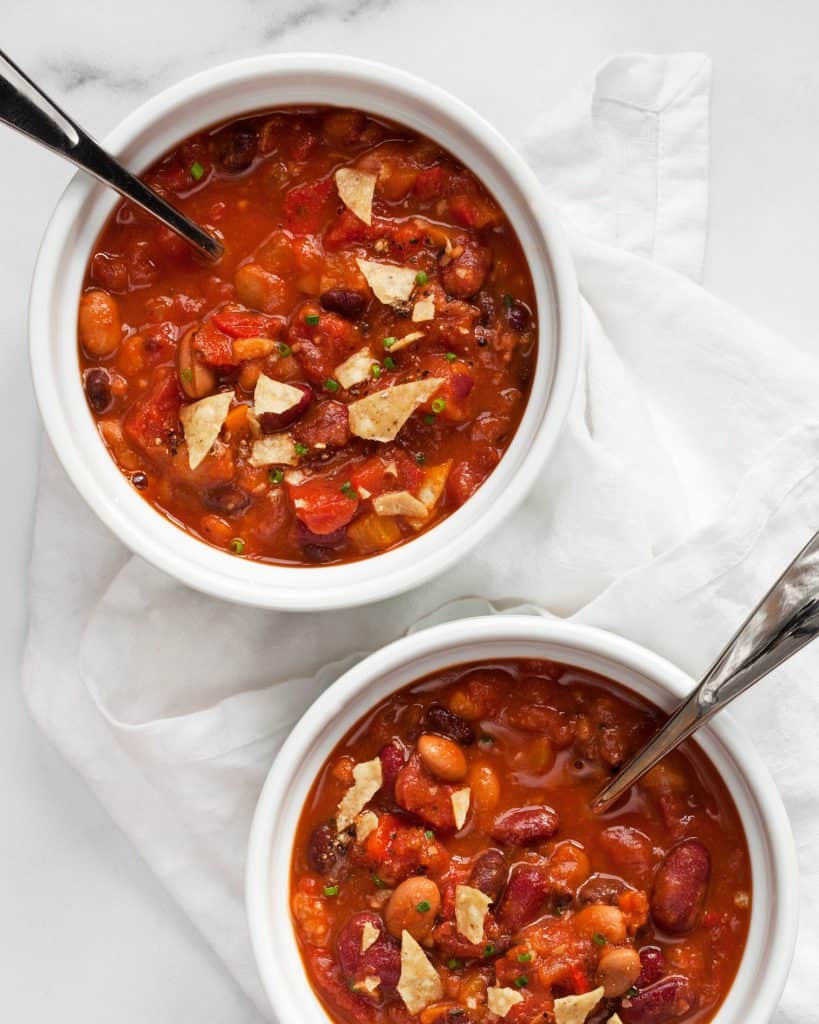 With black beans, pinto beans and kidney beans, I went a little overboard on this three-bean chili!
Instead of leaving all those beans whole, I used a fork to mash about a cup of them.
First I started by sautéing onions, garlic, jalapeños and bell peppers in a saucepan. Then I added the all important spices, a mix of cumin, chili powder, paprika, salt and pepper.
Fire-roasted tomatoes, water and beer went into the pot next. It didn't take long for the mixture to boil. Then I turned down the heat to let everything simmer.
I gave the three-bean chili about 15 minutes or so to cook, then I stirred in the mashed beans and the whole beans. The soup kept simmering.
Those mashed beans helped to thicken the chili.
I topped the bowls with chives and crushed tortilla chips
Each chunky bite was hearty and filling.
I will definitely use a trio of beans again.
Print
Three-Bean Chili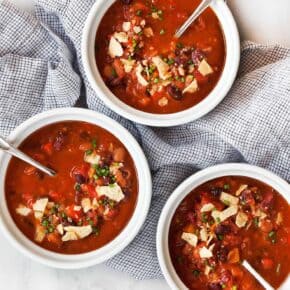 Prep Time:

10 minutes

Cook Time:

33-43

Total Time:

43-53 minutes

Yield: Serves

6

–

8

1

x
Scale
Ingredients
1–15 ounce can black beans, rinsed and drained
1–15 ounce can pinto beans, rinsed and drained
1–15 ounce can kidney beans, rinsed and drained
1 tablespoon olive oil
1 medium white onion, roughly chopped
1 jalapeno, minced
1 red bell pepper, diced
1 orange bell pepper, diced
1 garlic clove, minced
1 teaspoon cumin
1 teaspoon paprika
1/2 teaspoon chili powder
1 teaspoon kosher salt
1/2 teaspoon black pepper
1–12 ounce bottle lager beer
1–28 ounce can crushed fire-roasted tomatoes
1 cup water
Minced chives for serving
Crushed tortilla chips for serving
Instructions
In a large bowl, combine the beans. Transfer 1 cup of the beans to a large bowl and mash with a fork. Set aside the mashed beans.
Heat the olive oil in a large saucepan over medium heat. Add the onions and sauté for 5 minutes until they start to soften. Stir in the jalapeno, bell peppers, garlic, cumin, paprika, chili powder, salt and pepper and continue cooking for an additional 3 minutes.
Stir in the beer, tomatoes and water. Bring the soup to a boil and reduce the heat. Simmer for 15-20 minutes until the soup has thickened. Add the whole beans and mashed beans and continue cooking for 10-15 minutes. Top with chives and chips before serving.
SHARE THIS