This post is sponsored by Petrossian.

I don't remember the last time my husband and I went to dinner on Valentine's Day. Since our son was born 5 years ago, I know it's been at least that long.
As I'm sure all parents can relate, it's not just deciding when and where to go. Finding a babysitter adds another complication to going out especially on a holiday.
That probably sounds rather unromantic, but I don't mind staying in. Call me a homebody if you want. I won't be offended.
We still do celebrate Valentine's Day, but it's with a homecooked meal. I make sure the food isn't something from our regular rotation, so it feels different. And of course, we'll have a nice bottle of wine to pair with it.

My husband absolutely loves gnocchi. I wish I thought to make it more often, but then it's great to save for special occasions.

Classic potato gnocchi seems simple enough, but it can be a little tricky. I start by baking the potatoes in the oven. Some recipes call for boiling them until tender, but any extra water can result in dense dumplings.

Once the potatoes have cooled a bit, I use a fork to scoop out the flesh, feed it through a potato ricer and mix it with grated Parmesan, egg and just the right amount of flour to bring it together into a soft dough.
At this point I like gnocchi to be a team effort sharing the duties of rolling the dough into long ropes and cutting them into individual pieces.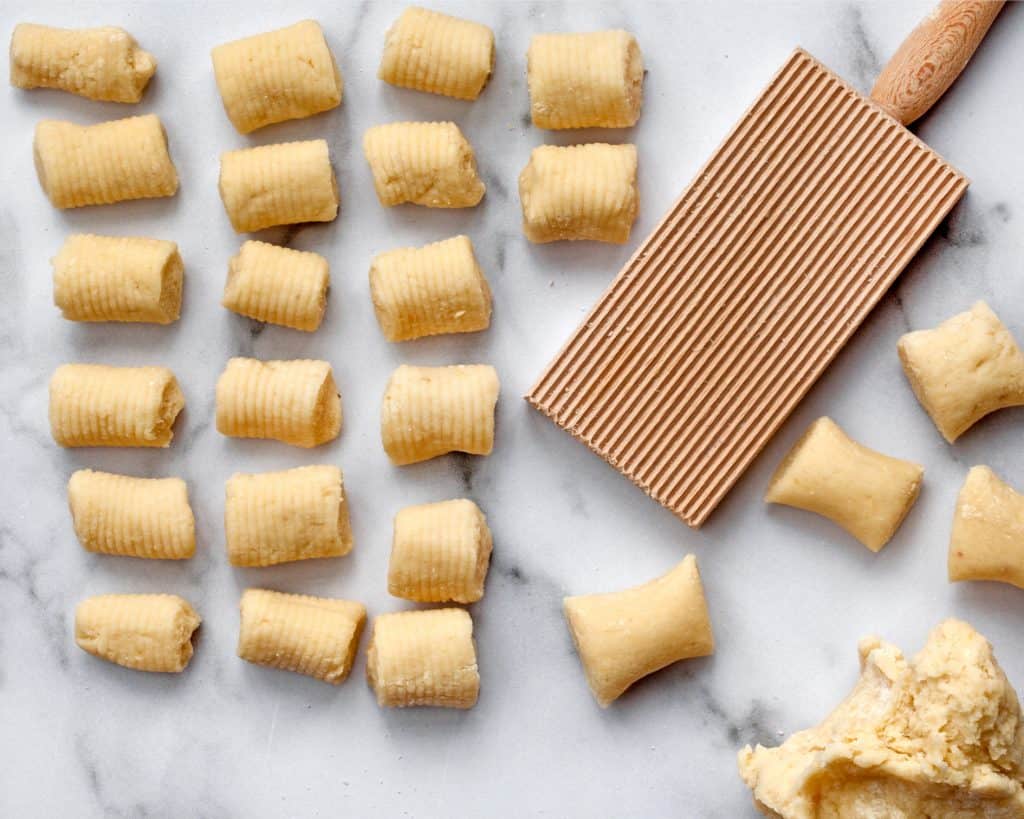 For the signature ridges on the sides, you can either use a gnocchi board or the back of a fork to roll them.
Gnocchi are cooked in minutes, and I love sautéing them in brown butter to get that toasty, wonderfully nutty flavor.
Still potato gnocchi aren't festive enough on their own. My friends at Petrossian sent me their American Roe, which comes from Hackleback Sturgeon in Tennessee and Illinois. I was super excited to try it.
The roe is fruity and mild with a slightly salty and briny flavor that works perfectly with the buttery richness of gnocchi. Just the right addition for Valentine's Day at home.
Print
Potato Gnocchi
Prep Time:

1 hour

Cook Time:

15 minutes

Total Time:

1 hour 15 minutes

Yield:

Serves 2
Ingredients
1-1/2 pounds Russet potatoes
1 large egg
1/4 cup grated Parmesan plus more for serving
1 teaspoon kosher salt
1/4 teaspoon black pepper
1-1/2 – 2 cups all-purpose flour plus more for dusting
Petrossian Hackleback American Roe
1 tablespoon minced chives
Instructions
Preheat the oven to 400 degrees F.
Prick the potatoes with a fork and place them in the oven directly on the rack on a sheet of aluminum foil. Bake 40-45 minutes until they are tender and can be pierced easily with a knife.
When the potatoes are cool enough to handle, halve them, scoop out the flesh and feed through a potato ricer or food mill into a large bowl. Whisk in the egg, Parmesan, salt and pepper. Fold in 1 cup flour and add the rest of the flour in small amounts until you have a workable dough that is barely sticky. You may not need all the flour.
On a lightly floured work surface take a handful of dough and roll it into a 1/2-inch thick rope. Cut the rope into 1-inch pieces and roll down the tines of the back of a fork. Transfer the gnocchi to a flour-dusted sheet pan.
In a large skillet, melt the butter over medium high heat. The butter will start to turn brown and smell nutty. Gently swirl the pan until it becomes golden and take it off the heat.
Bring a large pot of salted water to a boil. Cook a quarter of the gnocchi for about 3 minutes until they float to the top. Use a slotted spoon transfer to a bowl and cook the remaining gnocchi.
Return the brown butter to medium heat and gently toss the gnocchi in the butter until they are browned at the edges. Serve topped with roe, chives and Parmesan.
SHARE THIS