If you're looking for a quick side dish that's full of flavor, try this sautéed sugar snap peas recipe that cooks in 5 minutes (or less). With only 6 ingredients including fresh lemon and everything seasoning, they are fragrant with citrus, garlic and more.
Also try this Snap Pea Couscous for even more of this green vegetable.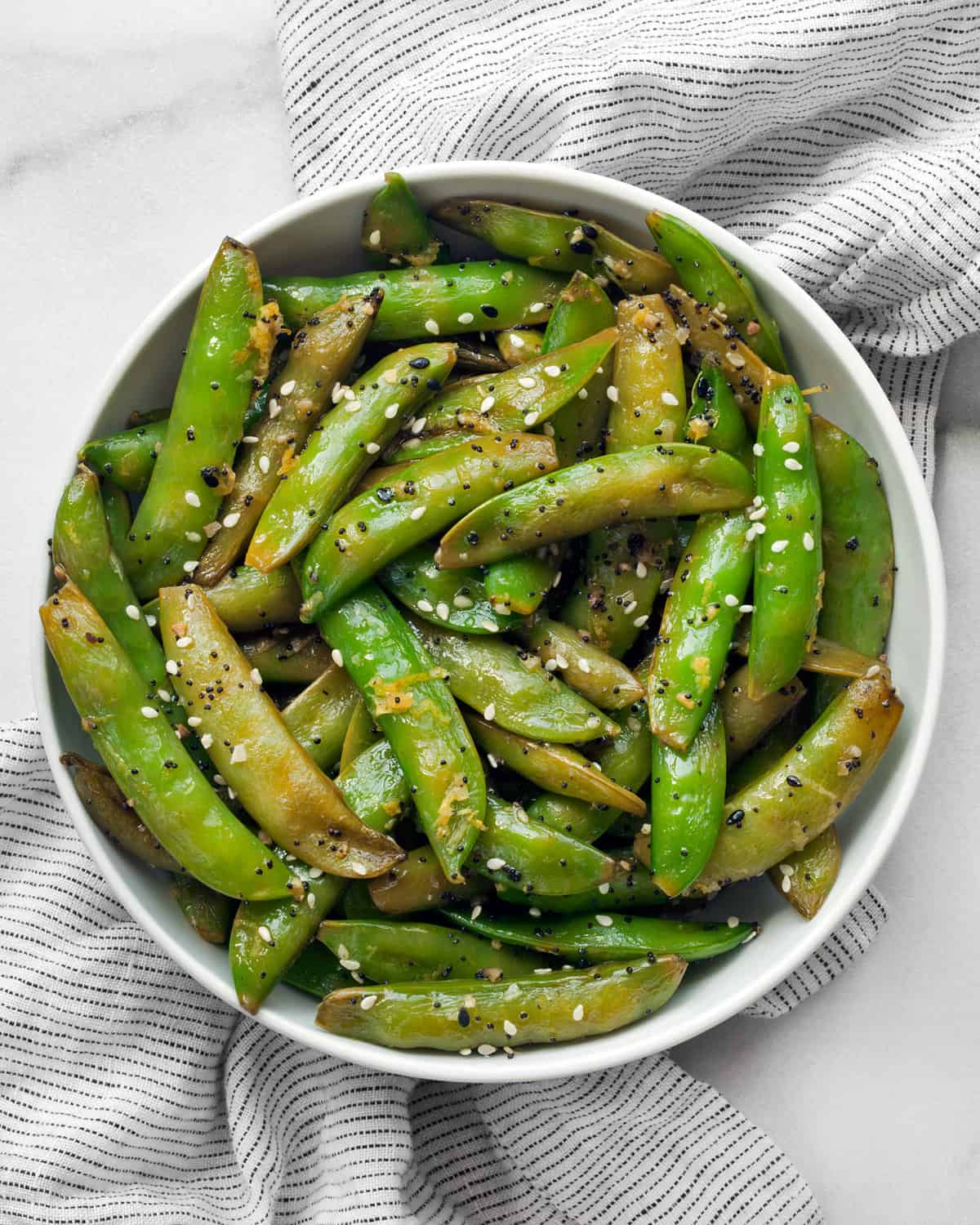 Why You'll Love This Recipe
It's quick side dish. Snap peas sauté in 5 minutes or less. That's it. When you're focused on the entree and other parts of a meal, you need sides that don't require a ton of work.
There are only 6 ingredients, and that includes olive oil, salt and pepper. A recipe with a short ingredient list is always a huge plus. By using both the juice and zest of a lemon, you can get the most out its bright citrus taste.
Everything seasoning is an instant boost. With a mix of sesame seeds, poppy seeds, minced garlic, minced onions and salt, everything bagel seasoning should be in everyone's spice drawer. One sprinkle, and you can add that blend of wonderful flavors, and they are really good on vegetables.
What are Sugar Snap Peas?
Also known as snap peas, these legumes are fully edible from the pod to the peas inside. Peak season is during spring, but you can find them at the grocery year round. You can sauté them, steam them or even eat them raw. They are often found in stir-fries, salads and side dishes.
Considered cousins, the difference between sugar snap peas and snow peas is that snap peas have a thicker outer wall. Snow pea pods have a thinner wall, so they look more flat and have smaller peas inside.
How to Trim Snap Peas
At the grocery it is pretty easy to find bags of stringless snap peas in the produce department. This will save you time trimming. Even if I do buy them this way, I still quickly go through to see if there are any random strings or messy ends and give them a quick trim.
The snap peas you find at the farmers market will need to be cut. To do this, put the snap pea flat on a cutting board with the curve of the pod toward you. Then use a paring knife to slice off the top end and pull out the tough string that runs down the length of the pod. It is up to you if you also want to trim the other end.
The Ingredients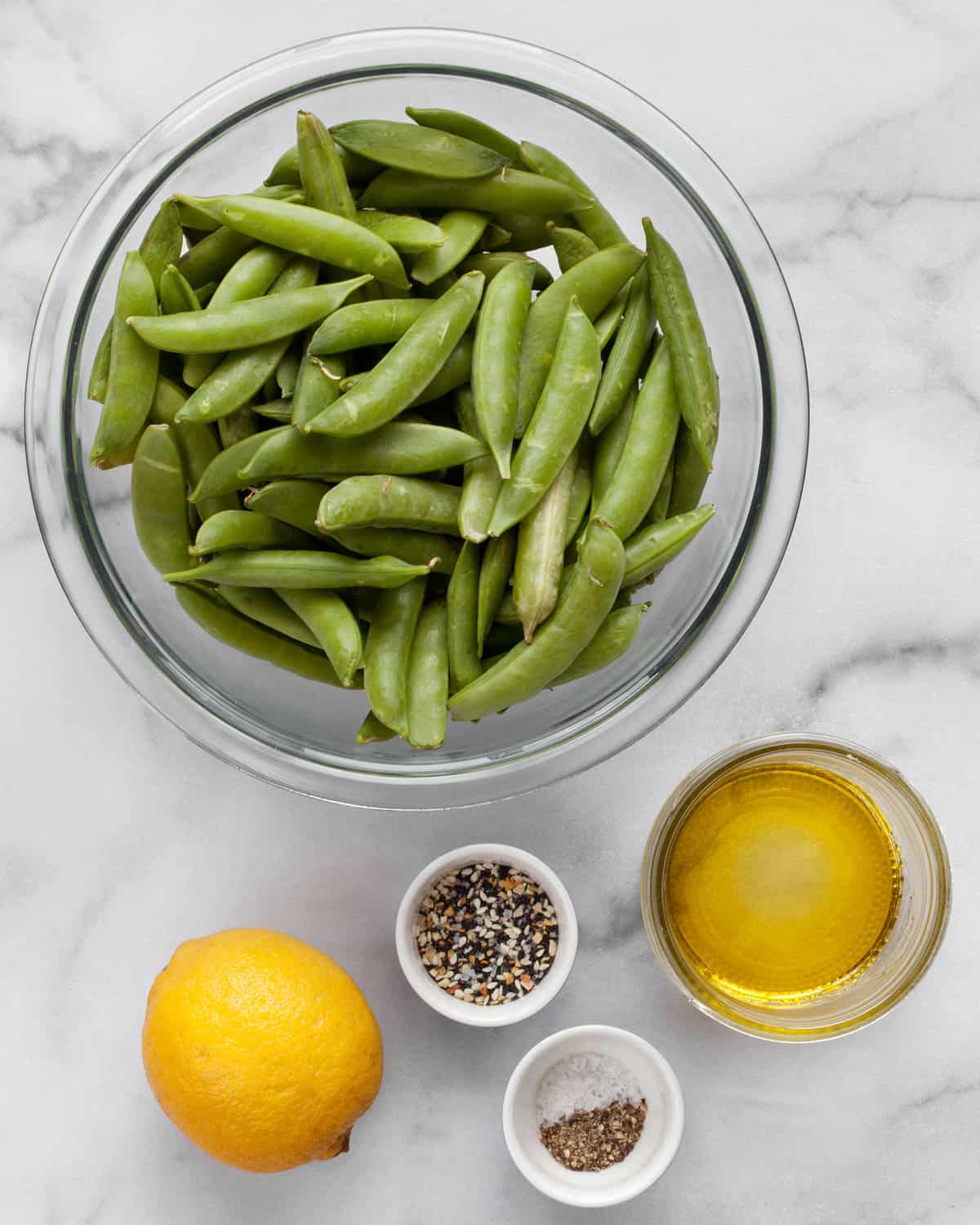 This is what you need:
Snap Peas: As their name says, when you break a fresh snap pea in half or bite into one raw, it should have a crisp snap. They are sweet with a crunchy texture.
Lemon: As mentioned, the recipe uses the entire lemon—zest and juice—because the acid in the citrus balances out everything while adding some lift.
Olive oil: With any recipe that has so few ingredients, use high-quality extra virgin olive oil for the best flavor.
Everything seasoning is a pantry must for me, and it should be for you too. This mix has a magical nutty, garlicky and oniony combination that transforms pretty much anything savory that you cook.
Salt & pepper: To round out the seasonings, I always still sprinkle in some salt and pepper.
Variations
Instead of everything seasoning, you can try one of these other options. But still keep the lemon, salt and pepper as your starting point.
Red pepper flakes: They will add heat if you want the peas to turn out a little spicy.
Butter: When the snap peas have finished cooking throw in a pat or 2 of butter. It will melt right away and add richness.
Garlic: Add one minced garlic clove in the final 30 seconds of sautéing.
Parmesan cheese: Garnish the snap peas with finely grated Parmesan.
How To Make Sautéed Snap Peas
1. Heat the oil in a large skillet over high heat.
2. Add the snap peas and lemon juice. I start on high heat because the lemon juice will bring down the temperature of the pan a bit as you sauté the snap peas. Cook them for 3-5 minutes until they are tender but still crisp. Some will be lightly browned.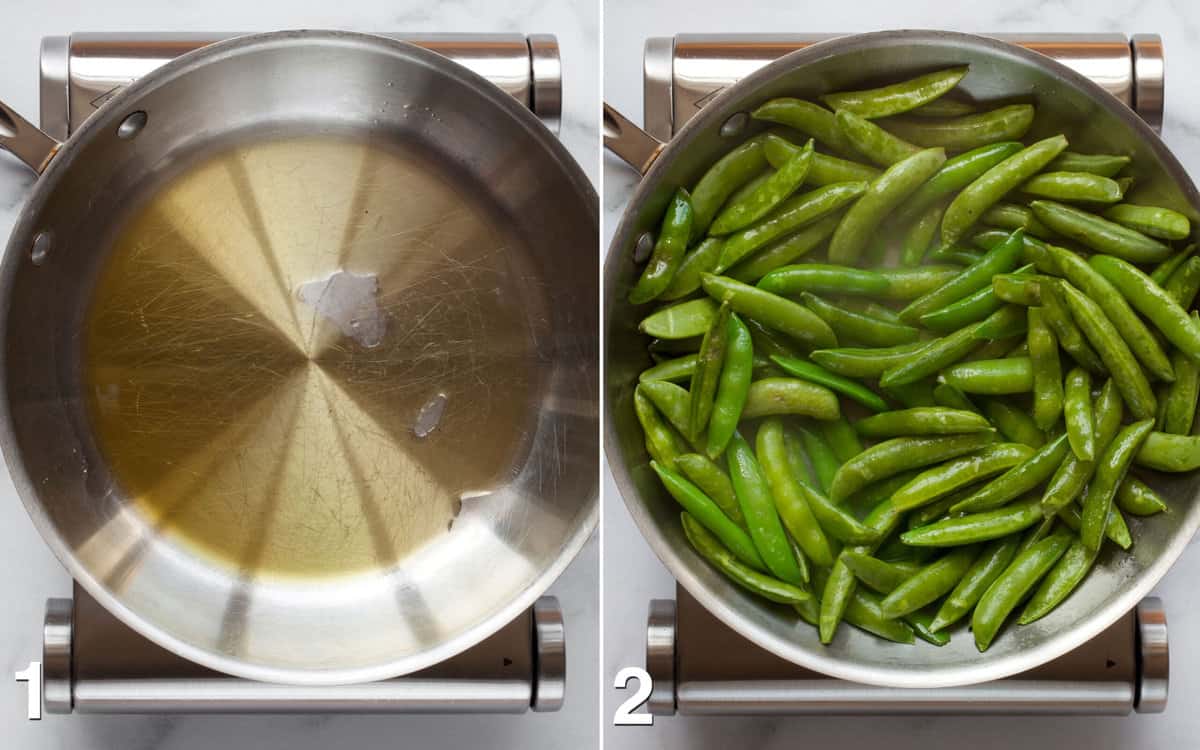 3. Stir in the lemon zest, salt and pepper.
4. Stir in the everything seasoning before serving.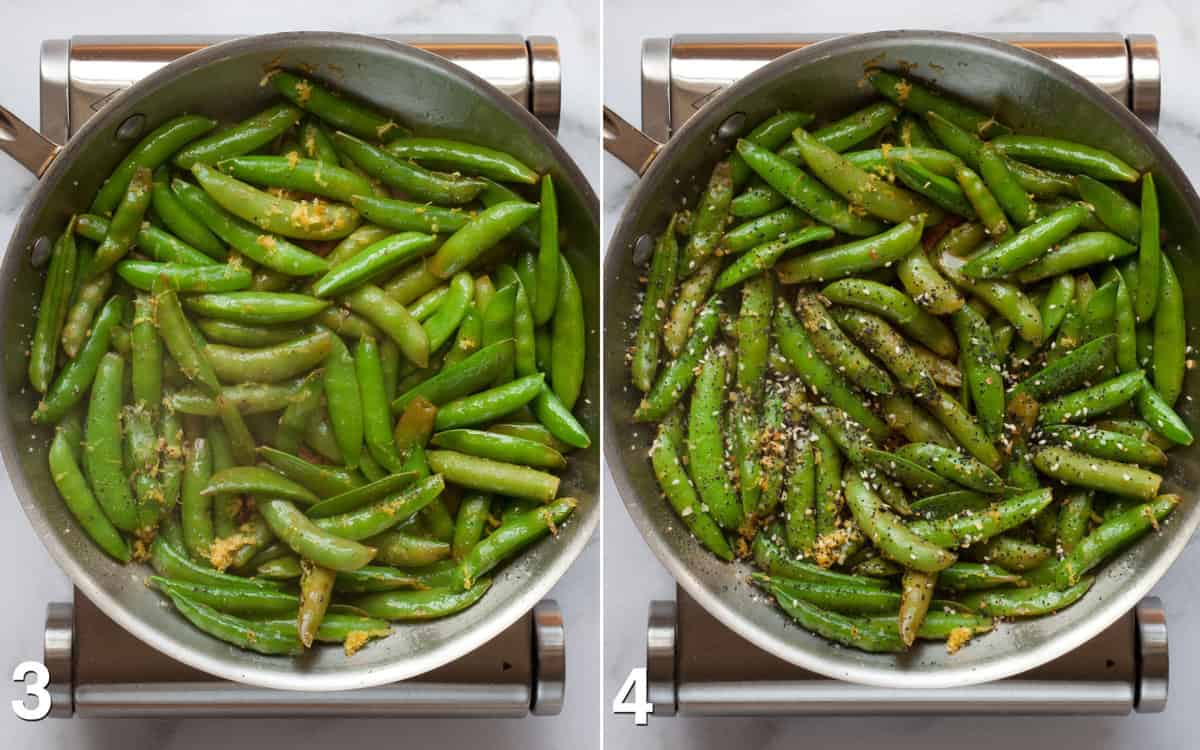 Leftovers & Storage
You can keep sautéed snap peas in an airtight container in the fridge up to 3 days. They will lose some of their crispness. I recommend chopping them and adding them to a salad or cooked grains like quinoa or farro. You can eat them cold or warm them in a skillet on the stove.
FAQs
Is it OK to eat sugar snap peas raw?
Yes, they are safe to eat raw. They will be very fresh and have a nice crunch. Enjoy them in a salad or dunk them into hummus or another dip.
Do you need to trim snap peas before cooking them?
If you buy stringless snap peas at the grocery, you don't need to trim them. If you buy snap peas that have not been trimmed and still have their strings, you should do this before you cook them.
Can you substitute snow peas for snap peas?
They can be substituted for each other. Just remember that snow peas have thinner pods than snap peas, so they will cook a little faster.
More Side Dish Recipes
Parmesan Garlic Roasted Asparagus
Roasted Red Cabbage
Easy Sautéed Brussels Sprouts
Sautéed Broccolini with Almonds
Roasted Green Beans
Did you try this snap pea recipe? Please leave a rating and comment below. Thanks!
Sautéed Snap Peas Recipe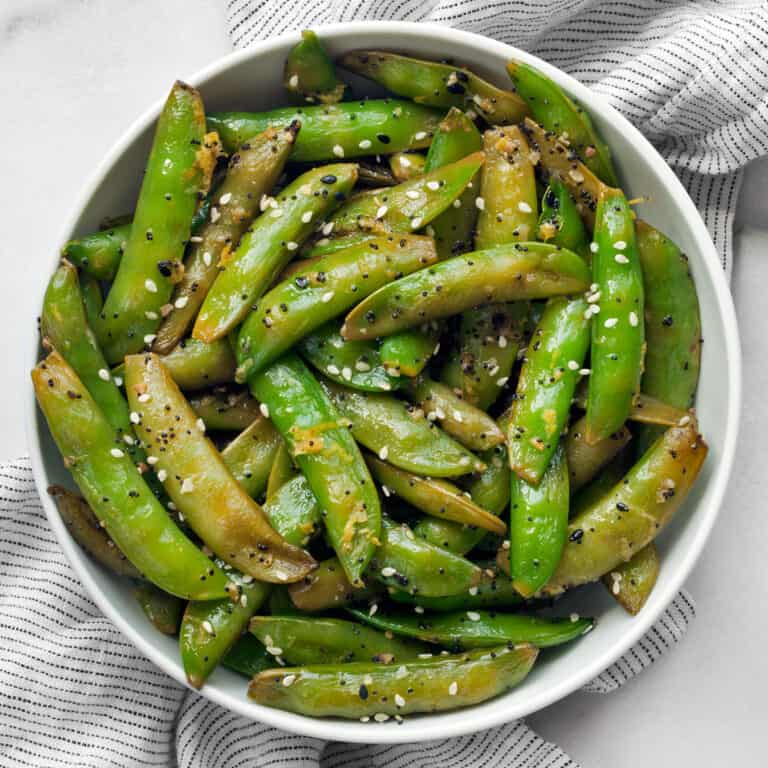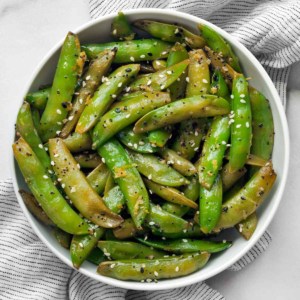 Sautéed with olive oil and lemon and finished with everything bagel seasoning, these snap peas are the perfect simple veggie side.
Ingredients
1

tablespoon

olive oil

1

pound

sugar snap peas

Juice and zest of 1 lemon

1/2

teaspoon

kosher salt

1/4

teaspoon

black pepper

1

tablespoon

everything seasoning
Instructions
Heat the oil in a large skillet over high heat.

Add the snap peas and lemon juice. Sauté for 3-5 minutes until bright green and tender but crisp. Some will be lightly browned.

Stir in lemon zest, salt and pepper.

Finish with everything seasoning.
Notes
If you want to flavor them with something other than everything seasoning, keep the lemon, salt and pepper and try one of these ideas:
Red pepper flakes add spicy heat.
Butter: Stir in a knob of butter at the end of sautéing.
Garlic: Add one minced garlic clove in the final 30 seconds of sautéing.
Parmesan cheese: Sprinkle them with finely grated Parmesan for a final garnish.
Store leftovers in an airtight container in the refrigerator up to 3 days. Eat them cold or quickly warm them in a skillet over medium heat.
Nutrition
Calories:
82
kcal
|
Carbohydrates:
10
g
|
Protein:
3
g
|
Fat:
4
g
|
Saturated Fat:
1
g
|
Polyunsaturated Fat:
0.5
g
|
Monounsaturated Fat:
3
g
|
Sodium:
493
mg
|
Potassium:
244
mg
|
Fiber:
3
g
|
Sugar:
5
g
|
Vitamin A:
1234
IU
|
Vitamin C:
74
mg
|
Calcium:
50
mg
|
Iron:
2
mg
Nutrition information is automatically calculated, so should only be used as an approximation.
Recipe originally published July 9, 2018. Updated April 13, 2023