Toasted bagel crumbs mixed with lemon zest make a crunchy vegetable topping for already crunchy Everything Snap Peas. They are topped with grated Parmesan.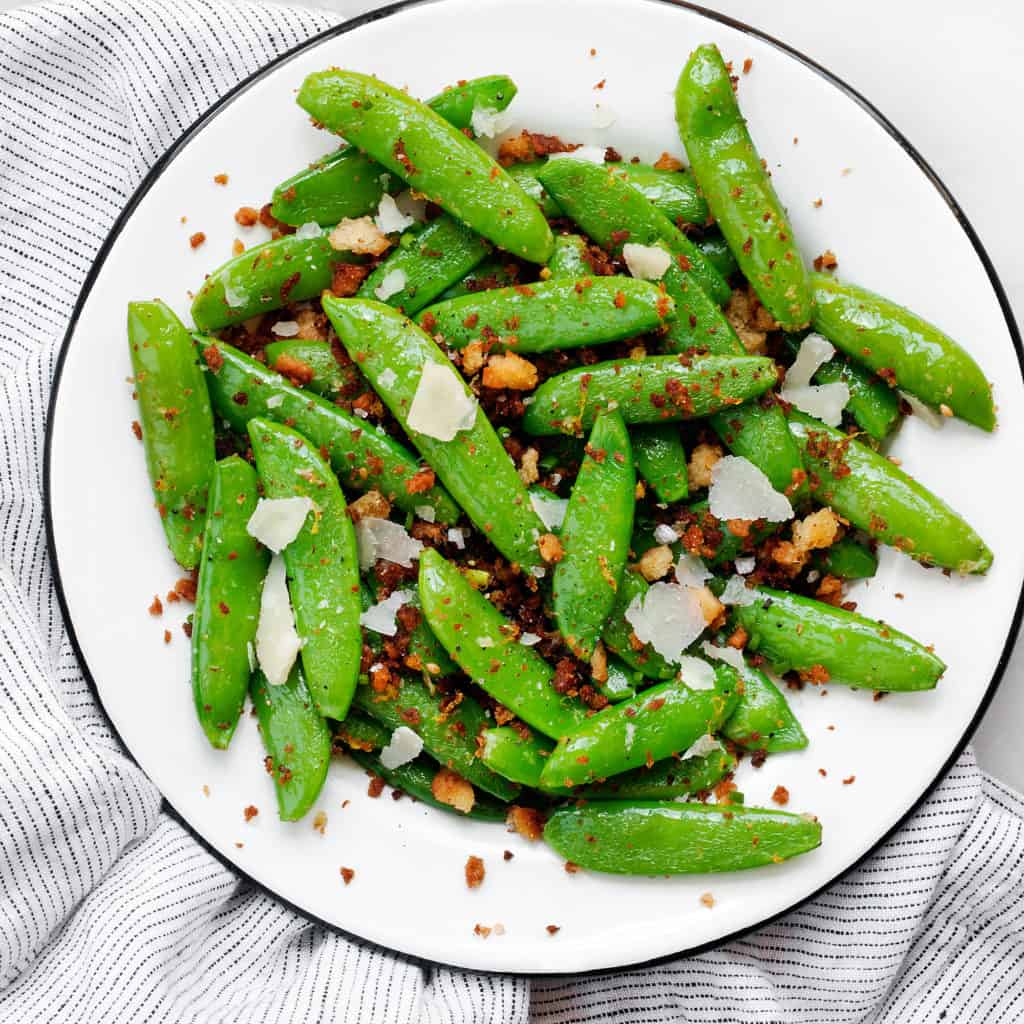 Everything bagels are a Sunday ritual at our house.
Since my 4-year-old has had enough teeth to get through a chewy bagel, his favorite kind has been everything. Sesame comes in at a close second.
We aren't the only ones who love everything. It is the most popular flavor at our usual bagel place. The wait for them can be very long unless you get there early.
Those bagels are good motivation to get going on the weekends.
Yesterday my son insisted on an entire bagel on his lunch plate even though I knew he wouldn't be able to finish it.
While I appreciated his ambition, it kind of pained me to give it to him one of those precious everything bagels when it was obviously way too much.
As expected, half the bagel, minus a bite, was left on his plate.
I didn't want to just slather it with cream cheese or let it go to waste.
Like many parents, I try to control myself from eating off my child's plate, but there are times when I just can't resist those leftovers and scraps.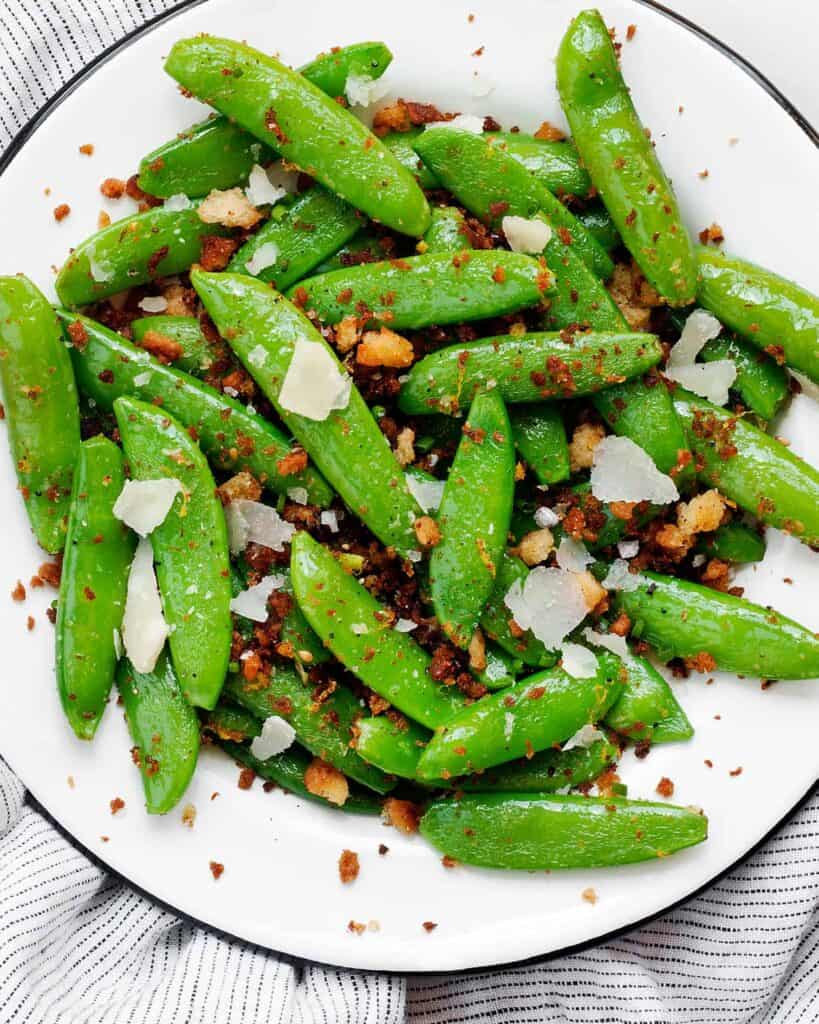 How To Make Everything Snap Peas
I paired that almost untouched half bagel with one of my farmers' market veggie purchases and made everything snap peas.
I started by cutting the bagel into smaller pieces and chopping them into coarse crumbs in the food processor.
Then I toasted the bagel crumbs in a pan with olive oil and mixed in lemon zest and grated Parmesan.
In just a couple minutes the snap peas were sautéed and ready to be stirred with the bagel crumbs.
The result was a simple side with a fresh crunch to match the peas' zippy bright green color.
The first time I made them, I devoured all those snap peas myself, and it turned into an accidental lunch.
Print
Everything Snap Peas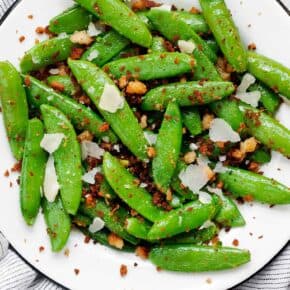 Author:
Prep Time:

5 minutes

Cook Time:

6-7 minutes

Total Time:

11-12 minutes

Yield: Serves

4

1

x
Scale
Ingredients
Half everything bagel, cut into pieces
3 tablespoons olive oil
Zest of 1 lemon
1 tablespoon finely grated Parmesan plus more for serving
1/2 teaspoon kosher salt
1 pound fresh snap peas, trimmed
1 tablespoon fresh chives
Instructions
Place the bagel into a food processor and chop into coarse crumbs. Heat 2 tablespoons olive oil in a large skillet over medium high heat. Sauté the bagel crumbs until they are golden brown and toasted, about 4-5 minutes. Remove from the heat and stir in the lemon zest, Parmesan and salt. Transfer to a paper towel-lined plate.
Wipe out the skillet and add the remaining olive oil. Sauté the snap peas over medium high heat until they are crisp and bright green, about 2 minutes. Place the peas into a large bowl and stir in the bagel crumbs. Top with chives and additional Parmesan before serving.
SHARE THIS