Fresh Herb Pappardelle Pasta
With garlic, lemon and a mix of fresh herbs, you need to add this pappardelle pasta recipe to your list of easy pastas. It has just 11 ingredients and 3 of those are herbs including parsley, basil and chives. And before you ask, you absolutely can customize this combination depending on what you have in your kitchen. You also can add other ingredients like roasted tomatoes or sauteed mushrooms.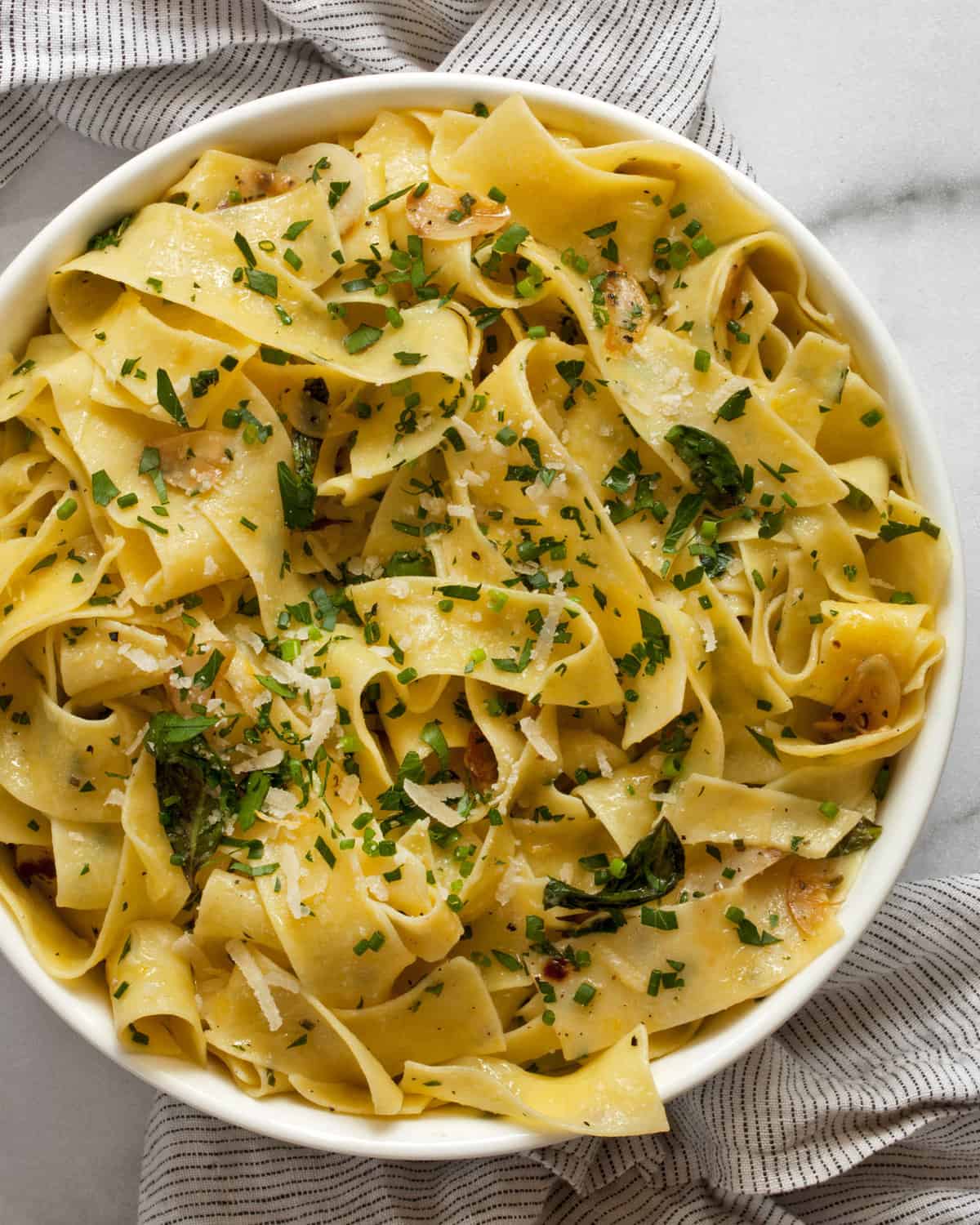 Why You'll Love This Recipe
There is something so beautiful about a simple pasta dish with garlic, lemon and herbs. Using pappardelle pasta is what makes it special. If you are looking for a way to change up your usual pasta routine, these noodles are a great way to do it.
You can put the fresh herbs you bought for one recipe to use in another. I know sometimes people can hesitate to buy bunches of herbs for a recipe if they feel like they're going to end up throwing most of them away. With this pasta you can stir in lots of different herbs including parsley, basil and chives, so you can avoid that waste.
This recipe is quick and easy. The most prep you have to do is slice the garlic and chop the herbs. And if you want to save a few minutes, you can start cooking the pasta on one burner and then toward the end of its cook time, you can warm the olive oil and sauté the garlic.
What is Pappardelle?
These egg noodles are long, flat, and most importantly, wide. You can think of them like pasta ribbons. They are often paired with something big and meaty like bolognese sauce or ragu. Pappardelle is pronounced 'pap-par-deh-lay.'
Unlike other long pastas such as spaghetti or fettuccine that are packaged standing straight in a box, dried papparedelle is in nests. They unravel pretty quickly once they start to cook in the simmering water.
The Ingredients
This is what you need:
Pappardelle: As mentioned, these egg noodles really make this pasta recipe. You can substitute with tagliatelle, which are egg noodles that are a little more narrow.
Garlic: This pasta is garlicky. It calls for 4 cloves sliced thinly rather than being minced like other recipes. I like those flat pieces of garlic with the wide noodles.
Red pepper flakes, salt and black pepper season the pasta.
Parmesan is a hard Italian cheese made from cow's milk. If you want something more pungent, you can use pecorino cheese instead or use a mix of both.
Lemon: You will need the juice and zest from one lemon.
Fresh herbs: I like using a combination of parsley, basil and chives. They all have their own distinct personalities, yet they all work well together. Chives add onion flavor. You can consider adding oregano too.
Optional Additions
Mushrooms: Try stirring in roasted or sautéed mushrooms.
Tomatoes: Depending on the season, you can throw in slow-roasted tomatoes, especially during the summer.
Pesto: I know this may seem like a lot of herbs, but if you have pesto in your fridge, spoon some into the warm pasta.
Butter: If you want to add some richness, you can stir in a half to a full tablespoon of butter. It will quickly melt right in. This makes me reminisce about eating buttered egg noodles in college.
How To Make This Pappardelle Pasta Recipe
1. Cook the pasta. Follow the recommended cook time on the package to make sure you cook the pappardelle until it is just al dente. It should have some bite. Save 1/2 cup pasta cooking water and then drain the rest.
2. Heat the olive oil in a dutch oven over medium low heat.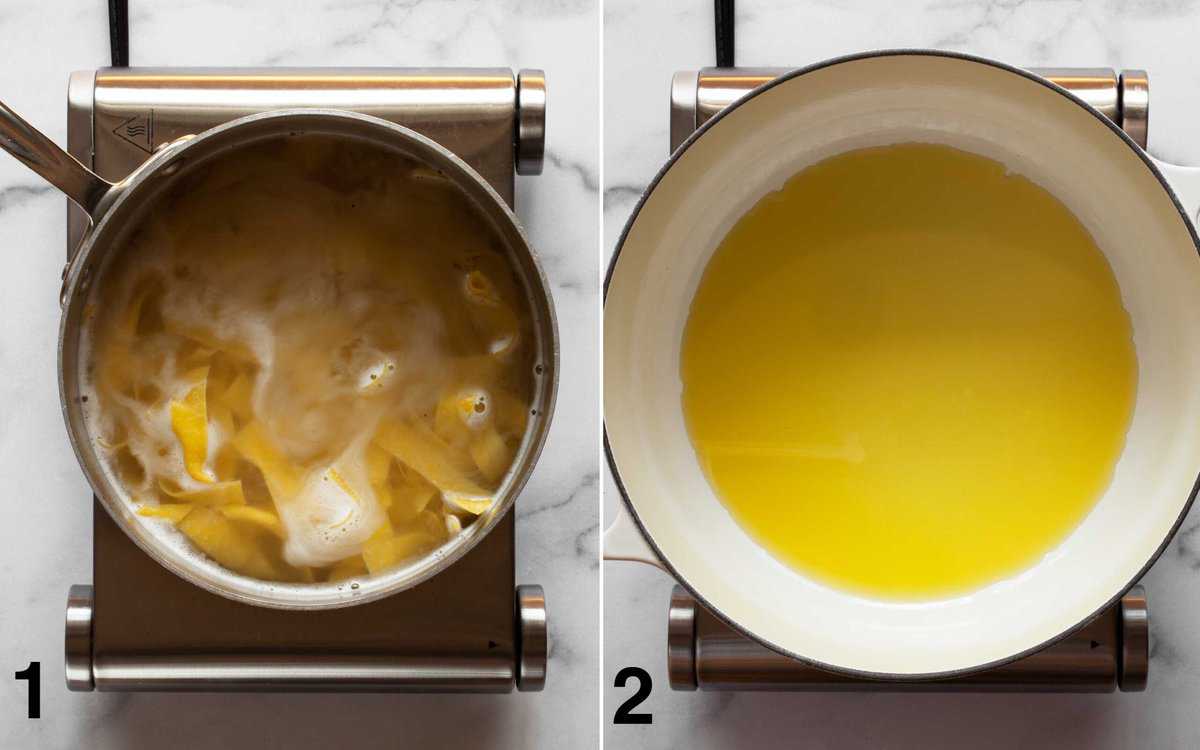 3. Sauté the garlic. Give it 2-3 minutes to turn golden brown.
4. Stir in the red pepper flakes, salt and pepper.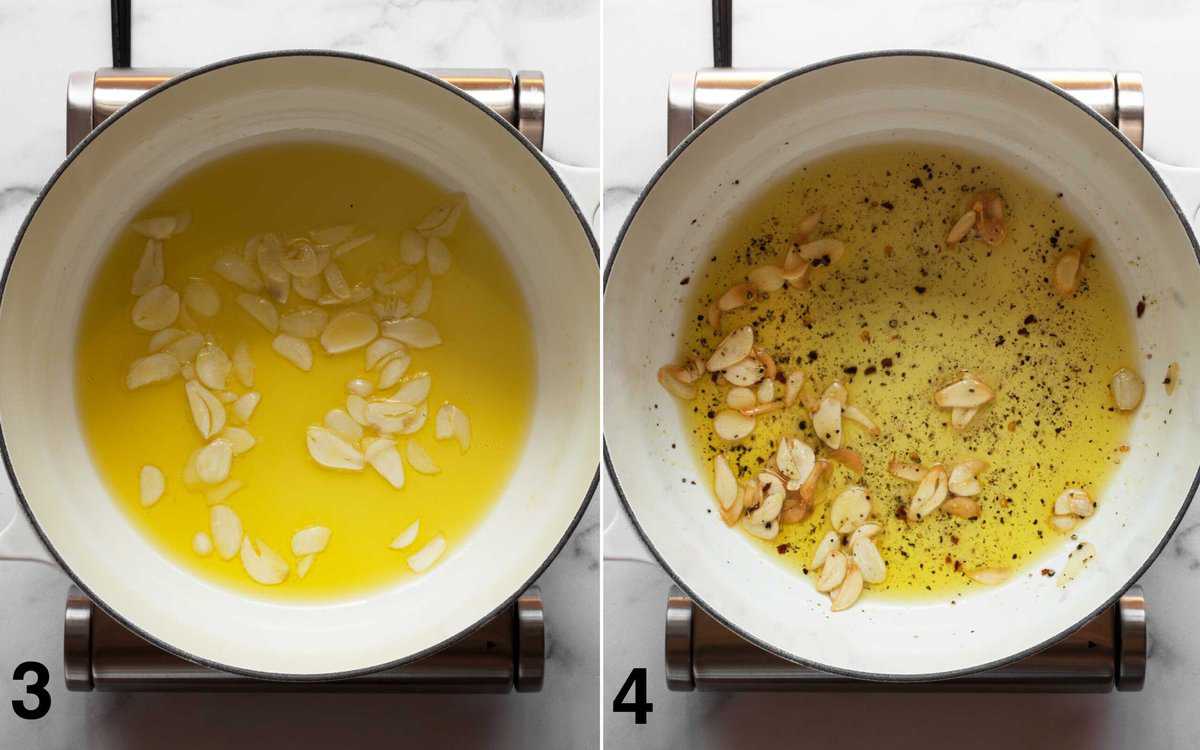 5. Add the pasta. It should be well mixed into the oil, garlic and seasonings.
6 Add the fresh lemon juice and zest and the pasta cooking water, letting it bubble and evaporate. This will allow the strach to coat the pasta.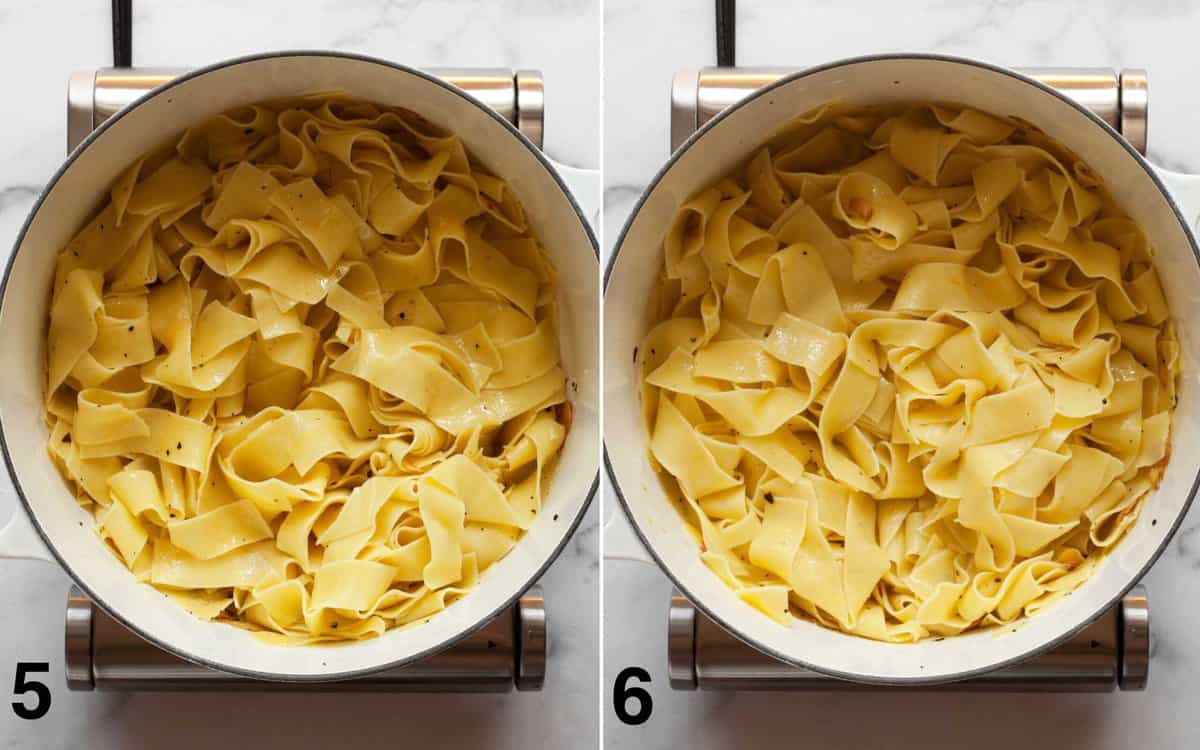 7. Stir in the Parmesan cheese.
8. Stir in the parsley, chives and basil leaves. Divide the pasta into bowls and finish it with more Parmesan before serving.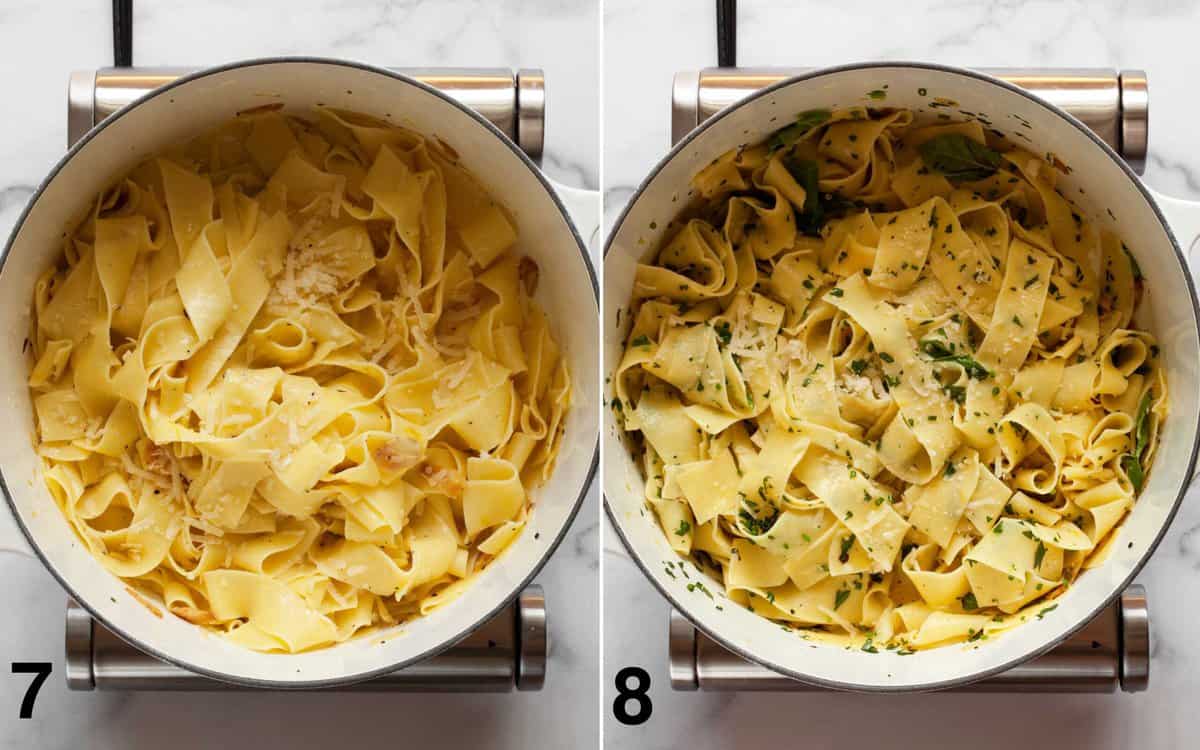 How to Make Homemade Fresh Pappardelle Pasta Dough
If you want to make a batch of fresh papparedelle pasta, you don't need a pasta machine to do it. You can follow my Basic Fresh Pasta Recipe. Then roll out the dough with a rolling pin and slice it into wide ribbons. If you want, you can even add some fresh herbs into the dough.
Serving
I have two salads that are my go-tos for pasta recipes. If you prefer keeping it simple with baby greens, you can make this Arugula Salad with Lemon Vinaigrette. It's also good with spinach or spring greens. And of course, I always love an Italian Chopped Salad to complete a pasta dinner.
Storage & Leftovers
If you have leftovers, you can keep them in an airtight container in the fridge up to 3 days. Warm them in the microwave or on the stove in a skillet with a splash of olive oil. If you have fresh herbs in your kitchen, you can add more once the pasta is warm.
FAQs
What is the difference between egg pasta and regular pasta?
Both pasta doughs have eggs. But egg noodles have more eggs, which gives them more rich flavor, and they are more yellow in color.
What is the difference between pappardelle and tagliatelle?
Both are long, flat egg noodles. Pappardelle is wider than tagliatelle. They are good substitutes for each other. Fettucine is narrower than tagliatelle.
What sauce is good with pappardelle noodles?
One of the best things about pappardelle is how many ways you can serve it. That includes meaty bolognese and ragu, cream sauce, tomato sauce, pesto and simply with extra-virgin olive oil.
Did you make this pasta recipe? Please leave a rating and comment below. Thanks!
Fresh Herb Pappardelle Pasta Recipe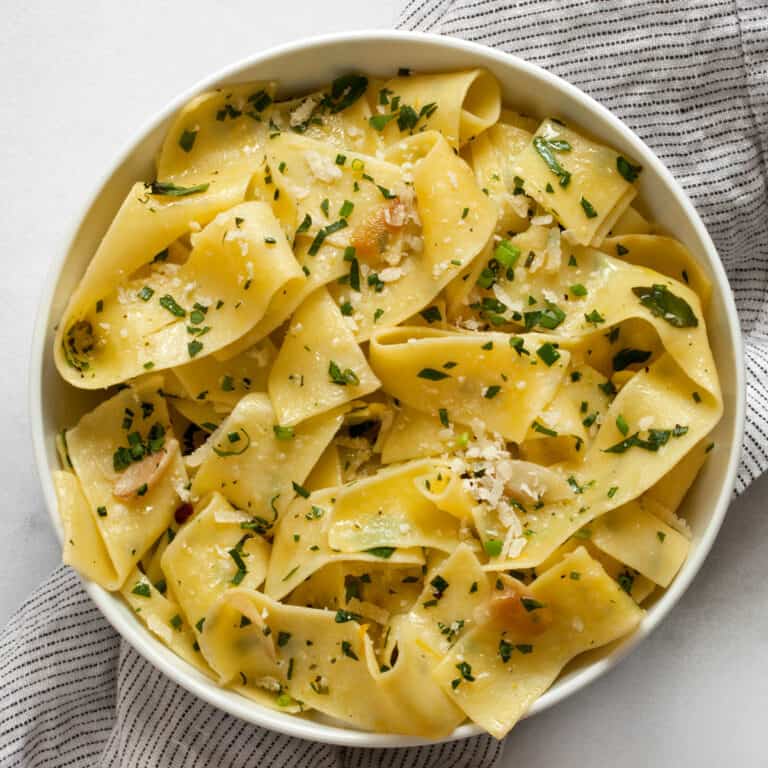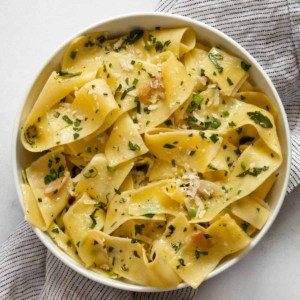 It doesn't get much better than this mix of fresh herbs, lemon and garlic with these pappardelle egg noodles. This is a fast and easy pasta recipe.
Ingredients
8

ounces

pappardelle pasta

1/4

cup

olive oil

4

garlic cloves

thinly sliced

1

teaspoon

kosher salt

1

teaspoon

black pepper

1/4

teaspoon

red pepper flakes

1/4

cup

grated Parmesan cheese plus more for serving

Juice and zest of 1 lemon

1/4

cup

chopped parsley

3

tablespoons

chopped chives

1/4

cup

basil leaves

larger leaves torn
Instructions
Cook the pasta until al dente in a large pot of salted boiling water according to package instructions. Save 1/2 cup pasta cooking water before draining it in a colander.

Heat the oil over medium low heat in a dutch oven. Gently fry the garlic until it is light golden brown, about 2-3 minutes.

Add the salt, pepper and red pepper flakes.

Stir in the pasta, coating it in the oil and garlic.

Stir in the lemon juice and zest and reserved pasta water.

Fold in the Parmesan cheese.

Stir in the parsley, chives and basil leaves.

Divide into bowls and top with additional Parmesan before serving.
Notes
You can start warming the olive oil in the last few minutes of cook time for the pasta. If you do this, you can transfer the pasta straight to the oil and garlic rather than draining it first. Just remember to save a 1/2 cup of pasta cooking water.
You can substitute tagliatelle for pappardelle.
If you want a stronger cheese, try pecorino or a mix of pecorino and Parmesan.
Store leftovers in an airtight container in the refrigerator up to 3 days. Warm them in the microwave or on the stove with olive oil. Stir in more fresh herbs once it is warm.
Nutrition
Calories:
256
kcal
|
Carbohydrates:
44
g
|
Protein:
10
g
|
Fat:
4
g
|
Saturated Fat:
2
g
|
Polyunsaturated Fat:
1
g
|
Monounsaturated Fat:
1
g
|
Trans Fat:
0.04
g
|
Cholesterol:
53
mg
|
Sodium:
708
mg
|
Potassium:
219
mg
|
Fiber:
2
g
|
Sugar:
2
g
|
Vitamin A:
623
IU
|
Vitamin C:
13
mg
|
Calcium:
94
mg
|
Iron:
2
mg
Nutrition information is automatically calculated, so should only be used as an approximation.
Recipe originally published August 28, 2017. Updated: May 11, 2023.