Bay Scallops with Shallots & Lemon
on Dec 29, 2014, Updated Jul 08, 2022
With just 9 ingredients, these bay scallops sear in minutes. They are an easy appetizer that turns out elegant and restaurant-worthy. They cook in a combination of olive oil, butter, and shallots and are finished with a squeeze of fresh lemon juice.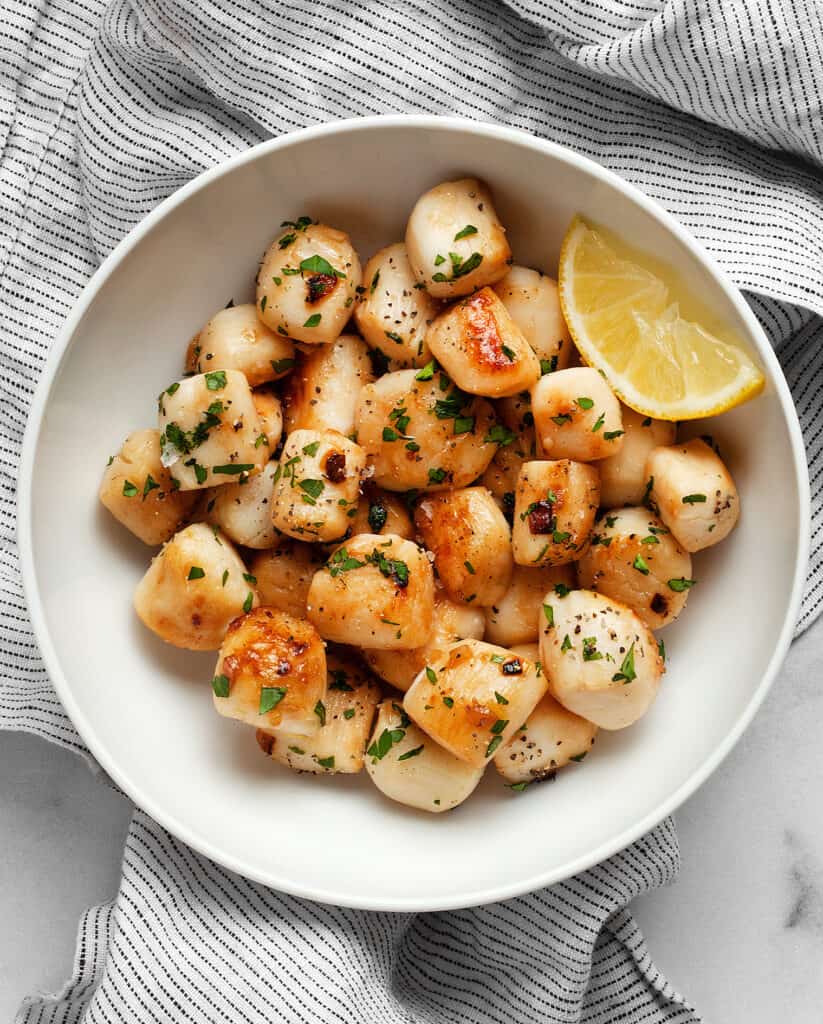 When I think about what's in season, fruits and veggies are usually the first things that pop into my mind. But we are in that annual low when all I can do is wish for time to pass.
Right now we are in a lull until spring when not much is growing; however, there are non-produce edibles that are at their peak.That is very true with certain seafood. The ocean is a long way from us in Chicago, so geography can make me feel removed from all the fuss over saltwater delicacies that are at their peak.
What Are Bay Scallops?
From November to March, these scallops, smaller than their seafaring cousins, are at their best. They are caught by hand in shallow cold water on the coast. Their small size is one of the things that make them special.
The major difference between bay scallops and sea scallops is their size. Sea scallops are larger in diameter, and smaller bay scallops have a sweeter flavor.
At the grocery last week I spotted Nantucket Bay scallops on special at the fish counter. My husband is from the East Coast, so he is very familiar with them. Because of that and our travels to Massachusetts to see family, I have gotten hooked on them, too.

Most of the time, seafood prep is best kept simple. That is my number one rule. I like to use ingredients that only enhance the scallops like shallots, lemon, butter and white wine. This combination is light with just the right amount of acidity. There's no reason to serve scallops drowning in a heavy sauce.

Fish often has a mild flavor. To stay true to it, I like to treat it with an amount of respect and restraint. Why hide what makes it so good?
The Ingredients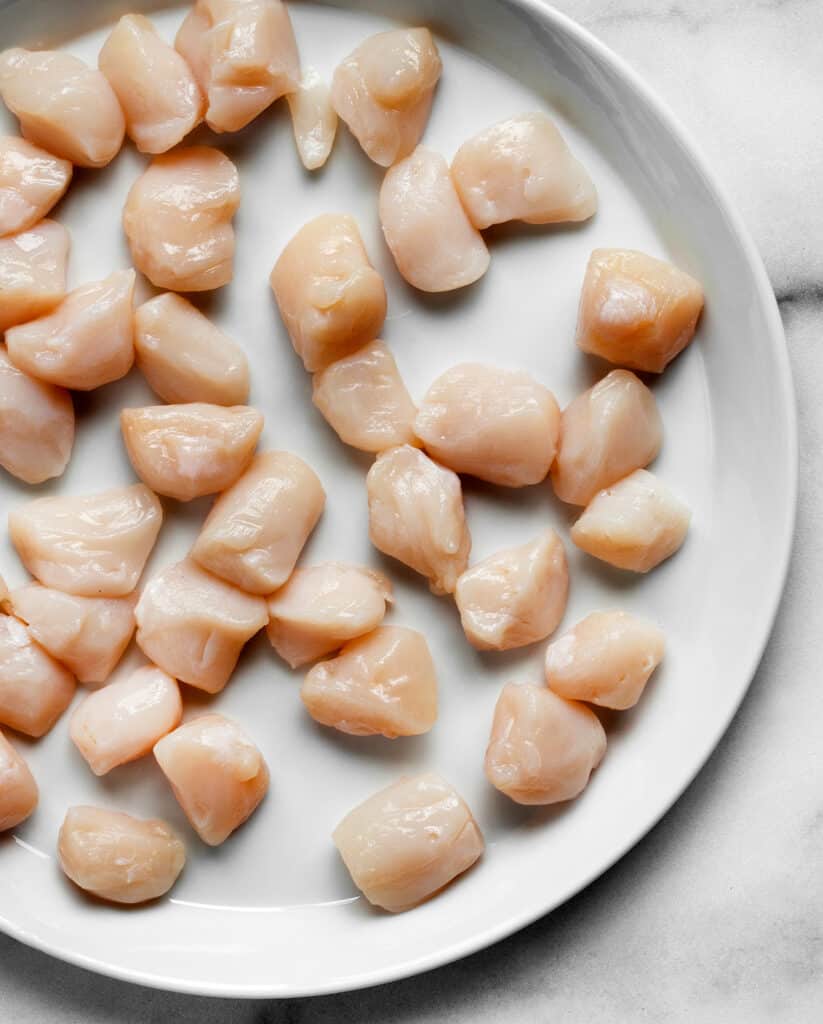 This is what you need for this bay scallops recipe:
Bay scallops: These are smaller than sea scallops.
Olive oil: The scallops cook in a combination of olive oil and butter.
Butter: I use unsalted butter and olive oil for the richness and taste.
Shallots: Minced shallots add onion and garlic flavor.
White wine: Make sure to use dry white wine. The wine adds acidity to balance out the butter and oil.
Salt & pepper: The scallops are seasoned with just salt and black pepper.
Parsley: When the scallops are finished, I sprinkle them with chopped parsley.
Lemon wedges: Serve the scallops with lemon wedges, so then you can squeeze them with fresh lemon juice.
How To Cook Nantucket Bay Scallops
Pat the scallops dry with a paper towel.
Heat the olive oil and butter in a skillet over medium high heat.
Sauté the shallots for a couple minutes until they turn soft and translucent. You want to give them a good sear.
Pour in the wine. Let it bubble until it reduces by half. Then add the salt and pepper.
Place the scallops in the pan and cook 1-2 minutes per side. Make sure not to overcrowd them. They should not be touching. Avoid overcooking the scallops or they will have a chewy, rubbery texture.
Garnish the scallops with parsley and squeeze in lemon juice.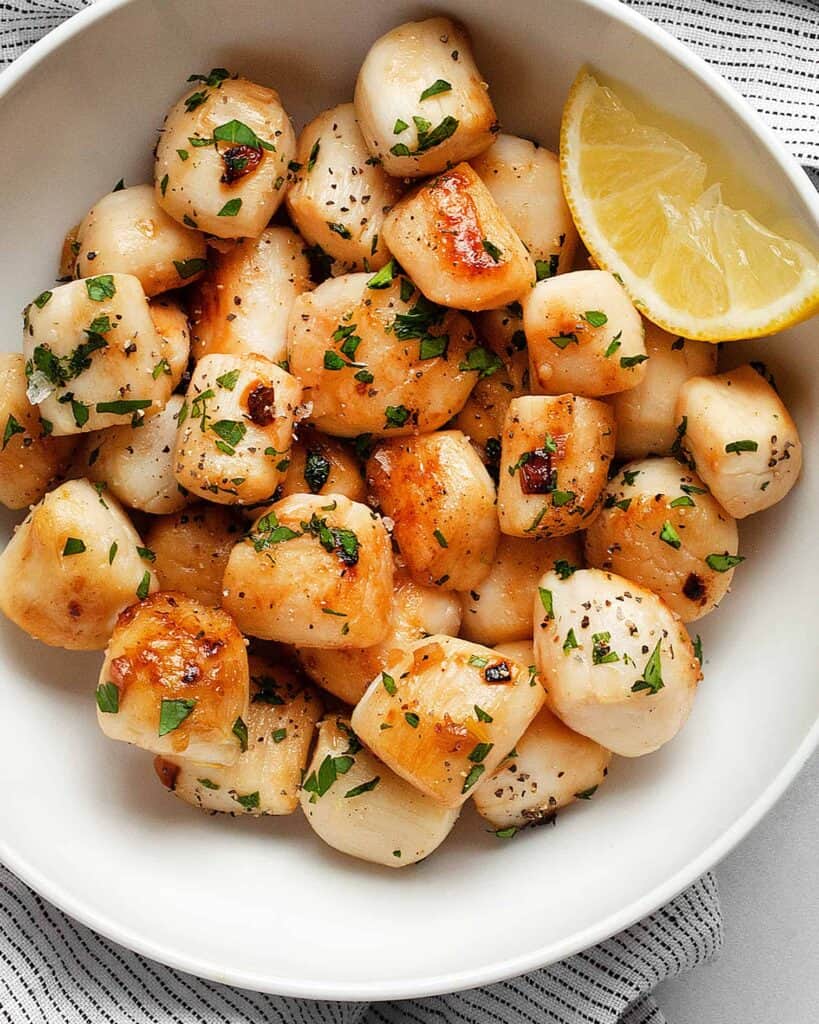 Leftovers
It's best to eat the scallops warm right after you finish cooking them. If you do end up with leftovers, they can be stored in the fridge in an airtight container for 1-2 days. Do not try to warm them because they will end up overcooked and rubbery. Put them in a salad and eat them cold.
Recipe Tips
Pat the scallops dry with a paper towel. Removing that moisture is important for searing.
Don't crowd the pan. You want the scallops to sear. When you have too many in the pan cooking at once they will end up steaming instead, and you'll miss out on them browning. Make sure they are in a single layer, so they all have direct contact with the pan. Cook them in batches if needed.
Try to flip them over only once when you cook them. Scallops are delicate. If you handle them too much, they might tear.
Seared Bay Scallops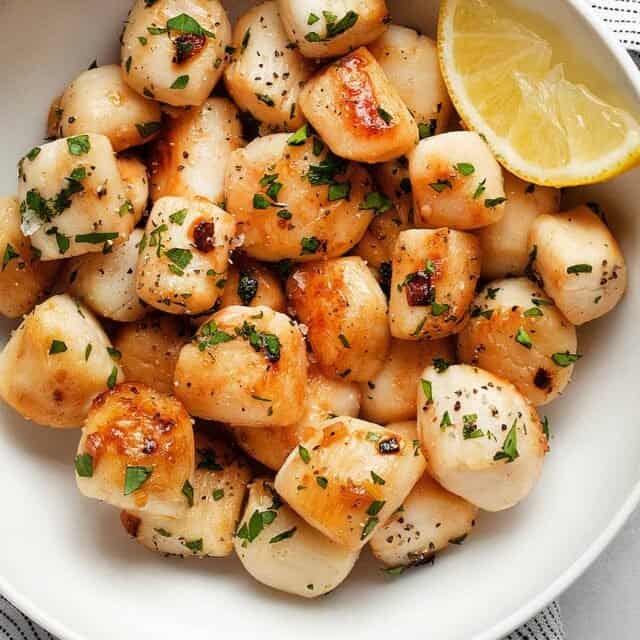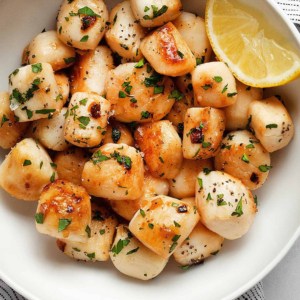 With shallots, white wine and lemon juice, these bay scallops are a quick and easy appetizer. They cook in minutes to a perfect golden brown.
Ingredients
3/4

pound

bay scallops

1

tablespoon

olive oil

2

tablespoons

butter

1

shallot

minced

1/4

cup

dry white wine

1/4

teaspoon

kosher salt

1/4

teaspoon

black pepper

1

tablespoon

chopped fresh parsley

2-4

lemon wedges
Instructions
Pat the scallops dry with a paper towel.

Heat the olive oil and butter in a large skillet over medium high heat. Once the butter has melted, sauté the shallots until they have softened, about 2 minutes. Add the wine and continue cooking until the liquid has reduced by half, about 2 minutes. Sprinkle in the salt and pepper.

Place the scallops in the skillet making sure not to overcrowd them. Cook for 1-2 minutes per side until browned and opaque.

Toss the scallops with parsley and a squeeze of lemon juice before serving.
Notes
You can serve the scallops with risotto, orzo or rice in order to turn it into a main dish. Or use them to top a salad.
Scallops are best eaten warm when they are freshly cooked. You can store leftovers in an airtight container in the refrigerator up to 1-2 days. Eat leftovers cold.
Nutrition
Calories:
160
kcal
|
Carbohydrates:
5
g
|
Protein:
11
g
|
Fat:
10
g
|
Saturated Fat:
4
g
|
Polyunsaturated Fat:
1
g
|
Monounsaturated Fat:
4
g
|
Trans Fat:
0.2
g
|
Cholesterol:
35
mg
|
Sodium:
526
mg
|
Potassium:
227
mg
|
Fiber:
1
g
|
Sugar:
1
g
|
Vitamin A:
265
IU
|
Vitamin C:
7
mg
|
Calcium:
15
mg
|
Iron:
1
mg
Nutrition information is automatically calculated, so should only be used as an approximation.