For a healthy, crispy snack, toss Oven-Baked Beet Chips in flaky sea salt, black pepper and lots of fresh herbs like rosemary, thyme and chives.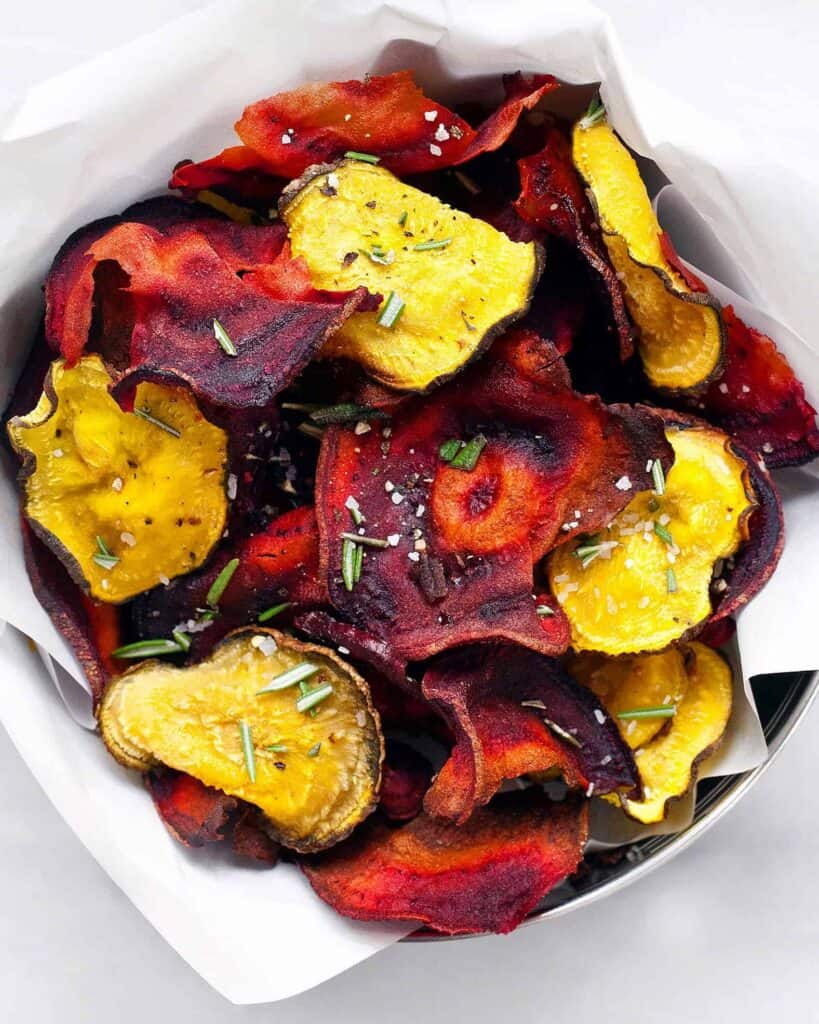 There's been more snacking than usual lately, and I like to snack. I say the crunchier and saltier the better.
I've been nibbling on all sorts of things at holiday parties. Or I haven't eaten enough at these parties because I've been too busy chatting, and I end up snacking when I get home.
Not my ideal timing to eat.
My days of late-night eating are long gone, but I get desperate and just need a little something for my empty stomach!
I do my best to be smart about snacking. First, I like to make sure I have healthy options in my pantry.

Apples & peanut butter and hummus & raw veggies are two of my favorite combos.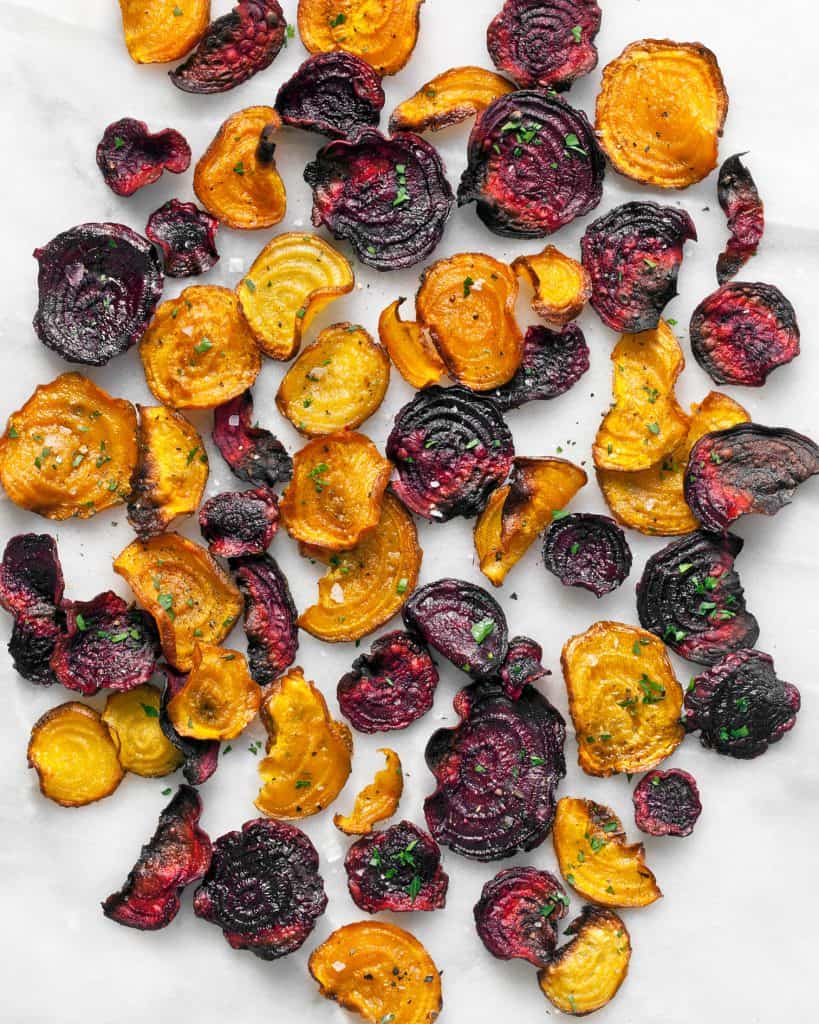 Of course, I don't always want fruit or veggies and dip. I have a weakness for carbs and lots of other things.

To curb my cravings for classic snack foods like potato chips, I try to have more wholesome versions at close reach.
Regular russet potatoes and sweet potatoes make great non-fried chips and so do beets. I love roasting a batch of oven-baked beet chips.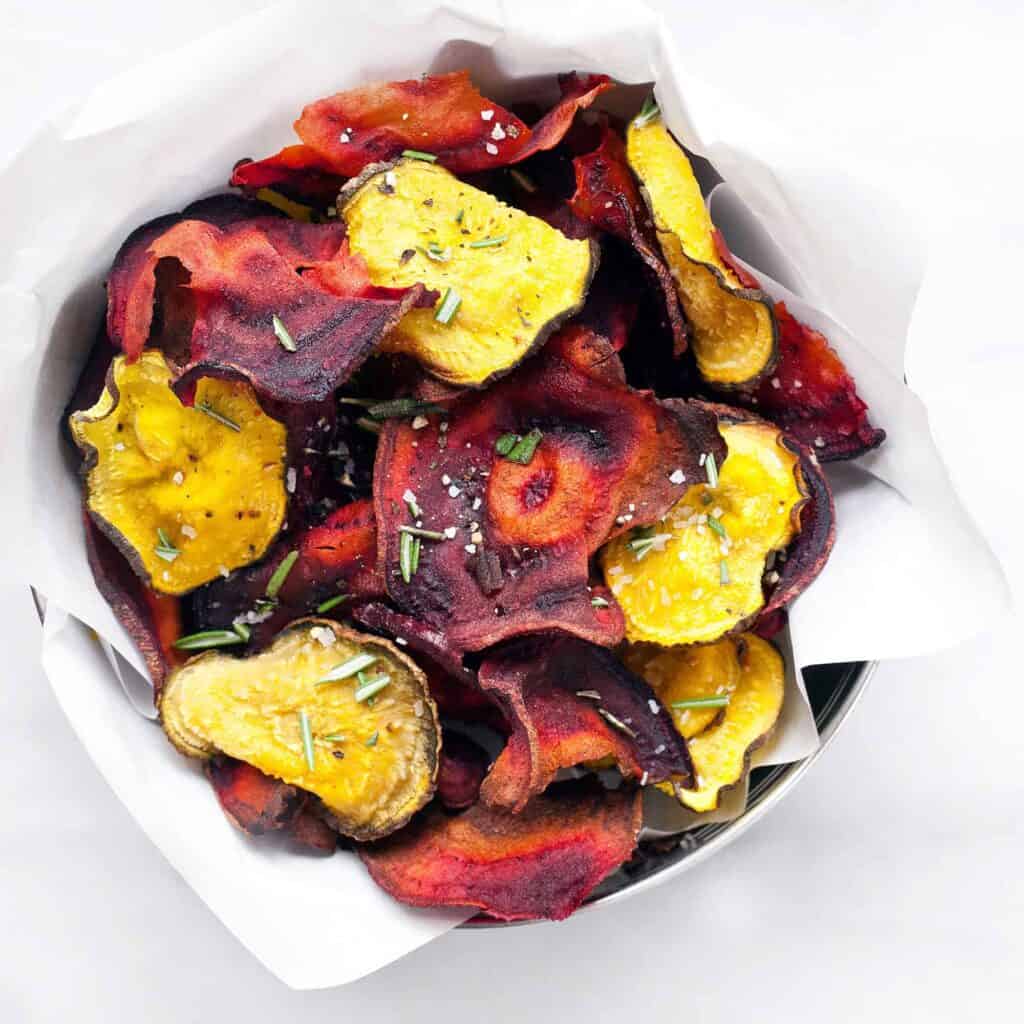 How To Make Oven-Baked Beet Chips
To start, I scrub off any dirt from an assortment of red and golden beets.

Then I use a mandolin to slice them very thin. Yes, you can do it with a knife, but a mandolin makes these paper-thin cuts a cinch.
I toss the beets in a few glugs of olive oil along with salt and pepper.

It helps to roast them on a sheet pans lined with parchment paper, so you don't risk the chips sticking to the pan.
Once the oven-baked beet chips are wrinkled at the edges, crispy and still warm, I sprinkle them with flaky sea salt, black pepper and chopped fresh rosemary.

You also can use thyme leaves, minced chives, chopped cilantro or parsley, or a mixture of fresh herbs.
Print
Oven-Baked Beet Chips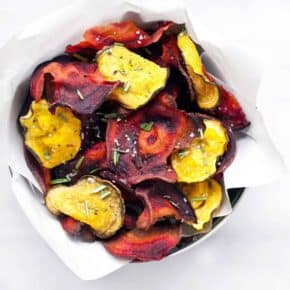 Author:
Prep Time:

5 minutes

Cook Time:

15-20 minutes

Total Time:

20-25 minutes

Yield:

2

–

1/2

to 3 cups

1

x
Scale
Ingredients
5–6 medium assorted beets (red, yellow & Chioggia)
1 tablespoon olive oil
1 teaspoon kosher salt
1/2 teaspoon black pepper plus more for serving
Flaky sea salt for serving
Chopped fresh herbs for serving (rosemary, thyme, parsley, cilantro, chives)
Instructions
Preheat the oven to 375 degrees F. Line 2 sheet pans with parchment.
Use a mandolin or sharp knife to slice the beets 1/16-inch thick. Toss the beets with olive oil, salt and pepper.
Arrange them in single layer on the prepared sheet pans. You will need to bake these in batches.
Bake until crisp, about 15-17 minutes. Toss the warm chips with flaky sea salt, black pepper and fresh herbs.
Notes
Carefully watch the beet chips as they bake, so they do not burn. You may need to take some of them off the sheet pan sooner than others.
SHARE THIS