Vegan Creamy Tomato Spinach Pasta

Raw cashews thicken vegan creamy tomato spinach pasta, a heathier version of a hearty sauce for rigatoni or penne. The recipe makes leftovers!
Does anyone else miss hugs?

Of course I am incredibly grateful to have my husband and son in our little bubble, and there are plenty of hugs.

But I think most of us are longing for a normal hug from a friend. The greetings are just so awkward at these limited masked park meetups.

I am not suggesting doing anything reckless or beyond an elbow bump.

Instead I blame my comfort food cravings on the slight chill in the air and a lack of hugs.
Hearty hot soups and stews are making me feel all warm and fuzzy inside.

I can't say no to pasta right now either. It's quick, easy to make and very filling.
Most of the sauces I make for noodles are tomato-based or involve lemon juice, garlic and olive oil.

Cream based sauces aren't on my list unless they are a lighter version that don't have heavy cream.

Cashews are a great way to thicken sauces while keeping them vegan and getting a boost of protein.

I like to have a bag of unsalted raw cashews in my freezer to use in granola and for sauces like in this vegan creamy tomato spinach pasta.

Prepping Raw Cashews
Raw cashews do require a little prep. You need to soak them for at least 4 hours to overnight to soften them.

If you're in a hurry, you can put the cashews in water in a small saucepan, bring it to a boil and then wait 15 minutes.

Drain the cashews before using.

Soaking the cashews makes it easier for the blender to puree them into the sauce.

How To Make Vegan Creamy Tomato Spinach Pasta
To make vegan creamy tomato spinach pasta, start by sauteing chopped onions in a large skillet.

Then add garlic and tomato paste with a can of diced tomatoes, red pepper flakes, salt and pepper.

Give the tomato mixture about 15 minutes to simmer and thicken before folding in spinach.
After that it's time for the blender. Carefully spoon the tomatoes into a blender with the cashews and a cup of water.

Then puree it into a sauce.
This is one of those recipes that makes more sauce then you need, which is always a good thing, right?

If I know I will use the sauce in a week, I just keep it in the fridge, or if I want to store it a bit longer, I freeze it knowing it will come in handy on a busy weeknight.

Before serving this vegan creamy tomato spinach pasta, I top each bowl with a sprinkle of nutritional yeast and chopped parsley.
Print
Vegan Creamy Tomato Spinach Pasta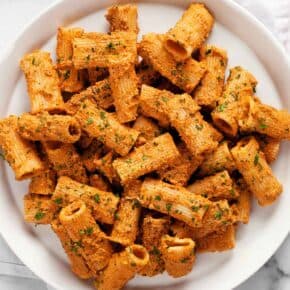 Raw cashews thicken creamy vegan tomato spinach pasta, a healthier version of a hearty sauce for penne, rigatoni or another pasta with ridges.
Author:
Prep Time:

10 minutes

Cook Time:

20-22 minutes

Total Time:

30-32 minutes

Yield: Serves

4

1

x
Scale
Ingredients
1 tablespoon olive oil
1 white onion, roughly chopped
2 garlic cloves, smashed
1 tablespoon tomato paste
1–28 ounce can diced tomatoes
1/4 teaspoon red pepper flakes
1 teaspoon kosher salt
1/2 teaspoon black pepper
2 ounces baby spinach
1 cup cashews, soaked 4 hours to overnight or bring to a boil in a small saucepan of water,remove from heat and soak for 15 minutes (drain before using)
1 cup water
12 ounces rigatoni or penne pasta
Nutritional yeast for serving
Chopped parsley for serving
Instructions
In a large skillet over medium heat, heat the olive oil. Sauté the onions until they start to soften and turn translucent, about 5-7 minutes. Stir in the garlic and tomato paste. After 30 seconds when the ingredients are fragrant, add the tomatoes, red pepper flakes, salt, and pepper.
Simmer the tomatoes for 15 minutes until the sauce has thickened. Stir in the spinach letting it wilt.
Carefully transfer the tomato mixture to a blender with the cashews and 1 cup water. Puree until smooth.
Cook the pasta according to package instructions. Stir in the desired amount of sauce and reheat in the skillet as needed.
Sprinkle with nutritional yeast and chopped parsley before serving.
Notes
The recipe makes about 4 cups of sauce, so you will end up with extra. The sauce can be stored in the refrigerator in an airtight container for up to 1 week or in the freezer for 1 month.
SHARE THIS