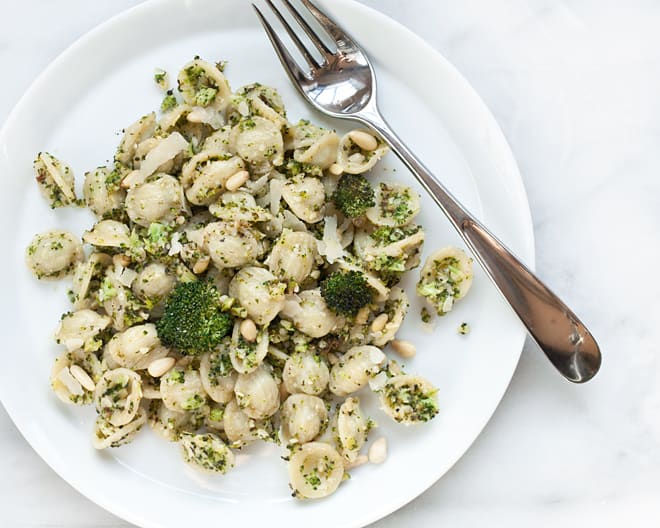 When I was a kid if you told me that I would like broccoli when I grew up, I wouldn't have believed you. The extent of my veggie consumption in my youth was raw carrot sticks. (Potatoes don't count.) Maybe that's why I'm not overly concerned that my son isn't so keen on eating his greens. I have to remind myself to be patient and wait.
With a few heads of broccoli at home, I decided to turn that produce into a sauce of sorts for pasta. I made roasted broccoli pesto. It turned out chunkier than the classic basil version, but I used a little pasta water to loosen it up as I tossed it into a bowl of orecchiette. I loved how the ear-shaped pasta scooped up the nutty broccoli.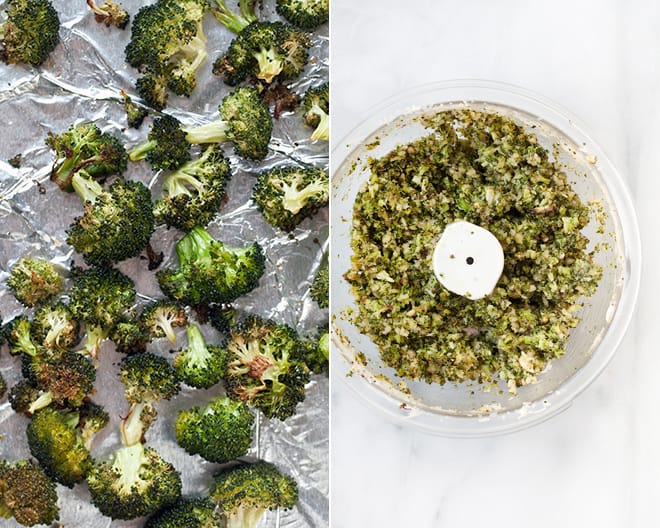 Roasted Broccoli Pesto
1 pound broccoli, trimmed and cut into florets
1/4 cup plus 1 tablespoon olive oil
1 teaspoon kosher salt
1 teaspoon black pepper
1 garlic clove, peeled
1/4 cup pine nuts
1/4 cup grated Parmesan
Juice of 1 lemon
Preheat the oven to 425 degrees F. Toss the broccoli with 1 tablespoon olive oil, 1/2 teaspoon salt and 1/2 teaspoon pepper on a sheet pan. Roast for 20-25 minutes until tender and just starting to brown at the edges.
Mince the garlic clove in the bowl of a food processor. Add the broccoli, remaining salt & pepper, pine nuts, Parmesan and lemon juice and puree. With the motor running, pour in the remaining olive oil.
When stirring the pesto into pasta, you may need to thin it out with some cooking water from the pasta.