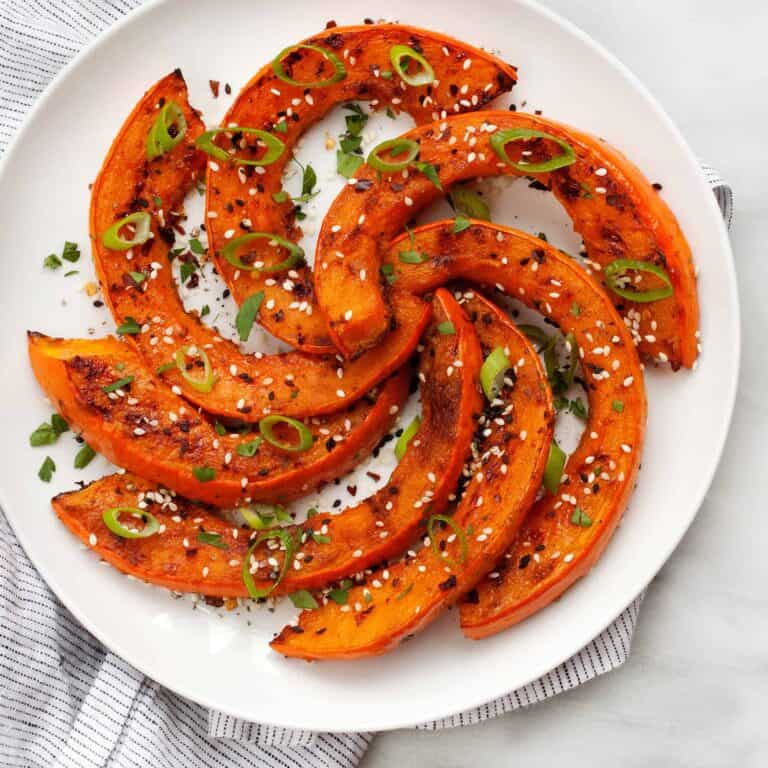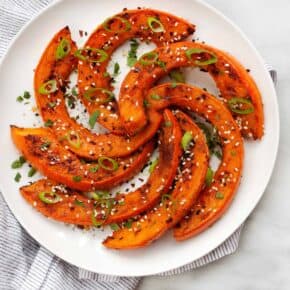 Miso-Glazed Red Kuri Squash
Author:
Prep Time:

10 minutes

Cook Time:

27-30 minutes

Total Time:

37-40 minutes

Yield: Serves

4

1

x
This miso-glazed red kuri squash is brushed with a mix of miso paste, sesame oil, rice vinegar and maple syrup before it is roasted in the oven.
Ingredients
1/4 cup white miso paste
2 tablespoons sesame oil
2 tablespoons rice vinegar
1 teaspoon maple syrup
1 tablespoon vegetable oil
1 red kuri squash, halved, deseeded and sliced 1/2-inch thick
1 teaspoon kosher salt
1/2 teaspoon black pepper
1 scallion, sliced thinly
1 tablespoon white and black sesame seeds
1/2 teaspoon red pepper flakes
Instructions
Preheat the oven to 375 degrees F. Line 2 sheet pans with parchment paper.
In a small bowl, whisk together the miso paste, sesame oil, rice vinegar, maple syrup and vegetable oil. Arrange the squash in a single layer on the prepared sheet pans. Brush both sides of the squash with the mixture and sprinkle with salt and pepper.
Roast for 15 minutes, brush with the miso-glaze and flip over to the other side. Brush with the glaze again and roast continue roasting until tender, about 12-15 minutes. Sprinkle with scallions, sesame seeds and red pepper flakes before serving.