Roasted Romanesco Arugula Pasta

Make the most of multi-tasking and prep the pasta and while the veggies are in the oven for this easy Roasted Roasted Romanesco Arugula Pasta with lemon and garlic.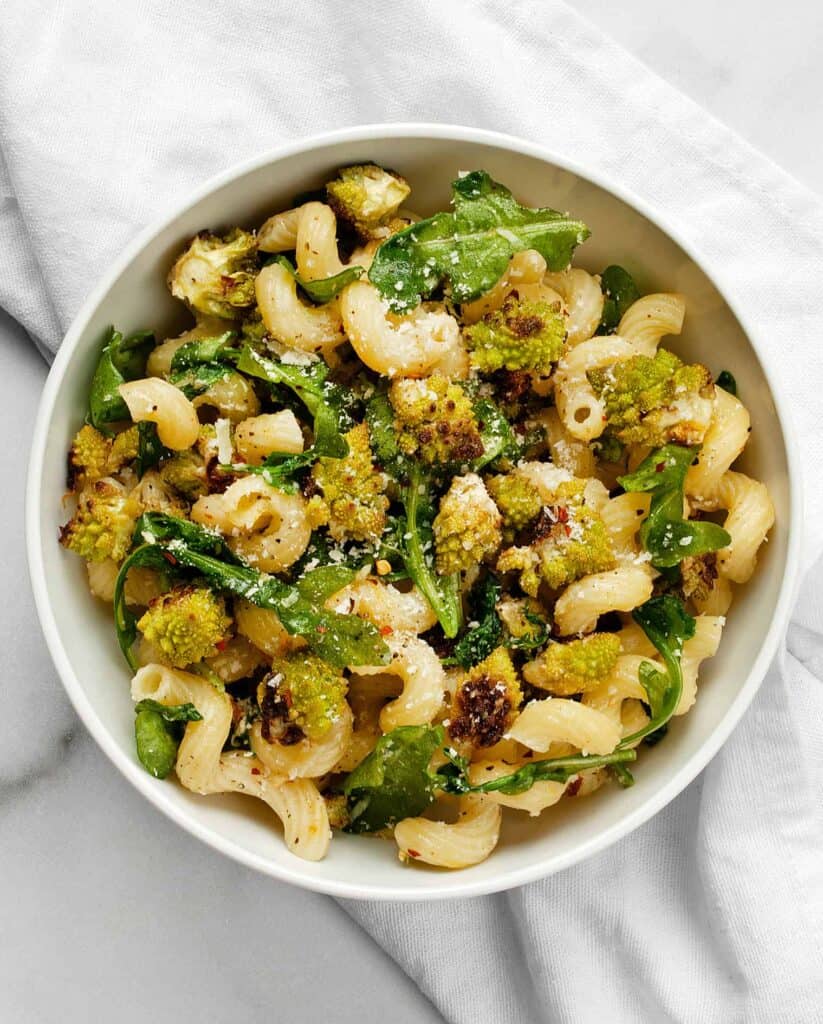 Who doesn't love a game?
Ever since we've been home so much we have really embraced them.

There isn't a day or night that goes by when there isn't a round of Uno or game of Sorry.

This has also inspired me to do some challenges in the kitchen, specifically with my CSA.

I am determined to use all the fruits and veggies in the weekly box even if it involves something I don't use that often.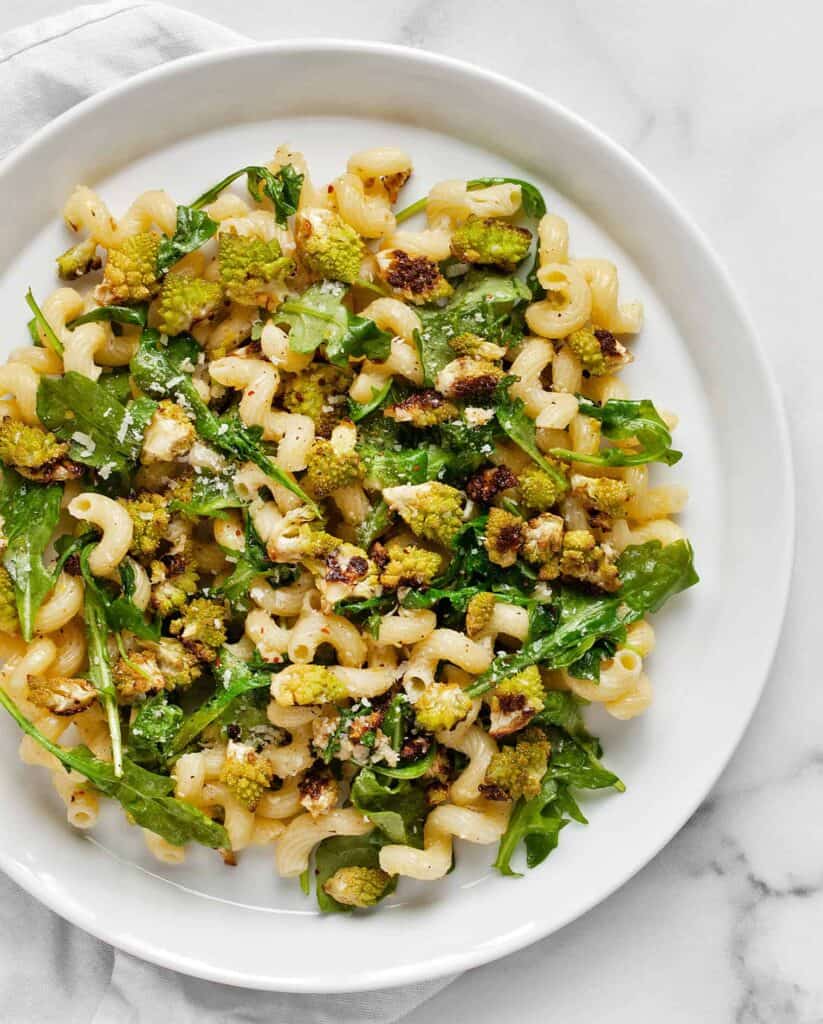 One of my most recent wins is this roasted romanesco arugula pasta.

Roasted vegetable pastas are great for fall and winter.

While the veggies are in the oven, it gives you plenty of time to prep the pasta and everything else.

Consider it a relaxed and far less frantic way of multi-tasking.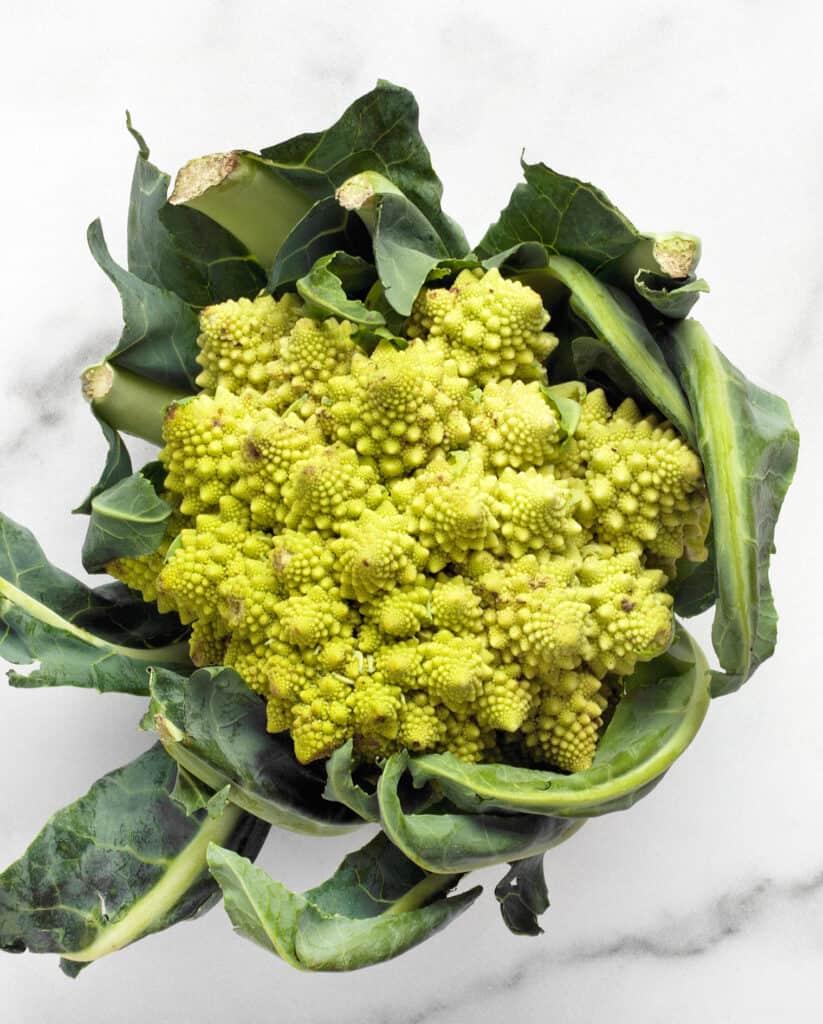 What is Romanesco?
Besides being beautiful and sculptural, romanesco is also colorful either in an electric chartreuse green or a bright purple.
It is a member of the Brassica family. You can count broccoli, cabbage, cauliflower, and kale among its cousins.
I would say that romanesco is closest to cauliflower. Keep that in mind if you're looking for a substitute.
You cut romanesco very much like cauliflower, trimming the stem and breaking it into florets or cutting it into slices.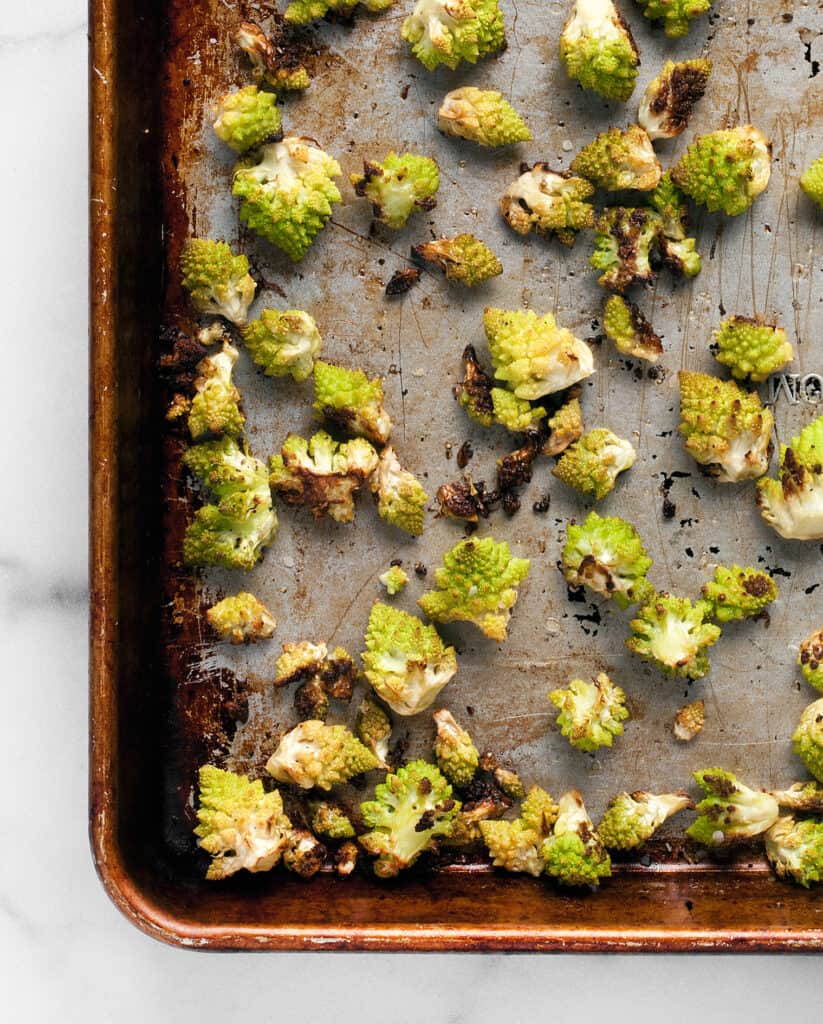 How to Make Roasted Romanesco Arugula Pasta
For this recipe, I break up romanesco into small florets.
Keeping the florets smaller, helps them roast faster. I crank the oven up to 425 degrees F.
It only takes about 20 minutes for the romanesco to brown on the edges.
During that oven time, I cook the pasta on the stove.
I love corkscrew shaped noodles like cavatappi, fusilli or gemelli for this dish.
They really hold all the bits of Romanesco and leafy arugula.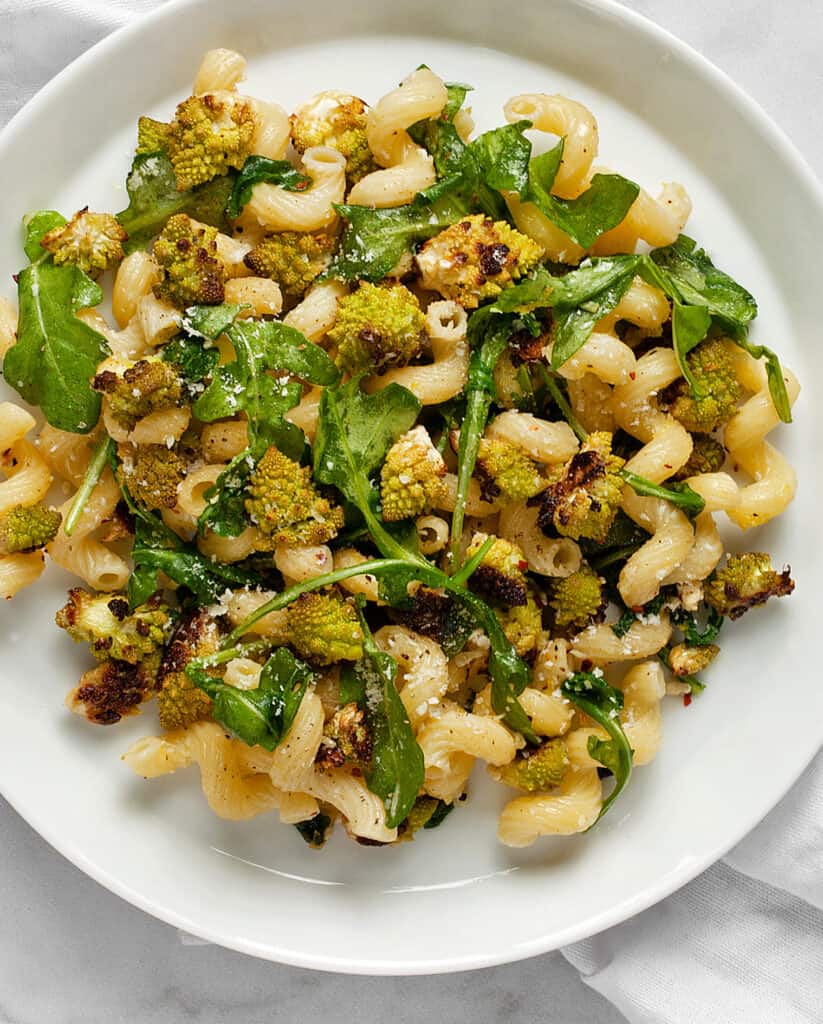 When main ingredients are ready, I sauté minced garlic in olive oil and then add the romanesco florets and pasta into the skillet along with the juice of a lemon.
To finish, I fold in a couple handfuls of arugula, letting it wilt, followed by grated pecorino cheese and a sprinkle of red pepper flakes.
The combination of peppery arugula, lemon, garlic and salty pecorino work so well together.
You can't go wrong with any pasta when you make veggies and greens the heroes of the meal.
Print
Roasted Romanesco Arugula Pasta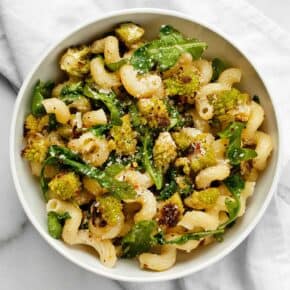 Prep Time:

10 minutes

Cook Time:

20-25 minutes

Total Time:

30-35 minutes

Yield: Serves

4

1

x
Scale
Ingredients
2 heads Romanesco or 1 head cauliflower
2 tablespoons olive oil
1 teaspoon kosher salt
1/2 teaspoon black pepper
10 ounces, cavatappi, fusilli or gemelli pasta
2 garlic cloves, minced
Juice of 1 lemon
2 ounces baby arugula (about 2 handfuls)
1/4 cup grated pecorino cheese
1/4 teaspoon red pepper flakes
Instructions
Preheat the oven to 425 degrees F.
Trim the leaves and stem from the romanesco and break it into small florets. On a sheet pan, toss the romanesco with 1 tablespoon olive oil, salt and pepper and spread into an even layer, making sure the florets are not overlapping. Roast for 20-25 minutes until the romanesco is brown at the edges.
While the romanesco is roasting, cook the pasta until al dente according the package instructions.
In the last couple minutes the pasta is cooking, heat 1 tablespoon olive oil in a large skillet. Sauté the garlic until fragrant, about 30 seconds. Use a slotted spoon to transfer the pasta from the pot to the skillet along with the romanesco. Stir in the lemon juice and arugula. Then fold in the pecorino and red pepper flakes.
SHARE THIS