Roasted Romanesco Arugula Pasta
on Mar 06, 2023, Updated Jun 29, 2023
Pasta and veggies go together in this roasted romanesco recipe with arugula, lemon and garlic. If you are a fan of cauliflower and broccoli, this is a simple pasta dish with a similar vegetable that you will love.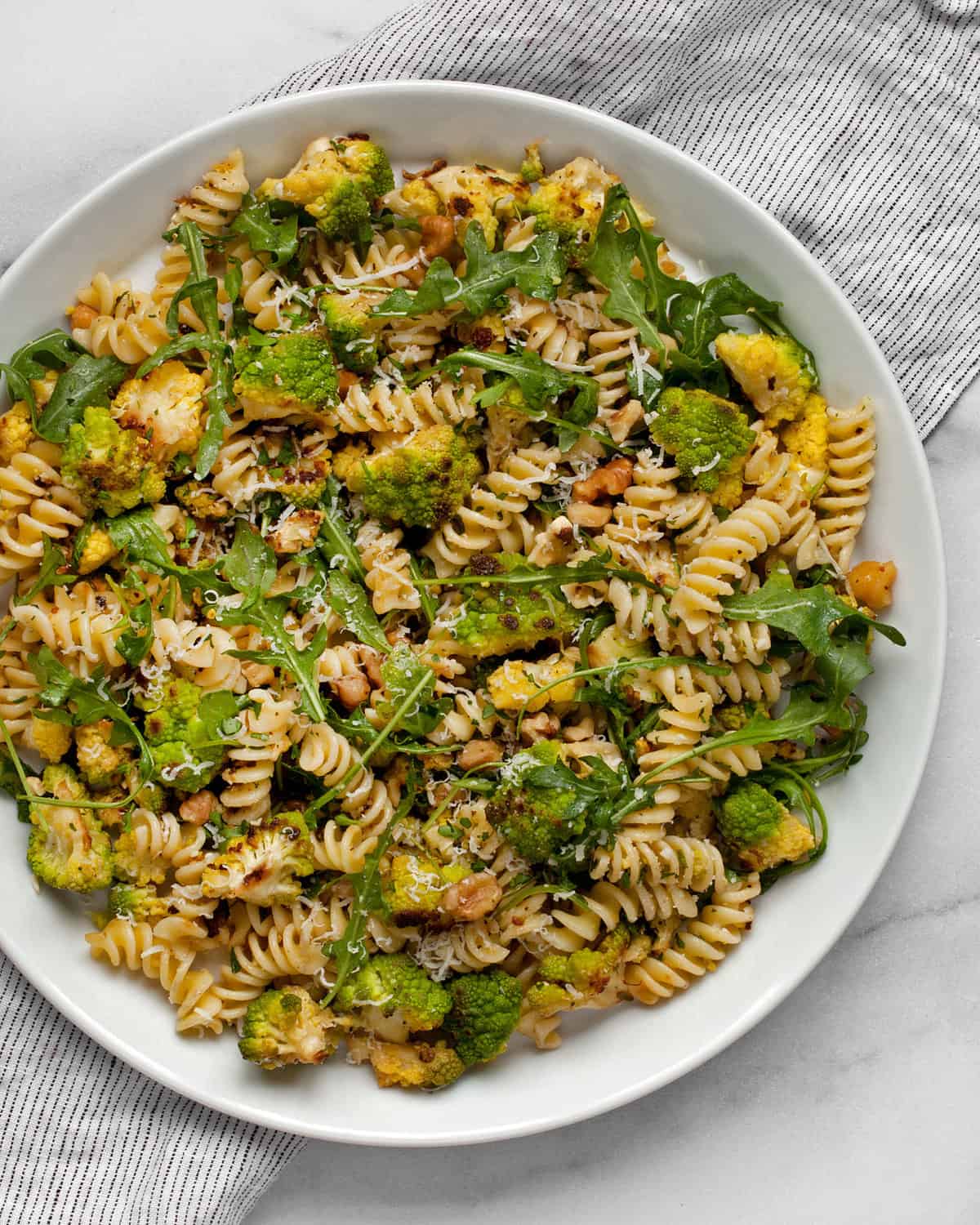 Why You'll Love This Recipe
Now you know how to cook romanesco. This might be one of those veggies that you admire at the farmers market or grocery and don't end up buying. It's a total eye-catcher that you can combine with pasta to turn into a main dish.
This pasta is packed with veggies. The recipe calls for 8 ounces of dried pasta. That combined with 2 heads of romanesco generously serves 4 people. You end up with a good balance of vegetables and noodles.
Roasted vegetables and pasta are great recipes for multi-tasking. You can simmer the pasta on the stove while the romanesco is in the oven. It makes timing dinner that much easier.
What is Romanesco?
A member of the Brassica family, romanesco is a cruciferous vegetable. It counts broccoli, cabbage, brussels sprouts, cauliflower and kale among its cousins. It's a beautiful chartreuse green with sculptural, geometric florets that are packed tightly together.
It is also known as romanesco broccoli. You can cook it like cauliflower or broccoli. It has a similar nutty flavor, but it is a little sweeter and more mild.
To cut romanesco, you use the same technique you would with cauliflower, removing the outer leaves, trimming the stem and then splitting it into smaller florets both by hand and with a knife.
The Ingredients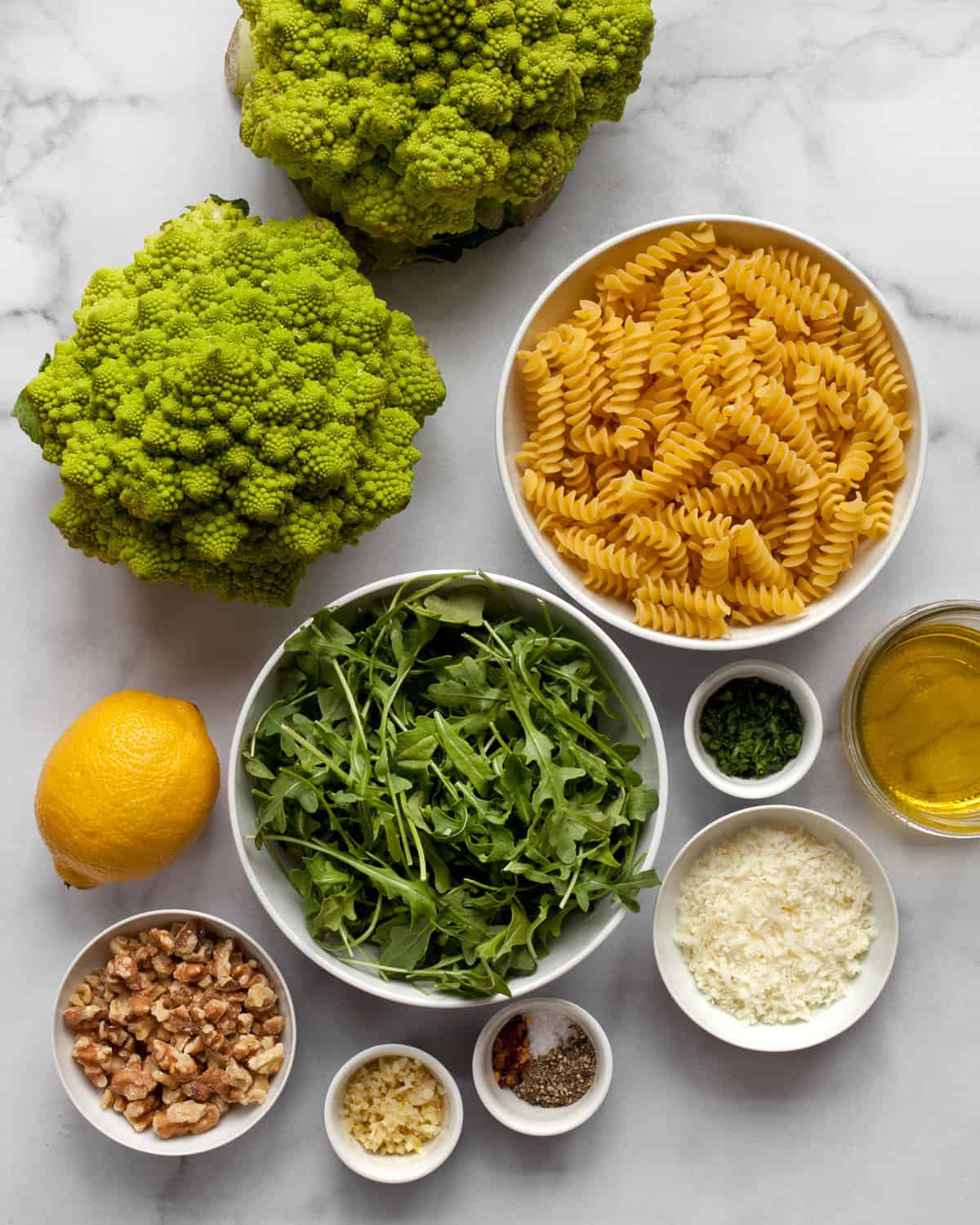 This is what you need:
Romanesco: Look for bright green romanesco with dense florets. If possible, avoid heads that are starting to brown. You can substitute with broccoli or cauliflower.
Pasta: My go-to shapes for this recipe are fusilli and cavatappi. Those corkscrews hold on to the tinier bits of roasted romanesco and are a good size with the full florets.
Arugula is for so much more than just salads. It has delicate leaves and a nice peppery flavor, so I like to stir it into dishes when they have pretty much finished cooking. It does the work of greens and fresh herbs.
Garlic: The recipe calls for 2-3 minced garlic cloves depending how garlicky you like it. With pastas that are tossed in olive oil rather than a full sauce, I prefer more garlic.
Lemon: I use both zest and lemon juice in this pasta.
Pecorino is a hard sheep's milk cheese that is saltier and stronger than Parmesan cheese. But you can substitute with Parmesan. You can substitute with nutritional yeast for the pasta to be vegan.
Walnuts: Before you add nuts, toast them in a 350-degree F oven for 5-7 minutes on a sheet pan. This really enhances their flavor.
Parsley: I like to stir chopped fresh herbs into this pasta recipe.
Olive oil: For the best flavor, use extra-virgin olive oil.
Red pepper flakes, salt & pepper season the romanesco before it roasts in the oven.
How to Make Roasted Romanesco Arugula Pasta
Preheat the oven to 400 degrees F.
1. Toss the romanesco florets with oil, red pepper flakes, salt and pepper in a large bowl.
2. Roast the romanesco. Spread it across 2 sheet pans. Toss it halfway through roasting and rotate the pans in the oven. This will take 20-22 minutes, and it should turn out browned on the edges and tender in the middle while still having some bite.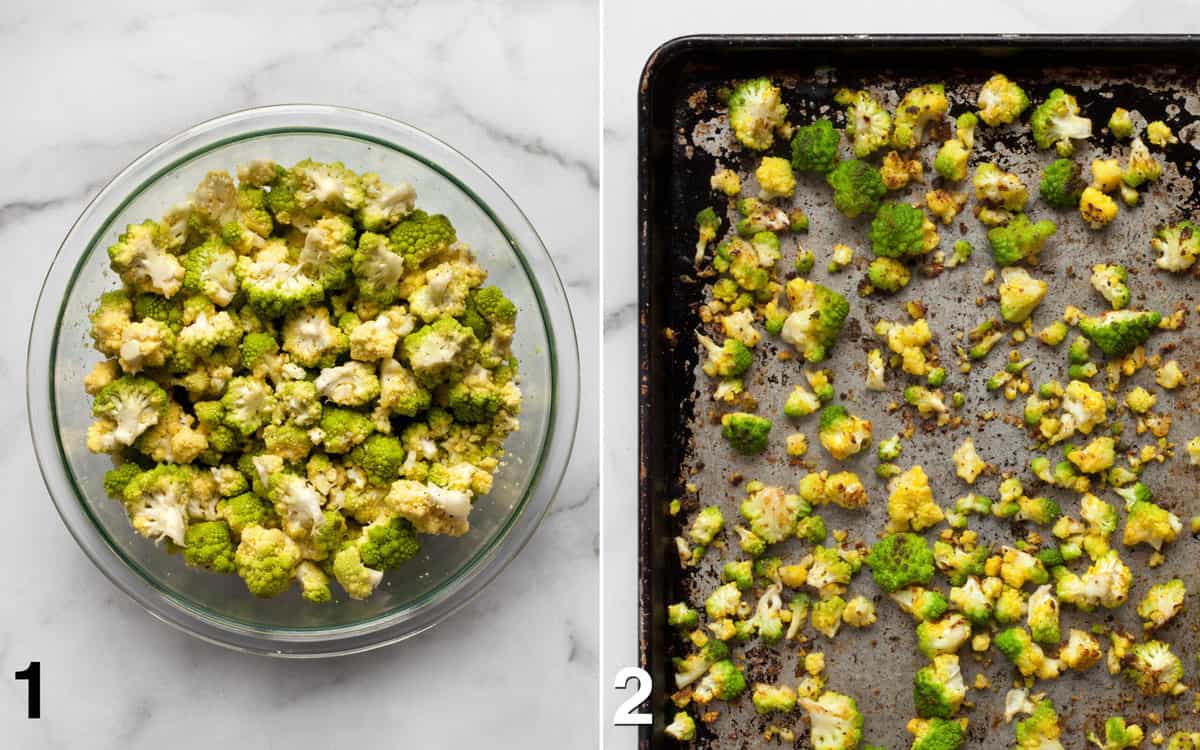 3. Cook the pasta. You can do this while the romanesco is roasting. Simmer the fusilli in boiling salted water following the recommended cook time on the package for al dente noodles. Reserve 1/2 cup cooking water and drain the pasta.
4. Heat the oil in a large skillet or sauté pan over medium high heat.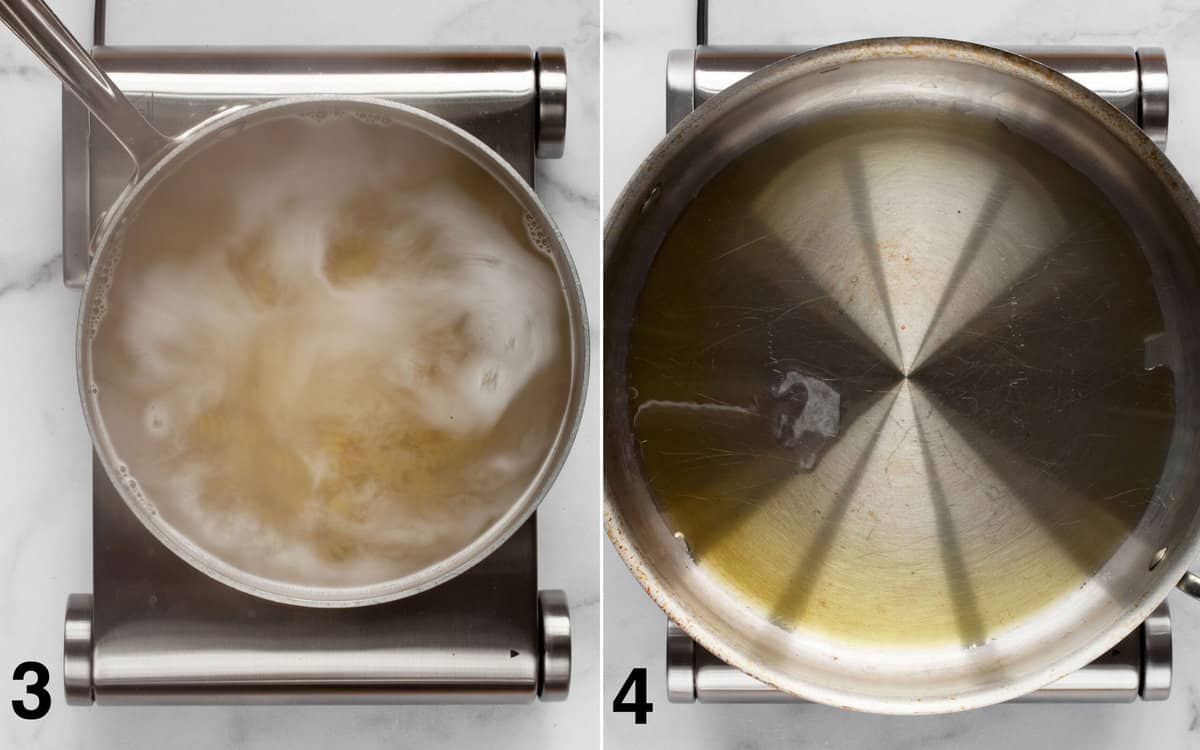 5. Sauté the garlic, lemon zest, red pepper flakes, salt and pepper until fragrant, about 30 seconds.
6. Stir in the pasta, coating it in the garlic-lemon zest mixture. Fold in the romanesco, lemon juice, arugula, pecorino, walnuts and parsley. Add the reserved pasta cooking water as needed. You may not need it all for the pasta to get silky.
Leftovers & Storage
You can store leftovers in the refrigerator in an airtight container up to 3 days. Warm them in the microwave or in a skillet with some olive oil on the stove. You can also add fresh arugula and turn it into pasta salad. I recommend making lemon vinaigrette to go with it.
Recipe Tips
Use two sheet pans to roast the romanesco. If you try to squeeze two heads worth of florets onto a single baking sheet, they will be too crowded and steam instead of roasting. You will lose out on their browning potential if you don't spread them out over 2 pans.
Time your pasta cooking with the roasting vegetables. Since the romanesco takes 20-22 minutes to roast, I like to bring the water to a boil n the first half of roasting and then cook the pasta in the last 10 minutes. Make sure to read the package instructions for recommended cook time for the noodles.
Scoop out 1/2 cup pasta cooking water. This starchy water is magic when you cook pasta. After you have stirred the roasted romanesco, arugula, cheese and walnuts into the pasta, give it a splash of this water and it will add a hint of silkiness and bring everything together.
FAQs
What does romanesco taste like?
Romanesco is nutty like cauliflower, but it has a slightly sweeter taste and is milder.
Is romanesco cauliflower or broccoli?
It is neither. They are all members of the Brassica family, so these cruciferous vegetables are cousins. They can be substituted for each other in recipes.
How do you cook romanesco?
You can eat it raw, roast it or steam it like you would with cauliflower or broccoli. Enjoy it on its own roasted for a side dish. Or combine it with pasta or grains.
More Easy Pasta Recipes
Roasted Brussels Sprout Pasta
Lemon Garlic Mushroom Spaghetti
Roasted Cauliflower Pasta with Spinach Pesto
Lemon Pepper Spaghetti
Cherry Tomato Eggplant Pasta
Antipasto Pasta with Olives
Sun Dried Tomato Pasta
Chickpea Pasta with Spinach
Did you try this pasta recipe? Please leave a comment and rating below. Thanks!
Roasted Romanesco Arugula Pasta Recipe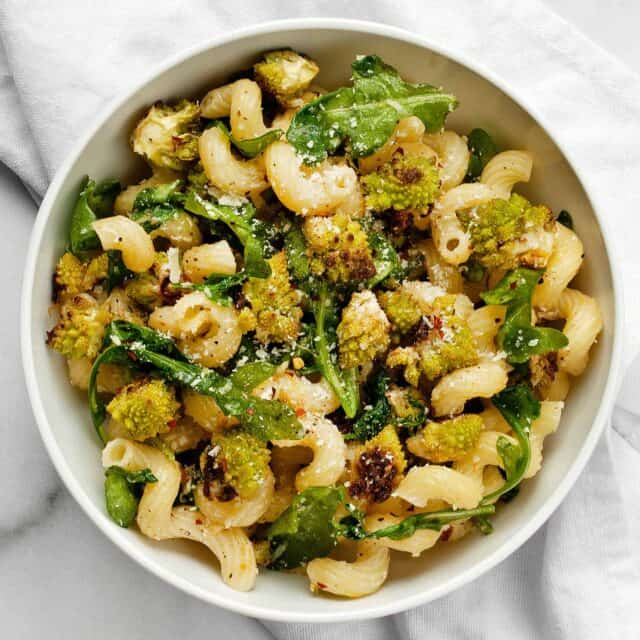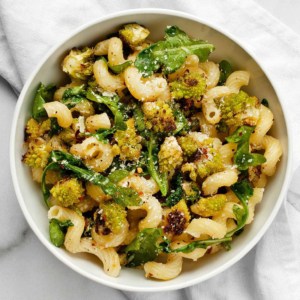 You can cook the pasta and while the veggies are in the oven for this easy roasted romanesco arugula pasta with lemon and garlic.
Ingredients
2

medium heads romanesco

leaves removed, stem trimmed & broken into small florets

3

tablespoons

olive oil

1-1/2

teaspoons

kosher salt

1

teaspoon

black pepper

8

ounces

fusilli

2-3

garlic cloves

minced

1/4

teaspoon

red pepper flakes

Zest and juice of 1 lemon

2

cups

baby arugula

about 2 big handfuls

1/4

cup

grated pecorino cheese

1/4

cup

chopped toasted walnuts

1

tablespoon

chopped parsley
Instructions
Preheat the oven to 425 degrees F.

In a large bowl, toss the romanesco with 2 tablespoons olive oil, 1 teaspoon salt and 1/2 teaspoon black pepper.

Spread the romanesco into a single layer on two sheet pans. Roast for 20-22 minutes until it is brown at the edges. Toss the florets halfway through roasting and rotate the sheet pans in the oven.

While the romanesco is roasting, cook the pasta until al dente according the package instructions. Reserve 1/2 cup pasta water and drain in a colander.

Heat 1 tablespoon olive oil in a large skillet or sauté pan over medium high heat.

Sauté the garlic, 1/2 teaspoon salt and 1/2 teaspoon black pepper until fragrant, about 30 seconds.

Stir the pasta into the lemon-garlic mixture.

Then stir in the roasted romanesco, lemon juice, arugula, Pecorino, walnuts and parsley.
Notes
You can substitute romanesco with cauliflower or broccoli.
Also, you can use Parmesan cheese instead of pecorino.
Store leftovers in an airtight container in the fridge up to 3 days. Eat them cold as a salad and add more arugula. Or warm them in the microwave or on the stove in a skillet with a little olive oil.
Nutrition
Calories:
382
kcal
|
Carbohydrates:
45
g
|
Protein:
11
g
|
Fat:
18
g
|
Saturated Fat:
3
g
|
Polyunsaturated Fat:
5
g
|
Monounsaturated Fat:
9
g
|
Cholesterol:
7
mg
|
Sodium:
375
mg
|
Potassium:
223
mg
|
Fiber:
3
g
|
Sugar:
2
g
|
Vitamin A:
389
IU
|
Vitamin C:
4
mg
|
Calcium:
109
mg
|
Iron:
1
mg
Nutrition information is automatically calculated, so should only be used as an approximation.
Recipe originally published October 29, 2020. Updated March 6, 2023.