15 Best Thanksgiving Salad Recipes
As you're planning your Thanksgiving menu, don't forget a salad. It may not get the attention like mashed potatoes, roasted brussels sprouts or stuffing, but it's a simple way to get more color and vegetables in your holiday spread. I know many families like to stick to traditional dishes, so a salad is where you can get more creative and while still keeping everyone happy with the classics.
Save these recipes for Thanksgiving, Christmas and other fall and winter dinners.
Why You Need A Thanksgiving Salad
You can always use something fresh with all that heavy holiday food. Crisp greens are a welcome addition to any big meal. You will love the mix in these salads. They have fresh fruit and vegetables to give you that lightness to balance with everything else.
Treat your salad like a side dish. There's no need to be formal especially if you are doing a buffet-style Thanksgiving. You don't have to serve the salad first. It can be included in a big serving bowl with the meal. Timing the food so it is all ready at the same time is one of the biggest challenges with holiday dinners. Salads are great because they are served at room temperature or cold.
You can do the prep work in advance. Make the salad dressing a day or two ahead. Some of the ingredients can be chopped too. The key to Thanksgiving is figuring out what you can check off your list before the actual holiday.
Thanksgiving is sides-giving to lots of people. No offense to the turkey main course, but not everyone is a fan. Some of your guests are just here for the sides. So why not add a salad to the mix?
Seasonal Salads
Kale Salads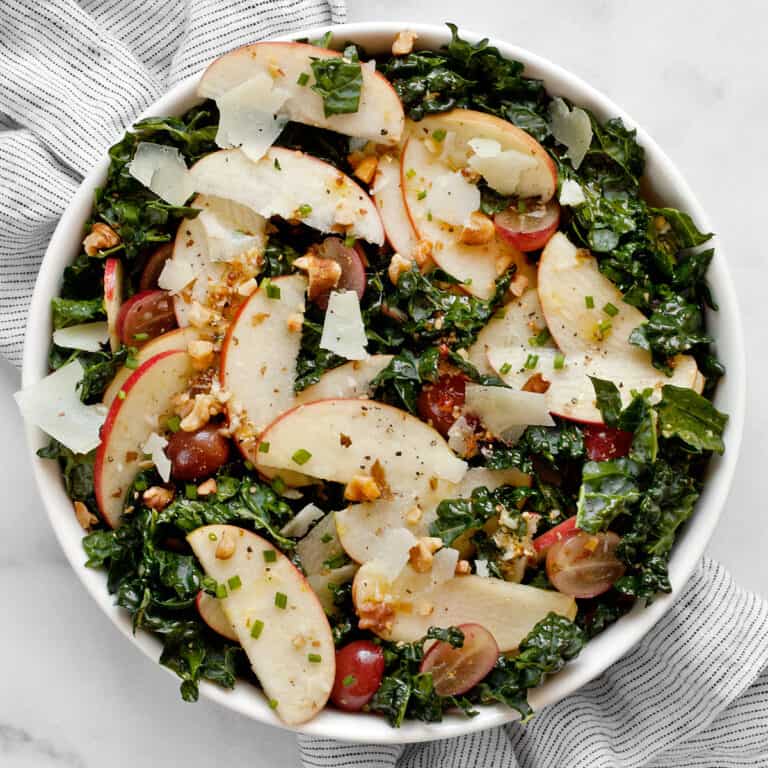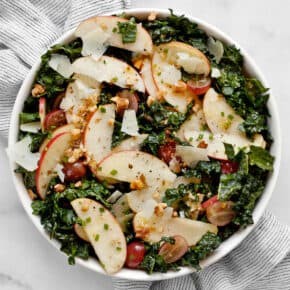 Kale Apple Salad
This kale salad has thinly sliced apples, halved grapes, toasted walnuts and manchego cheese. It's all tossed in a mustard champagne vinaigrette.
Find recipe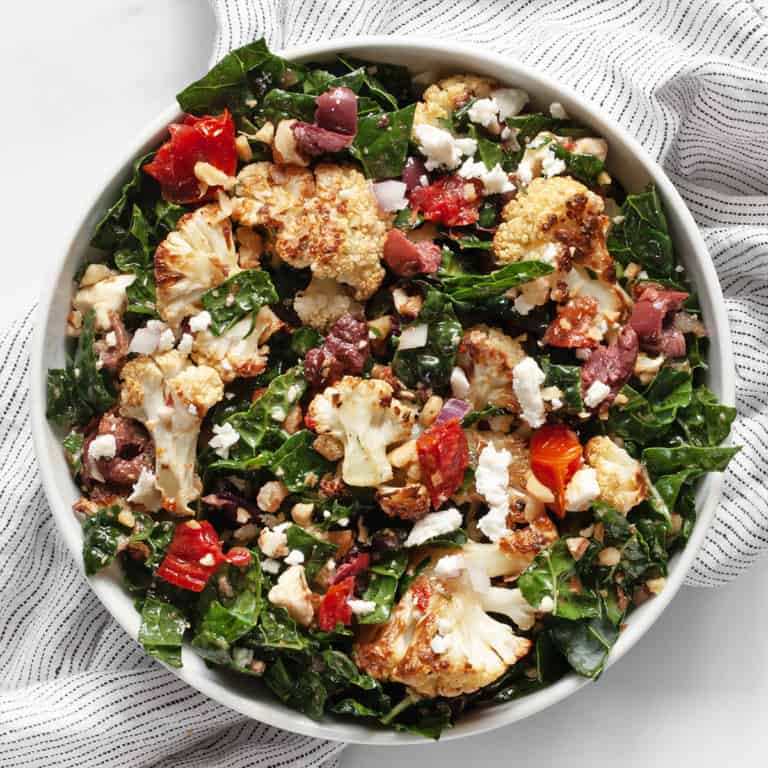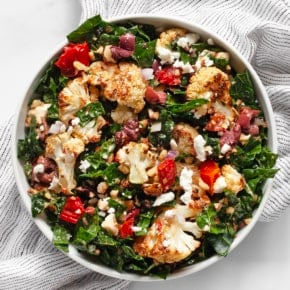 Roasted Cauliflower Salad
You can include roasted vegetables in your Thanksgiving salad. I love this combination of roasted cauliflower with sun-dried tomatoes, Kalamata olives, feta and walnuts dressed in balsamic vinaigrette.
Find recipe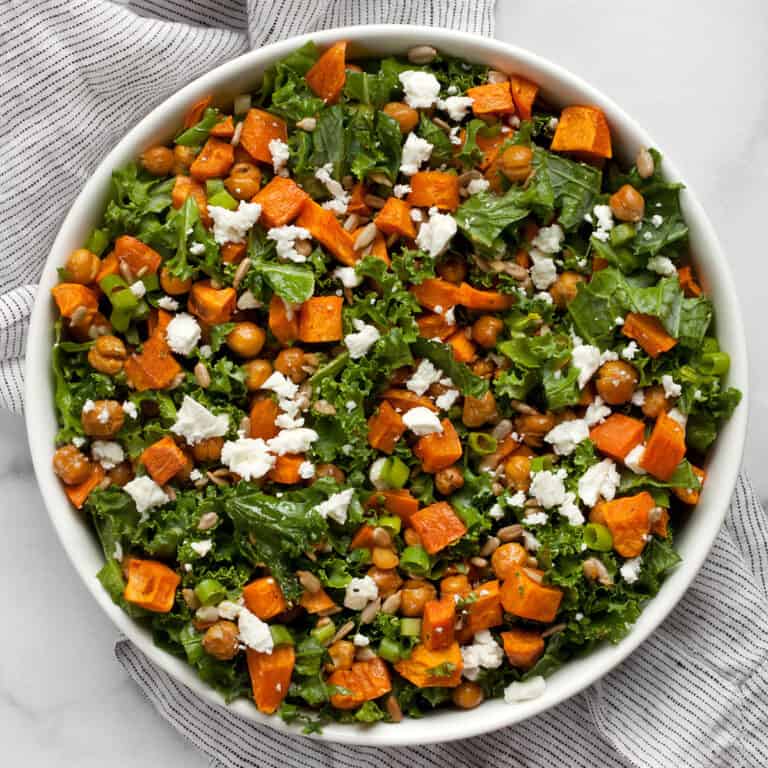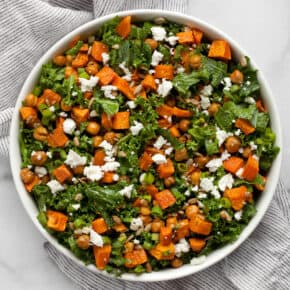 Roasted Sweet Potato Chickpea Kale Salad
You can never have too many sweet potatoes at Thanksgiving. For this salad, sweet potatoes and chickpeas roast together on the same sheet pan. Then they are tossed with kale, sunflower seeds, feta and lemon mustard vinaigrette.
Find recipe
Brussels Sprout Salads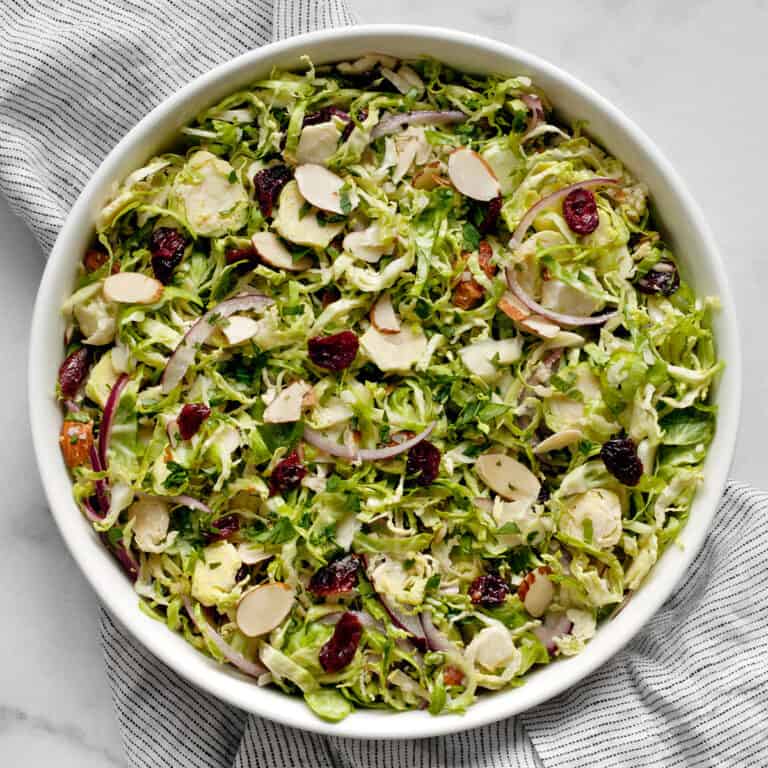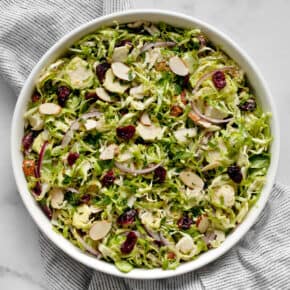 Shaved Brussels Sprout Salad
This is a salad to make for Thanksgiving or Christmas. It has thinly sliced raw brussels sprouts, almonds, dried cranberries and parmesan. If texture and bite are what you're looking for, then you have to try shaved brussels sprouts.
Find recipe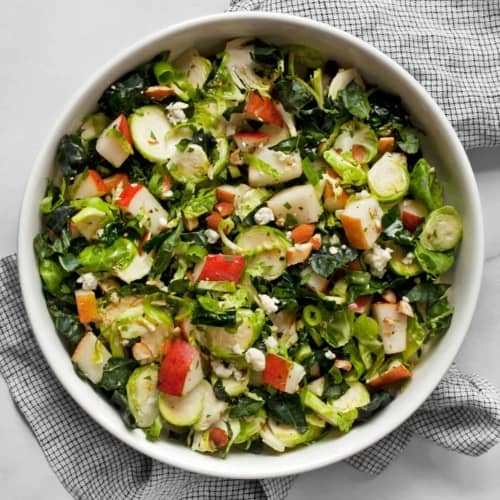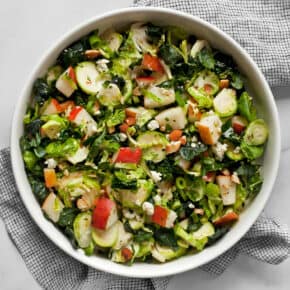 Kale Brussels Sprout Pear Salad
The combination of sliced brussels sprouts and kale gives this salad so much wonderful crispness. It has the classic combination of pungent blue cheese and pears along with chopped almonds. It's tossed in a sherry vinaigrette.
Find recipe
Salad Alternatives to Lettuce
Thanksgiving Salad Tips
Use high-quality ingredients. This is very important for the dressings. That goes for extra virgin olive oil and whatever vinegar the recipe calls for.
Make small adjustments to suit dietary preferences and what you have in your pantry. If you have vegans, serve the cheese on the side and let your guests add it. Use maple syrup in dressings instead of honey. Also, maybe you forgot something on your grocery list. If a salad calls for walnuts, you can substitute with almonds or pine nuts if that's what you have in your kitchen.
Wait to toss the salad in dressing until your about to serve it. You can make most if not all the components for salads in advance. Then assemble them at the last minute. You can also serve the vinaigrette on the side and let your guests drizzle it onto their own salad, but that may be tougher to do on a plate crowded with other sides and turkey.
Think about your greens. In many of these recipes, you can swap lettuce types, but try to stay with something similar. Arugula and baby spinach are pretty interchangeable, but remember that kale is a green that is heartier than both of them.
Salads are great for leftover turkey. A day-after Thanksgiving sandwich isn't the only option. Mix shredded turkey into salads.