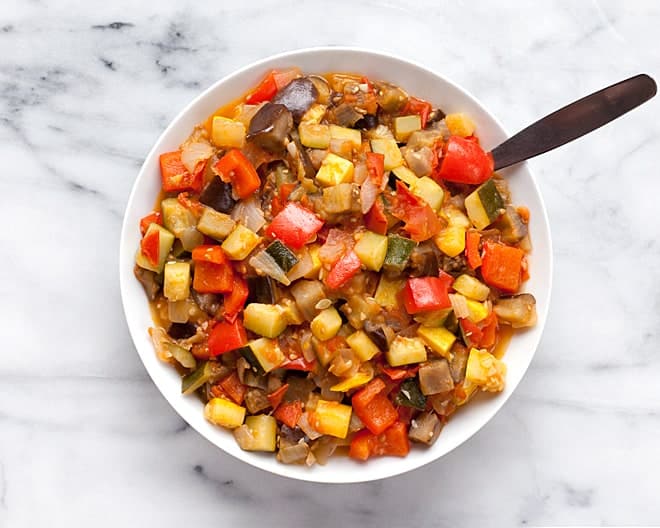 The other day I spent an entire afternoon in Excel. As a design-loving, visual person, I am no spreadsheet whiz, but I had to work on a schedule for a project. Not that long ago the November 2015 deadline seemed ages away, but now it is much too close. A feeling of panic came on that had nothing to do with completing the job. My brain had fast-forwarded to cozy coats and roasted root vegetables when I am still basking in the bliss of no socks and endless berries.
As summer continues to cruise by at an alarming rate, I am doing my best to soak up all my favorite sunny, warm-weather foods. I have already had my share of tomatoes in salads simply dressed with olive oil, vinegar, salt & pepper, but I decided to do something a little more by combining them with my other market finds in ratatouille. Eaten warm straight from the pot or leftovers cold from the fridge, this versatile French classic had me back in the current season.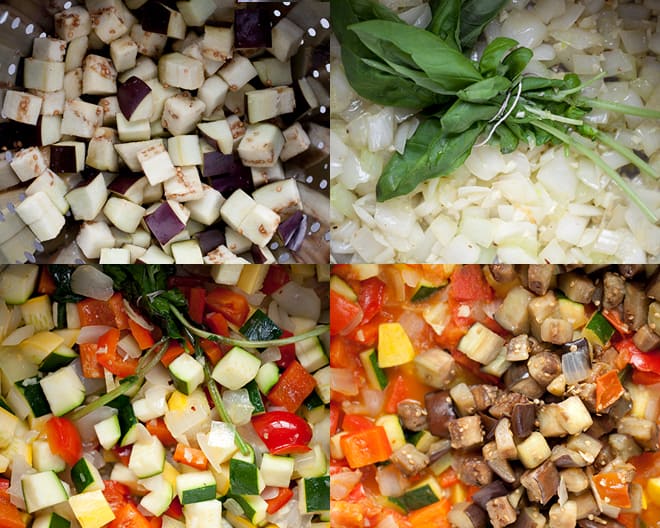 Ratatouille
Adapted from Food52 Genius Recipes by Kristin Miglore
Serves 6 to 8
1 medium eggplant, cut into 1/2-inch dice
1 teaspoon kosher salt
4 tablespoons olive oil
1 large white onion, cut into 1/2-inch dice
4 to 6 garlic cloves, peeled and minced
1/2 bunch basil, tied into a bundle with kitchen twine
Pinch of crushed red pepper flakes
1 red bell pepper, cut into 1/2-inch dice
1 yellow bell pepper, cut into 1/2-inch dice
3 medium summer squash, cut into 1/2-inch dice
3 ripe medium tomatoes, cut into 1/2-inch dice
Place the eggplant in a colander, sprinkle with 1/2 teaspoon salt and let sit for 20 minutes. Remove the eggplant and pat dry with a paper towel.
Add 2 tablespoons olive oil to a large saucepan over medium heat. Sauté the eggplant, stirring frequently, until golden brown, about 5 minutes. Use a slotted spoon to remove the eggplant and set aside.
Pour the remaining olive oil into the large saucepan and cook the onions, stirring frequently, until soft and translucent, about 5 minutes. Add the garlic, basil, red pepper flakes and remaining salt. Sauté until fragrant, about 2-3 minutes. Add the peppers and cook for 2 to 3 minutes. Then add the summer squash and cook for 2 to 3 minutes. Stir in the tomatoes and cook for 10 minutes. Add the eggplant and cook 10 to 15 minutes until all the vegetables are soft.
Remove the basil before serving and season to taste. Serve warm or cold.