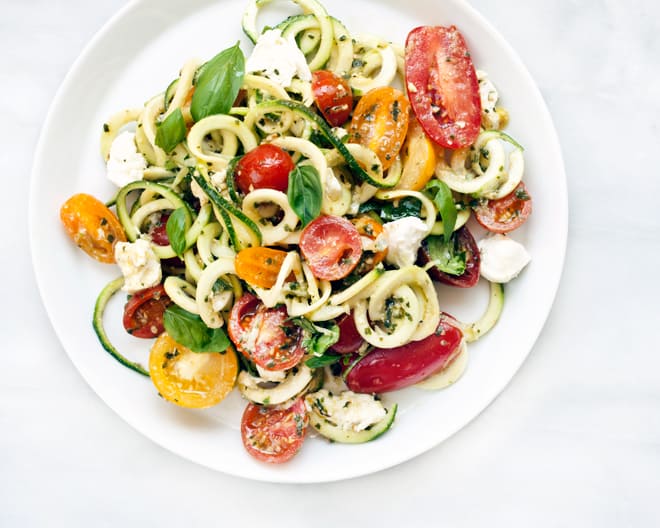 Every year when tomato season is in full swing it becomes part of my daily routine to roast a sheet pan full of sliced tomatoes. It doesn't matter the size, color or variety, I drizzle them with olive oil and sprinkle on salt & pepper. Then they wrinkle a bit in the oven revealing their most tomato-y flavor.
The time had come to give the oven a rest and enjoy summer in the raw. I pulled out my spiralizer and made zucchini noodles and cherry tomatoes with pesto and fresh mozzarella. Not cooking these "zoodles" kept them a bit crunchy. I marinated the tomatoes in olive oil and garlic.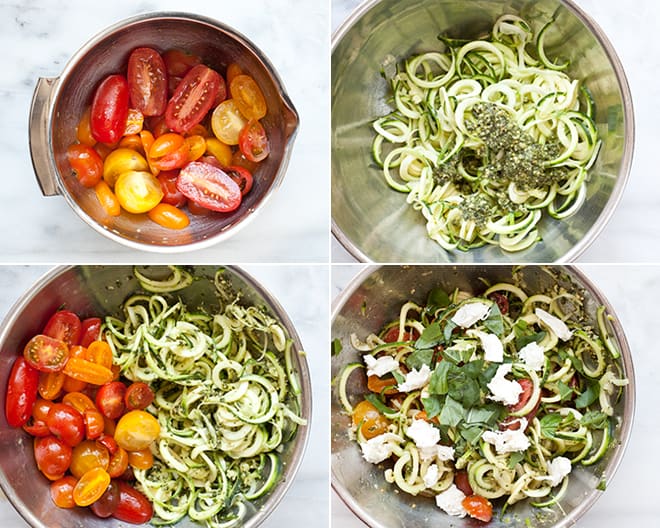 Zucchini Noodles and Cherry Tomatoes

Serves 2
1-1/2 cups halved cherry tomatoes
1 garlic clove, grated
1 tablespoon olive oil
1/2 teaspoon kosher salt plus more for serving
1/4 teaspoon black pepper plus more for serving
3 medium zucchini
2 tablespoons basil pesto
1/4 cup torn basil
3 ounces mozzarella, torn into pieces
In a small bowl, combine the tomatoes, garlic, olive oil, salt and pepper. Let stand for 10 minutes.
Trim and spiralize the zucchini. Cut any long noodles, so they are about the length of spaghetti. Transfer to a large bowl and stir in the pesto. Add the tomatoes, basil and mozzarella. Season with salt and pepper before serving.