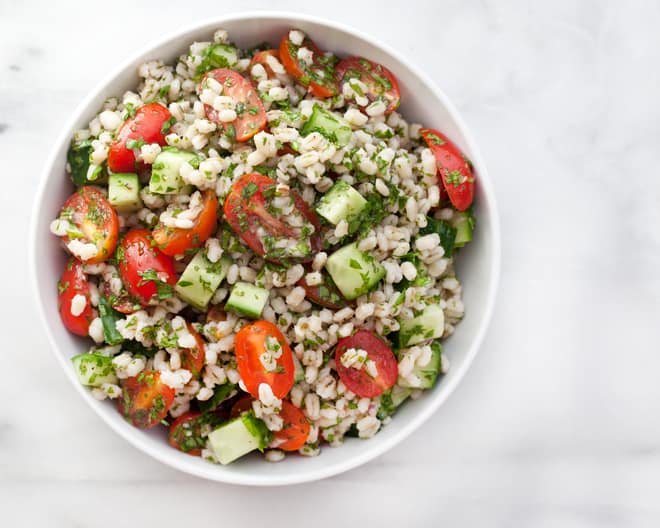 For the second summer in a row, we didn't get our act together to plant a container garden. Before we knew it May became June and now it's almost July, so I am depending on the farmers market for all my fruit and veg. It's already part of my weekend routine anyway. Of course I am sad that I can't just pop out on the back deck for a few basil leaves, but there is always next year for my green thumb.
I love fresh flowers, but lately I have been buying so many bunches of herbs at the market that keeping them in jars on the kitchen counter has the same effect on my home décor. I needed to replenish my herb supply after I made this pearl barley tabbouleh. Using grains in this classic Lebanese salad gave it more heft and official status as a satisfying vegetarian main instead of being relegated to a side.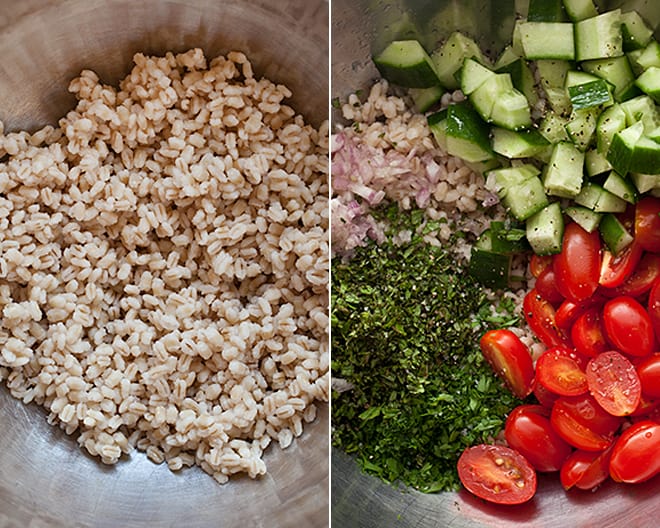 Pearl Barley Tabbouleh
Serves 4
1/2 cup peal barley
1-1/4 cups water
1/2 pint grape tomatoes
1/2 cup diced cucumbers
1/2 cup parsley leaves, finely chopped
1/2 cup mint leaves, finely chopped
1 garlic clove, minced
1 tablespoon minced chives
Juice of 1 lemon
Pinch of allspice
1/2 teaspoon kosher salt
1/4 teaspoon black pepper
In a medium saucepan, combine the barley and water. Bring to a boil, reduce heat and simmer for 30 minutes until tender. In a mesh strainer, rinse the barley in cold water. Transfer to a large bowl. Stir in the tomatoes, cucumbers, parsley, mint, chives, lemon juice, allspice, salt and pepper.