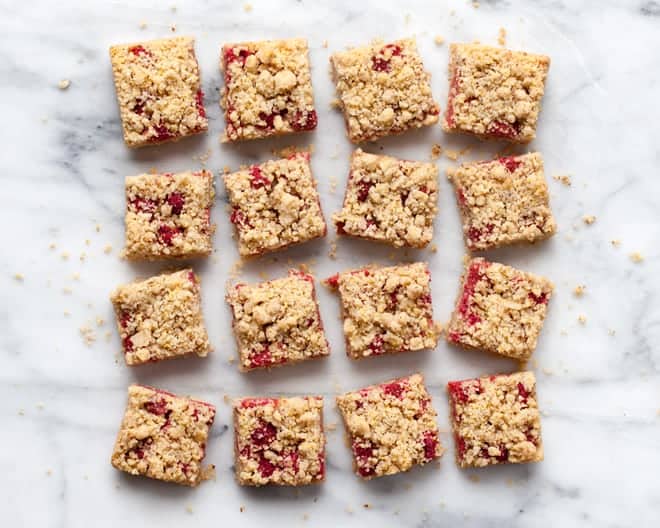 From magazines to Instagram, all I see lately are pictures of pie. It seems like just about everybody is celebrating the fruit surplus by making from-scratch dough in hopes of the perfect crust. While I do like a slice now and then, our family is not big on pie. I only make one if we are going to a gathering with a crowd.
Last weekend I was craving a classic fruity summer dessert. Pie would have been perfect, but I knew I would end up consuming the bulk of it myself. I decided to bake raspberry crumble bars with a chewy base and crumbly top thanks to cornmeal. I even froze most of the bars, so we could enjoy them at our own pace.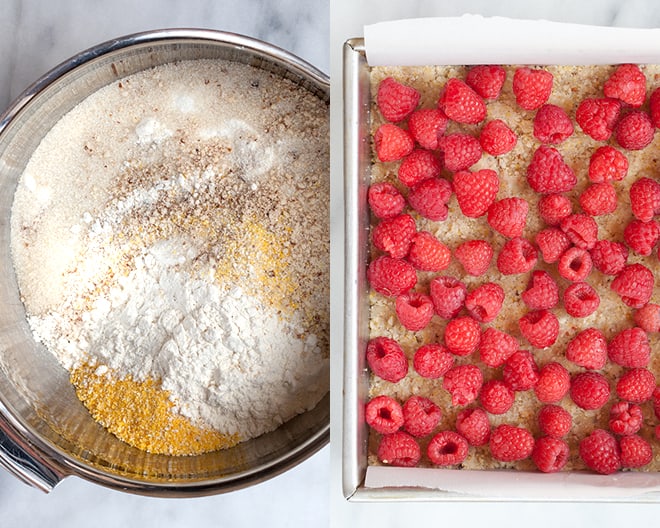 Raspberry Crumble Bars
Adapted from Everyday Food April 2011
Makes 16 bars
3/4 cup almonds
1/2 cup yellow cornmeal
2 cups all-purpose flour
3/4 cup granulated sugar
1/2 teaspoon kosher salt
1 cup (2 sticks) unsalted butter, melted
12 ounces fresh raspberries
Preheat the oven to 350 degrees F. Line an 8-inch square baking pan with parchment leaving a 1-inch overhang on 2 sides.
Pulse the almonds into a food processor until finely ground. (You should have about 1 cup.) In a large bowl, combine the ground almonds, cornmeal, flour, sugar and salt. Stir in the butter.
Press two-thirds of the dough into the bottom of the prepared pan to form a crust. Place the raspberries on top in a single layer and sprinkle with the remaining dough.
Bake for 35-40 minutes until the top is golden brown. Cool completely before removing from the pan and cutting into 16 squares.
Store in an airtight container. Bars can be frozen up to 1 month.