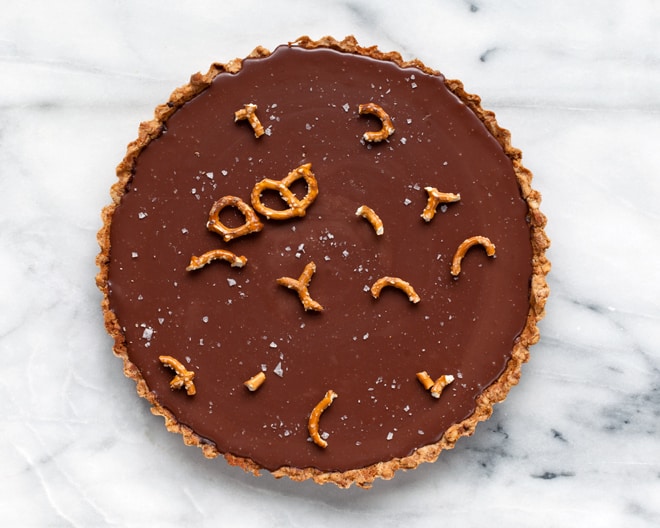 As my toddler's eating has gotten pickier, it's become clear that he inherited my snack food gene. Now instead of eating the veggies on his plate, he carbs out on pita chips and crackers. He even requests pretzels for breakfast, when a normal person wouldn't touch those salty nibbles until lunch. I can't be the only parent with a limited threshold for forcing healthy eating on my offspring.
We don't make a big deal out of Valentine's Day, but I wanted to bake a special treat. It had to be chocolate because it is a favorite at our house, and then I used my son's snack of choice. With its extra crunchy crust, this milk chocolate pretzel tart was equal parts salty and sweet. I only let my little guy have a few bites. I don't need to encourage the sweet tooth that I passed on to him.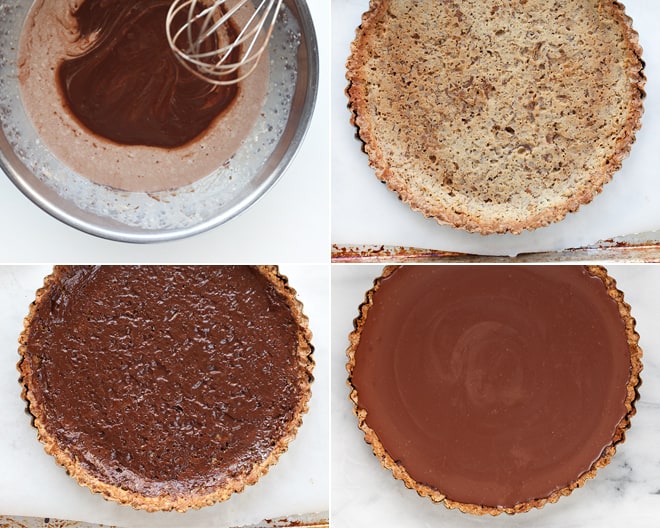 Milk Chocolate Pretzel Tart
Adapted from Food & Wine February 2009
For crust
1 stick (1/2 cup) unsalted butter, softened
1-1/4 cups coarsely crushed thin pretzels (about 3-1/2 ounces)
3/4 cup confectioners' sugar
1/2 cup all-purpose flour
1 large egg
2 ounces bittersweet chocolate, melted
For filling
3/4 pound milk chocolate, roughly chopped
1-1/2 cups heavy cream
Maldon sea salt and crushed pretzels, for serving
In a stand mixer fitted with the paddle attachment, beat the butter, 3/4 cup pretzels and the confectioners' sugar on low until creamy. Beat in the flour, egg and the remaining 1/2 cup pretzels making sure to leave some pretzel pieces. Between two sheets of plastic wrap, pat the dough into a disc. Chill in the refrigerator for at least 30 minutes.
Preheat the oven to 350 degrees F. Roll out the dough between the plastic wrap sheets into a 12-inch circle. Remove the top piece of plastic wrap and invert the dough into a 10-inch fluted tart pan. Press the dough into the sides of the pan patching any tears as necessary. Remove the other sheet of plastic wrap. Trim the excess dough and chill in the refrigerator for 30 minutes or until firm.
Line the shell with parchment and fill with pie weights. Bake for 30 minutes until the dough is almost cooked through. Remove the parchment and weights and continue cooking until set, an additional 10-15 minutes. Cool the shell completely before brushing with the melted bittersweet chocolate. Chill in the refrigerator for 10 minutes.
Place the milk chocolate in a large bowl. In a small saucepan over medium heat, bring the heavy cream to a simmer. Pour the cream over the chocolate and let stand for 5 minutes before gently whisking until smooth. Cool to room temperature, about 1 hour.
Pour the milk chocolate filling into the shell and chill in the refrigerator until set, at least 4 hours. Sprinkle with sea salt and pretzels before serving.