Recipe inspiration often hits me out of the blue. I have lots of to-make lists from a simple notebook to scraps of paper stuffed in my bag to my smartphone. If I don't jot down my ideas, there is a good chance they will be forgotten. One of the best things about blogging is that is challenges me to cook new things all the time, so I am always brainstorming.
I debated whether to do another brownie post. I hesitated because this is number 4, not counting blondies, but I love them all. With variation in bite (i.e. cakey or fudgy) and add-ins (i.e. nuts or chips), brownies can be very different from each other. Slathered with a caramel topping and toasted pecans, this turtle brownies elevated the humble bar cookie.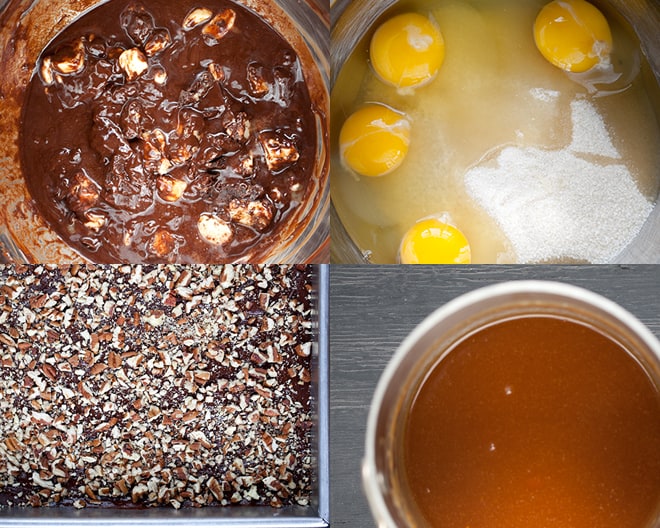 Turtle Brownies
Adapted from Martha Stewart Living October 2001
Makes 12
1 cup (2 sticks) unsalted butter plus more for pan
12 ounces bittersweet chocolate, roughly chopped
1 tablespoon vanilla extract
1/2 teaspoon kosher salt
4 large eggs
1-3/4 cups granulated sugar
2 cups all-purpose flour
1 cup chopped pecans
Caramel sauce (recipe below)
Preheat the oven to 350 degrees F. Line a 13-inch by 9-inch rectangular baking pan with parchment and grease with butter.
In a medium saucepan, bring 1 inch of water to a low simmer. Place the butter and chocolate in a large heatproof bowl over the saucepan without the water touching the bottom of the bowl. Stir frequently until the mixture is fully melted and then remove from the heat. Stir in in the vanilla extract and salt.
In a large bowl, use an electric mixer to beat the eggs and sugar until light and fluffy, about 3-5 minutes. Fold into the chocolate mixture followed by the flour.
Transfer the batter to the prepared pan using a spatula to spread in an even layer. Sprinkle the top with pecans. Bake for 35-40 minutes. Cool the brownies completely before drizzling with caramel sauce.
Caramel Sauce
1/2 cup granulated sugar
2 tablespoons water
1/4 cup heavy cream
1 teaspoon vanilla extract
1/2 tablespoon unsalted butter
Combine the sugar and water in a large saucepan. Cook over medium heat without stirring until the mixture starts turning deep amber and then carefully swirl the pan, about 20 minutes. Remove the caramel from the heat. Add the heavy cream and stir until it stops bubbling. Add the butter.