The selection is starting to dwindle in these last couple weeks of outdoor farmers market season in Chicago. I love root and other hearty veggies, but not seeing much else in the way of local produce until spring makes me want to pack up and move somewhere warm. I am holding on tight to what's left of summer that still finds its way in between crisp fall days.
Broccoli is a vegetable that no matter the time of year, always seems to be around. Maybe because broccoli isn't a fleeting ingredient, it has never been at the top of my shopping list. Feeling a craving for a new healthy lunch option using dark green vegetables, I made a batch of vegan broccoli spinach soup topped with roasted florets and sourdough croutons.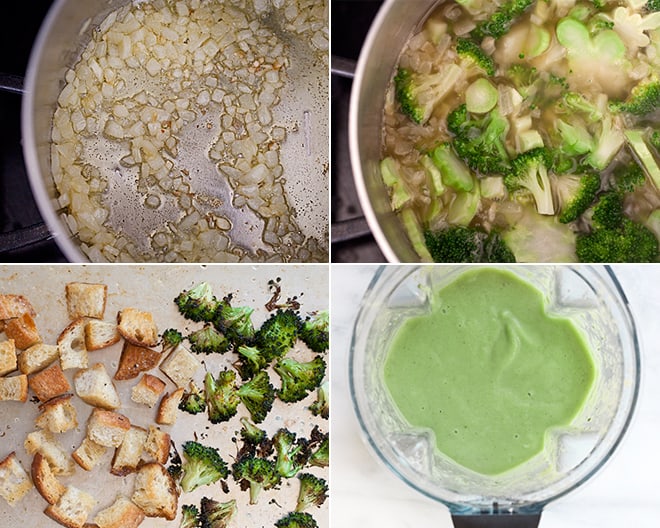 Broccoli Spinach Soup
Adapted from Food & Wine November 2016
Serves 8 – 10
1/4 cup plus 2 tablespoons olive oil
1 medium yellow onion, finely chopped
2 large garlic cloves, peeled and sliced
1-1/2 teaspoon kosher salt
1 teaspoon black pepper
2 cups water
2 cups vegetable stock
One 8-ounce baking potato, peeled and cut into 1-inch pieces
2 pounds broccoli—stems peeled and sliced, florets cut into 1/2-inch pieces
5 ounces baby spinach
4 ounces sourdough bread, cut into 1/2-inch dice
1 tablespoon red wine vinegar
Minced chives for serving
Preheat the oven to 400 degrees F.
Heat 1/4 cup olive oil in a large saucepan over medium high heat. Add the onions, garlic, salt and pepper and sauté until soft and starting to brown, about 5 to 7 minutes. Stir in the water, vegetable stock, potatoes, broccoli stems and two-thirds of the florets. Bring to a boil and reduce to a simmer until the potatoes and broccoli stems are tender, about 30 minutes. Stir in the spinach until it wilts.
While the soup is cooking, toss the remaining broccoli florets with 1 tablespoon olive oil, 1/4 teaspoon salt and 1/4 teaspoon pepper. Place on one side of a sheet pan. Roast for 10 minutes. Toss the sourdough with the remaining olive oil, salt and pepper. Place on the other half of the sheet pan and roast for another 10 minutes until the florets and croutons are light brown and crisp.
Carefully puree the soup in batches in a blender and stir in the red wine vinegar. Top with the florets, croutons and minced chives.