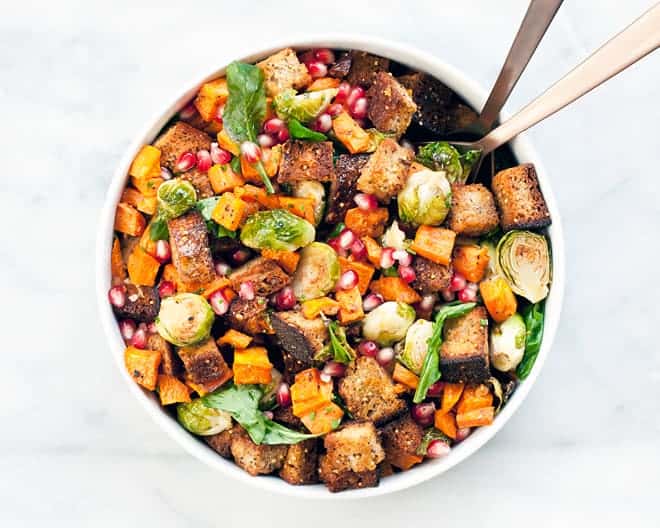 The first day of fall felt more like the peak of summer. For a moment I was thinking September must be the new August, but I was relieved to see things will be back to normal in a couple days. I've been in a state of wardrobe and eating confusion. Despite the thick humid air and the high temperatures, I've been charging ahead with soup and root vegetables. I even bought a pumpkin.
I figured the best way to deal with this crazy weather was to revisit one of my summer staples. With a loaf of seedy multigrain bread, I made a fall panzanella salad with roasted sweet potatoes, brussels sprouts and pomegranate seeds. Since this autumn version didn't have any juicy tomatoes, I relied on sherry vinaigrette to bring all the different ingredients together.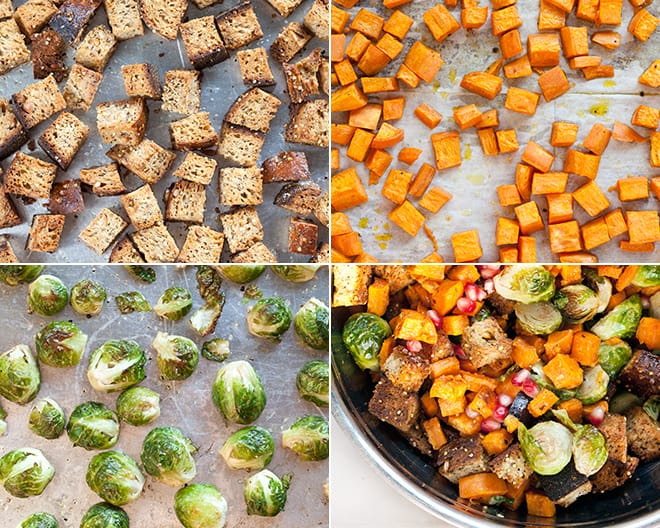 Fall Panzanella Salad
Serves 4
For salad
1/2 loaf seedy multigrain bread (about 6 ounces), cut into 1/2-inch cubes
3 tablespoons olive oil
1-1/2 teaspoons kosher salt
3/4 teaspoons black pepper
2 large sweet potatoes (about 2 pounds) peeled and diced
1 pound brussels sprouts, trimmed and halved
Seeds of 1 pomegranate
1 handful baby greens
2 tablespoons minced chives
For vinaigrette
2 tablespoons sherry vinegar
1/4 cup olive oil
1 garlic clove, minced
1/2 teaspoon kosher salt
1/4 teaspoon black pepper
Preheat the oven to 400 degrees F. Toss the bread, 1 tablespoon olive oil, 1/2 teaspoon salt and 1/4 teaspoon black pepper on a sheet pan and spread into a single layer. Bake for 12-15 minutes until toasted and golden brown.
Toss the sweet potatoes and brussels sprouts with 2 tablespoons olive oil, 1 teaspoon kosher salt and 1/2 teaspoon black pepper. Spread on 2 sheet pans, and roast for 25 minutes until the sprouts are browned at the edges and the sweet potatoes are tender.
Place the toasted bread, sweet potatoes, brussels sprouts and pomegranate seeds in a large bowl. Stir in the baby greens and chives.
For the vinaigrette, whisk together the vinegar, olive oil garlic, salt and pepper. Toss with the salad.
SaveSave