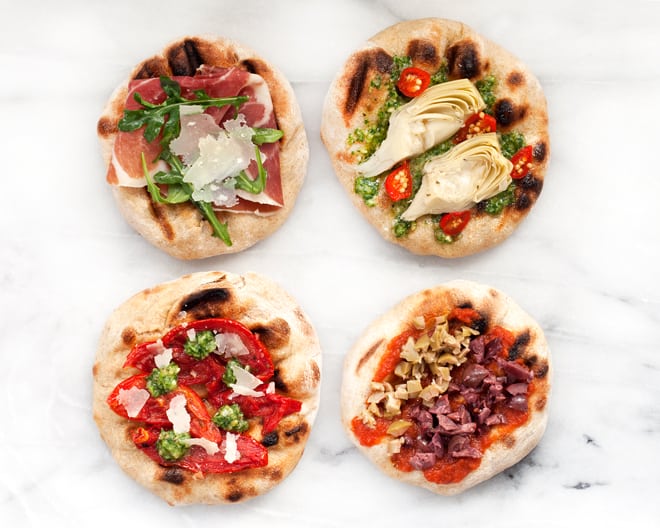 We haven't made it to Memorial Day yet, and I've already had to exchange the propane tank on our gas grill. Even though not everyday has been grill-worthy weather, I've been cooking outside rain or shine. To be honest, the food has never tasted better and my kitchen has never looked cleaner. Grilled flavor is so good that you don't have to do much prep to make something pretty incredible.
I was experimenting with my standard pizza recipe when I came up with these grilled antipasti flatbreads. I bought an assortment of olives, marinated tomatoes and peppers along with salami & prosciutto to top these individual pies. I used homemade pizza dough, but store-bought would work just fine. They turned out to be the perfect light bites to go along with drinks with friends.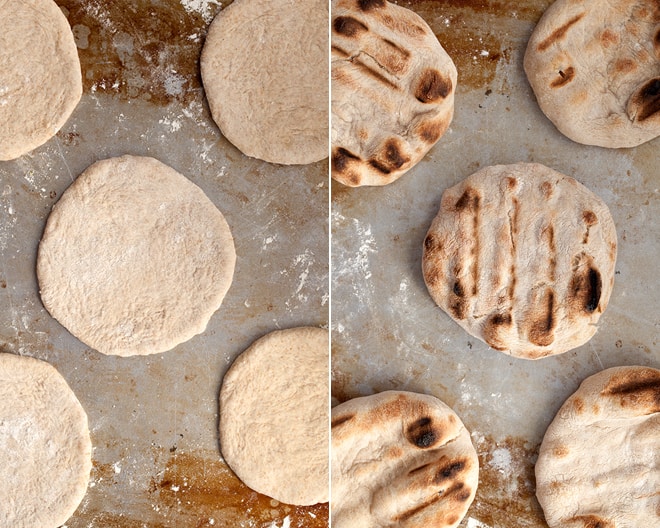 Grilled Antipasti Flatbreads
Makes 8-10 
Flour for rolling out dough
1/2 pound homemade or store-bought pizza dough
Olive oil
Pesto
Tomato sauce
Assorted antipasti including olives, marinated tomatoes, peppers & artichokes
Charcuterie such as prosciutto, salami & sopresatta
Shaved Parmesan
Arugula
Preheat a gas or charcoal grill on high heat.
On a lightly floured work surface, roll out the dough into 8-10 rounds.
Place the rolled-out dough directly on the grates and grill for 3 minutes with the lid closed until the crusts have grill marks, and they have puffed up. Turn them over and grill for an additional 3 minutes.
Drizzle the warm flatbreads with olive oil and top with different combinations of pesto, tomato sauce, antipasti, charcuterie, Parmesan and arugula.