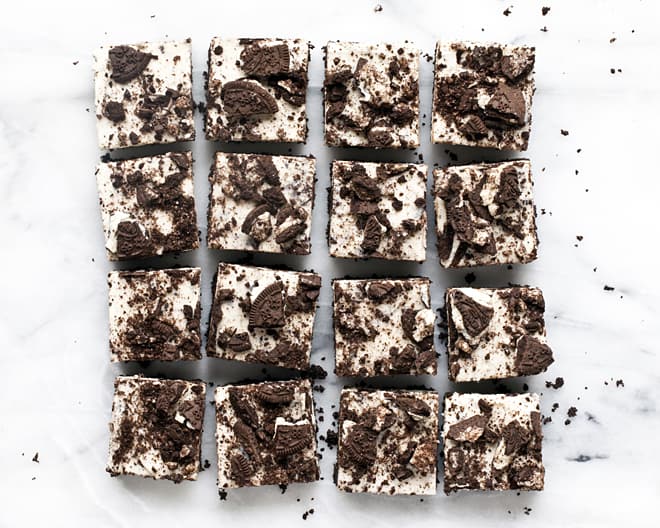 Why is it that during one of the hottest weekends of the summer, I decided to slow roast my surplus of heirloom tomatoes? Maybe I should have thought twice before leaving the oven on for 2 hours in the middle of the afternoon! Our poor air-conditioning was working overtime, so I decided the oven needed to be off. It was perfect timing to make a batch of no-bake cookies & cream cheesecake bars.
Besides giving the oven a break, I wanted to whip up a dessert that didn't require much effort. With the help of the food processor, I crumbled chocolate sandwich cookies for the crust and the filling. I used an electric mixer to combine cream cheese and marshmallow fluff before folding in the cookies. The bars were sweet, cool and didn't last very long stored in the back of the refrigerator.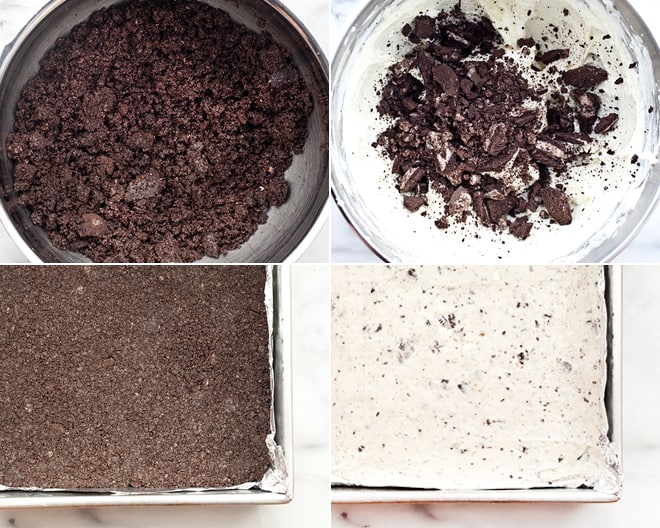 No-Bake Cookies & Cream Cheesecake Bars
Adapted from Real Simple
Makes 16 bars
Non-stick cooking spray
1/4 cup (1/2 stick) unsalted butter, melted
2-1/2 cups finely crushed cream-filled chocolate sandwich cookies (about 25 cookies)
16 ounces cream cheese, softened
7 ounces marshmallow creme
1 teaspoon vanilla extract
1/4 teaspoon salt
1 cup coarsely crumbled cream-filled chocolate sandwich cookies (about 7 cookies), plus more for garnish
Line a 9-inch square baking pan with foil and grease with non-stick cooking spray.
In a medium bowl, combine the butter with the fine cookie crumbs. Press the mixture into an even layer in the bottom of the prepared baking pan.
In a large bowl, use an electric mixer to beat the cream cheese, marshmallow creme, vanilla extract and salt until light and fluffy, about 2-3 minutes. Fold in the coarsely crumbled cookies and spread on the cookie crust.
Sprinkle with additional crumbled cookies for garnish. Cover and chill in the refrigerator for 4 hours up to 3 days. Cut into 16 squares.