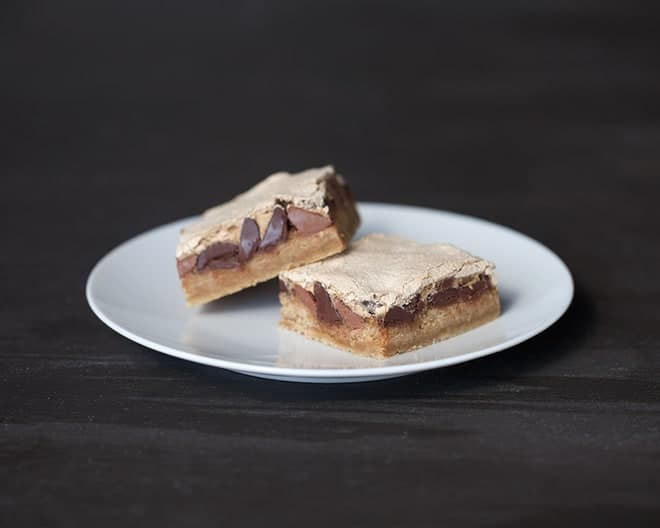 Cooking with a baby at home is a challenge. I never quite understood why parents of little ones were so strict about schedules until now when I long for a day that is more predictable. When W. takes a nap, I race to take care of things on my to-do list. Never did I dream that I wouldn't have a moment for quick chores like unloading the dishwasher. Needless to say keeping up with the usual menu at home doesn't always happen.
I have to be more strategic especially about what I bake. I don't have time to be pulling sheet pans in and out of the oven, which is why I love bar cookies—one pan and done. Halfway bars, with their chewy meringue top and buttery bottom sandwiching a chocolate center, are a recipe from my Grandma P. I did a little tinkering by using a combination of milk and bittersweet chocolate chips, but they still remind me of the treats I ate as a kid.
Makes about 32 bars
Non-stick cooking spray
2 cups all-purpose flour
1 teaspoon baking powder
1/4 teaspoon baking soda
1/2 teaspoon sea salt
1 cup (2 sticks) unsalted butter, softened
1/2 cup granulated sugar
1-1/2 cups dark brown sugar, packed
2 large eggs, separated
1 tablespoon water
1-1/2 teaspoons vanilla extract
6 ounces bittersweet chocolate chips
6 ounces milk chocolate chips
Preheat the oven to 350 degrees F. Line a 13-inch by 9-inch cake pan with aluminum foil  leaving an overhang and spray with non-stick cooking spray.
In a medium bowl, combine the flour, baking powder, baking soda and salt.
Using a stand or electric mixer, cream the butter, granulated sugar and 3/4 cup dark brown sugar until light and fluffy. Beat in the egg yolks, water and vanilla extract. Add the dry ingredients mixing on low until just combined.
Spread the dough into the prepared cake pan. Top with an even layer of chocolate chips pressing into the dough.
In a clean bowl, use a mixer to whisk the egg whites until they turn white and frothy. Slowly add the remaining dark brown sugar until soft peaks form. Spread the meringue on top of the chocolate chips.
Bake for 25 minutes until the meringue has slightly darkened. Cool completely on a wire rack. Remove from the pan by lifting the foil and cut into squares.
Store in an airtight container.